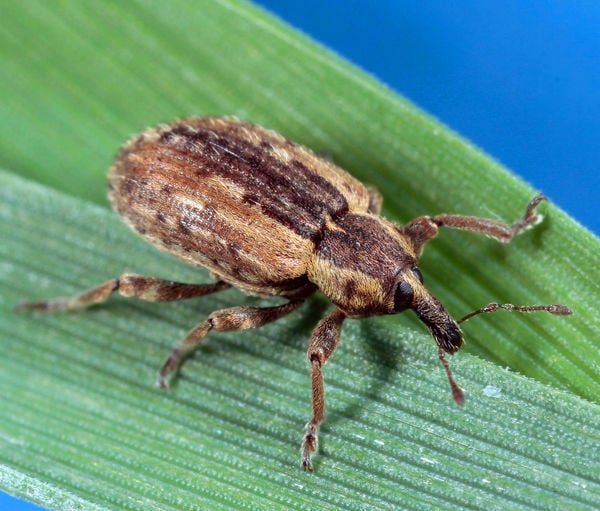 Be careful not to overlook wilting and browning leaves in your alfalfa fields, since this could be a sign of an alfalfa weevil infestation.
Scouting alfalfa fields now; and monitoring larval and adult weevil counts prior to the first cutting is important to determine if management strategies like early harvest or insecticide application are needed. Although drought and cold injury can cause leaf wilting, alfalfa weevil can also wilt and brown alfalfa plants. Since weevil larvae spend nearly all of their time feeding on plants, they can rapidly deteriorate potential hay quality.
Scouting can be completed either using a sweep net or collecting random samples. For hand sampling, it is recommended to gather 10 alfalfa stems cut at ground level from at least five sample locations within each alfalfa field. Next, shake the larvae off the collected stems into a deep-sided bucket. Count the larvae in the bucket and calculate average larvae per stem. Weevil larva are small (1/16 to 3/8 inch long) pale yellow to dark green insects that curl into a C-shape when disturbed.
Next calculate your economic thresholds for determining if an insecticide application or early alfalfa cutting harvest might be beneficial. Economic threshold charts are available at https://cropwatch.unl.edu .
Final treatment decisions are based on average weevil larvae per stem counts; plant growth stage; treatment costs and projected forage value. For example, insecticide treatment or early cutting may be recommended if you count more than 2 weevil per stem at the early bud stage of developing alfalfa valued at $100 per ton.