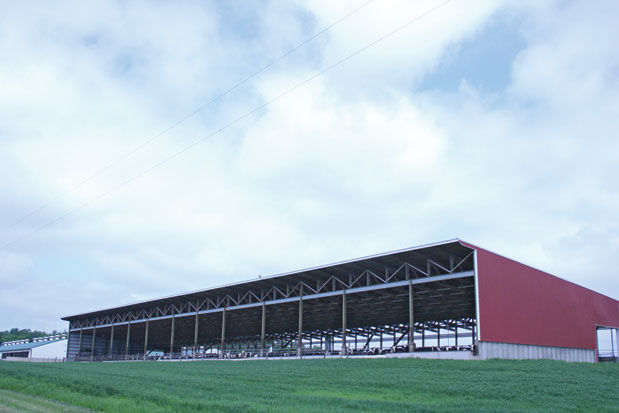 Although it's just a barn, experts in hog and cattle barn construction say choosing a good location on the operation is more important than producers realize.
That's according to contractors speaking at the Mitchell Livestock Seminar in Mitchell, South Dakota Dec. 8.
Barn location is critical, given the buildings last upwards of 30 years in most cases, said Tyler Samuelson of Summit Contracting. While the typical farmer almost always chooses to place a barn on poorer ground so the good land can be used for farming, Samuelson said it's important to look at certain factors for the barn as well.
"Barns today can be very large," Samuelson said. "We've seen it when farmers want to put it on their bad ground, but don't put it into low lying ground with poor drainage."
Perhaps the biggest thing to look out for is how accessible the entry to the barn will be once it's constructed. Samuelson has seen many farmers with poor road accessibility have to load hogs or cattle miles away just because there is no safe path to the barn.
The next worry when building, he said, is cost and size. Samuelson usually recommends building a bit larger than needed to allow room to grow.
"We've helped people in the past we've found cattle buyers to keep those barns full," he said.
Samuelson said the average barn he works on typically holds between 500 and 1,000 head of cattle. Lately, he's seen an uptick in requests for barns to hold well over 1,000 head.
With barns costing upwards of $900 to $1,200 per head, many operations will pay upwards of $2 million for a new barn. Producers need to be ready for a long planning process.
"Lean on us for some guidance," Samuelson said. "These projects are not cheap. Ask the tougher questions. Do your research."
He suggests going deep into the construction process and finding out just how much concrete is costing, what type of equipment is going in the barn, and what controllers will be used on that equipment. Knowing the details will help producers understand why the cost is so high or low in a build.
When asked what producers typically regret most after building a new facility, Samuelson said it almost always is site selection.
Tom Van Asselt, the founder of CattlePlus Consulting, was also on hand during the seminar to answer questions about the building process. While Van Asselt's talk focused more on the benefits and drawbacks of each type of cattle barn, he said that considering each aspect of how you raise and feed cattle is important for the selection process.
"No. 1, you have to have passion," Van Asselt said.
Consider labor, equipment needs, feed resources, the type of cattle you feed, and your long-term goals, he said.
"The first thing you decide is how much you are going to spend. When you say, 'let's go, try to find out what system works then.' It'll be a big relief," he said.
The Mitchell Livestock Seminar was held in person and virtually for those who couldn't attend and is put on every year in the cooler months.