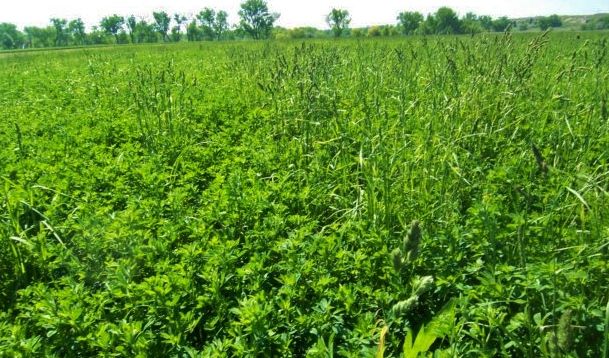 Summer annual grasses are tough weeds to deal with, especially in mixed perennial systems like pasture or hay fields. Species like foxtail, sandbur, and crabgrass begin growth late, grow fast and produce seed. In straight alfalfa stands, several herbicide options are available, but in alfalfa grass mixes options are limited.
In mixed alfalfa/grass systems, selecting one grass species from another for control is difficult. Cultural practices are often our best bet. However, established perennials can handle some pressure from pre-emergence herbicides, though a slight yield hit can occur. For these products to be successful, application timing is crucial. Treat too early, and we lose residual coverage, allowing late germinating seedlings to grow. Too late and already growing older plants may be able to survive.
Our first step, find the right pre-emergent product. To clarify, we mean pre-weed emergence, not perennial grasses or alfalfa. For alfalfa/grass mixes, Prowl H20 fits the bill.
Although it may be tempting to start applying right away, we need to wait. Just like our seeded crops, these weeds need a certain sustained soil temperatures to begin germination. For crabgrass, soil temps need to be sustained at 55°F, for foxtail 60°F, and for sandbur its 65°F. Start monitoring soil temperatures and when the appropriate threshold for the species you want to control is crossed, we can get ready to apply. Make sure to follow the appropriate label restrictions of crop stage, pre-harvest intervals, grazing, and maximum application amounts listed.
Summer annual grasses in forage crops are not the easiest weeds to deal with, but with the right product, a bit of patience, and proper timing, it doesn't have to be a problem we can't control.
The use of trade names or products does not indicate the promotion of products, these are strictly used for educational purposes. Information has been adapted from the 2021 Guide for Weed, Disease, and Insect Management in Nebraska.