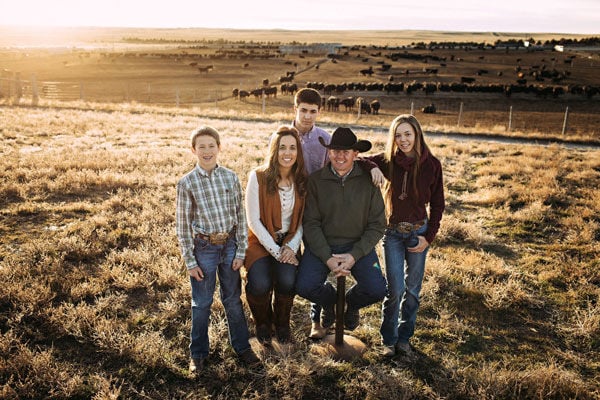 Two weeks ago, Jay and I made a flying trip to Iowa to follow our passion and dreams: Yes, there is a magnetic pull to good cattle!
We left after lunch one day and drove nine and a half hours from western Nebraska to Des Moines, Iowa to check into a Holiday Inn Express. The next morning, we drove about 30 minutes to go evaluate some cattle that would later be for sale. Then we got in the car and drove the 564 miles back home to sleep in our own beds the very next night.
I want to highlight three takeaways from this trip:
First, here in the panhandle of Nebraska, we are experiencing one of the worst droughts in recent history. It is bare, dry and dusty most places you go. But Iowa has green grass in December! Yes, they are blessed with considerably more moisture than we are year-round, but typically the ground could be white this time of year. So, needless to say, we enjoyed looking at cattle on green grass in December while enjoying the sunshine and 60-plus degree temperatures.
Second, this trip only deepened my convictions about rural America and the time-honored tradition of the handshake. Forgive me a minute for the political controversy this may hold for some in the year 2020, but I am going deep and getting philosophical about "the handshake."
For centuries, the handshake has been used as a symbol of greeting, parting, offering congratulations, expressing gratitude or sealing a deal. In sports, handshakes are offered as a sign of good sportsmanship. Its purpose generally conveys trust, good faith and equality.
Amidst a declared pandemic, ironically, Jay and I have traveled more than ever, hitting eight states in the last eight months. Every one of these trips involved livestock and rural Americans. And not once in eight months did someone not extend their hand for the time-honored tradition of the handshake.
The handshake may have lost some of its deep meaning over time for some, but for those of us living by the Code of the West it still means a whole lot. I guess us "cowboys" are just risk-takers. Yet, we are always "man enough" to be held accountable for the results they deliver.
And the third take-away from this quick trip is from my insistence that we eat lunch at what my husband considered a "tourist trap." Jay's not a fan of tourist attractions and, in typical fashion, he moaned and groaned about a selfie I wanted to take outside the restaurant to send home via text to our kids. Our oldest had been there a few years ago without us and I knew he would enjoy knowing that we had eaten there on this trip.
Well, I won out regarding the selfie and the fact that we were going to eat lunch at a tourist attraction – mostly because it was right off the interstate we were traveling on and they welcomed dining-in. This tourist stop for lunch proved to serve some of the best melt-in-your mouth brisket we have ever consumed. And, our lunch conversation could have been aired on The Food Network!
The final take-away is that we were "well fed at the shed" and that we are passionate about beef whether it is live or dead.
Wishing you all joy and peace over the Christmas holiday. – Shawna Meyring