Frank Petricca is a branch manager and account executive with The Price Futures Group in St. Charles, Ill. He focuses on long-term approaches to commodity markets.
This year, controversies over the USDA's production reports for corn and soybeans were discussed at great length among traders here in Chicago and with many producers that I talk with every day.
The basic problem was their weekly Crop Progress reports that showed crop deterioration versus their monthly yield numbers that totally high-balled the trade.
As a matter of fact, trade guesstimates this growing season reminded me a lot of last year's presidential polls.
Surprise after surprise regarding yield over the summer months caused much disdain and substantial losses for not only the speculative trade but for producers all over the U.S. who were reluctant to hedge their crop.
It's no secret the commodity world was sold on the fact that $5.00 December corn would become reality here in 2017. Instead, $3.50 is the harsh reality.
While there are many reasons drones are an exciting proposition here in 2017, one must be cognizant of how important drones will be for the future of the American producer.
Drones can have a major influence on one's approach at the start of the season. For example, three-dimensional maps for soil analysis and other important variables.
Drone planting systems that can decrease planting costs by 80 percent.
Crop spraying that will change your life if you are a producer. Drones will complete your spraying five times faster than traditional machinery.
Drones will be able to help producers and their irrigation systems. Drones with hyperspectral will identify what fields are dry or what fields need special treatments.
More importantly, the USDA's formula for attaining crop yield forecasts is absurd. The antiquated means of including drive-by eyeball estimates are an insult to the farm community in general.
After consultation with my friend and commodity legend Charlie Andrews, the challenges the USDA has regarding crop monitoring/forecasting are problematic at best.
As Charlie said, the U.S. government has intelligence satellites that can capture highly sensitive targets worldwide but can't use this technology to give us an appropriate estimate for crop size that effects our American producers.
Losses incurred this year due to faulty or erroneous USDA reporting need to be upgraded by government means, not private entities that could sway numbers in their favor.
Unpredictable weather conditions that seem to be more and more frequent could be neutralized now as times series animation can show defined development of a crop and more importantly offer better crop development revealing production problems.
It wasn't too long ago when producers were asked to, and payed to, reduce planting due to stockpiles that affected prices negatively. That program was called "Payment in Kind."
The problem now? We can't produce enough!
Today, believe it or not, we are on the verge of a major global food crisis even with production numbers at record or close to record highs.
Stocks-to-usage for corn continues at dangerous low levels.
The chart below shows ending stocks to usage continues below the 1999 high.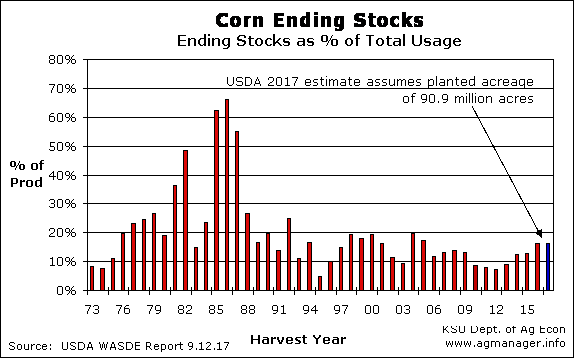 The question is: How will we feed 9 billion humans who will be living on earth in the decades to come? The fact is we are going to have to double the amount of food available.
And yes, I agree that we need to prepare for this potential global crisis and national security risk now. We need to figure out ways to produce more with less available farmland.
Technology will be at the forefront concerning this important issue. There are many ways to get producers acquainted with 21st century technology. Knowledge is paramount when one extends business principles in a new direction.
Here's a great site to check out...
http://www.businessinsider.com/commercial-drone-uses-agriculture-business-military-2017-8
I also acknowledge that the USDA should get its act together quick before it's too late.
Speaking of the USDA, as I write this letter the USDA just reported its quarterly ending stocks projection for corn and soybeans. The USDA is now projecting old-crop corn stocks to be 2.295 billion bushels, which would be a 30-year high. The USDA's estimate for soybean stocks came in at 301 million bushels in ending stocks, an incredible 53 percent increase from last year.
All I can say is, I hope your buy orders were in.
After ticking lower for a brief couple of seconds, December 2018 corn got bought immediately, now trading over $4.00. And soybeans are trading more than 15 cents higher.
So, one might ask, Frank, why are the grain markets higher today? I say, reread this letter!