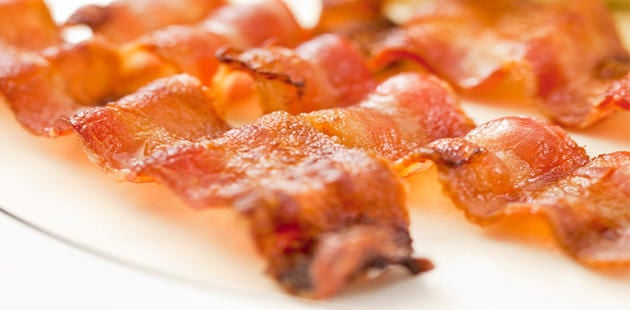 America's love affair with bacon is so strong that Smithfield Foods Inc., the world's biggest hog producer, is building up its capacity to produce the meat.
To help meet demand, the company is spending $45 million on a pork expansion project. The money will be used to upgrade its high-speed bacon lines and renovate a distribution center in Sioux Falls, South Dakota, according to a statement Thursday. It's also rebuilding a hog facility and improving operations for seasoned ground pork, which is popular overseas.
While domestic pork supplies have been piling up amid Donald Trump's trade war with China, the world's largest consumer, pork belly prices are holding up. The cut used to make bacon is still 14 percent higher than the five-year average, according to data from the U.S. Department of Agriculture.
Smithfield's bacon improvements, due to be finished by May 2019, will result in more volume, better yield and higher-quality product, the company said.
The upgrade to the seasoned ground-pork operation will boost the company's ability to meet export demand at a time of oversupply. The project is expected to be completed by March 2019.
"Export markets are key for the continued growth of all U.S. hog producers and pork processors," Jason Richter, president of the international group for Smithfield Foods, said in the statement.
The company is also renovating a barn, which houses more than 8,000 hogs.
The Sioux Falls facility, built in 1909, produces fresh pork, ready-to-cook bacon, deli meats, hot dogs, and smoked hams. The project will add 70 new jobs.
Smithfield was acquired in 2013 by China's largest meat producer, WH Group, which also owns a majority stake in China's largest pork company, Shuanghui Development.