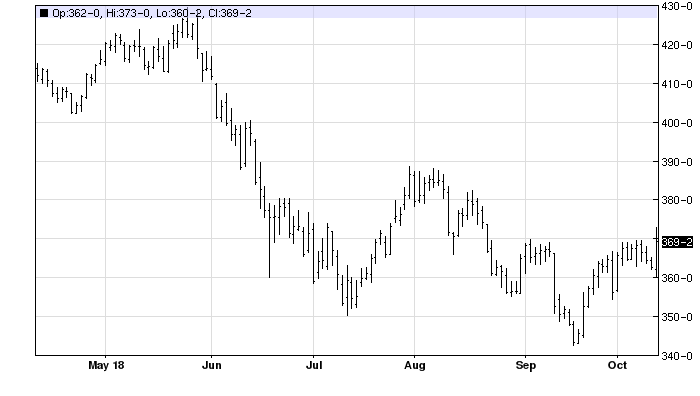 After months of dealing with gloom in the grain markets, corn bulls were delivered some relief as the U.S. Department of Agriculture forecast smaller-than-expected domestic production. But the euphoria didn't last when it came to soybeans and wheat.
In one of the biggest recent surprises for the corn market, the USDA cut its outlook for domestic yields. Reductions for Illinois and Iowa helped pulled the national number lower. While it's still projected at a record high, that little bit of respite was enough to get the market moving. Corn futures in Chicago jumped as much as 2.8 percent, the most since Oct. 1.
"This is a rather friendly report for corn," Ted Seifried, chief market strategist for Zaner Ag Hedge in Chicago, said in an email.
While soybeans initially took off after the USDA's outlook for domestic inventories came in under analyst forecasts, futures pared their gains as traders started to shift their focus on the fact that supplies will still be plentiful.
Wheat futures ended the day lower, erasing earlier advances. Even as the USDA cut its forecast for the global crop in its World Agricultural Supply and Demand Estimates, the agency left its outlook for U.S. exports unchanged, disappointing bulls.
More takeaways from the WASDE:
For soybeans, U.S. stockpiles won't bulge as much as some analysts had feared, while they're still forecast at an all-time high. That could signal a storage crunch ahead in the Midwest.
Even with the hurricane damage to East Coast cotton crops, the USDA increased its outlook for domestic inventories, taking analysts by surprise.
Looking ahead:
Even with a 1 million ton cut in Russia's wheat crop, the USDA has held its forecast for exports steady. Traders have speculated for months that the grain powerhouse may have to lower its shipments, and this will be an area the market continues to watch closely.
The USDA made no changes to its forecasts for Chinese soybean imports and crushing. The nation's imports are seen flat for the first time in 15 seasons, but traders will watch to see if the demand starts to fall as the nation increases its efforts to cut the amount of protein required in food for pigs.
The USDA left its estimate for Brazil soybean exports unchanged, even as the U.S.-China trade war has driven more Asian demand to the South American country. The trade tensions have also sparked prices higher in Brazil, while futures in the U.S. tumbled. Traders are wondering how the export shifts are going to play out going forward, given the hefty price discrepancy.
As the soybean harvest accelerates, analysts and traders are also tracking snow in the Dakotas and recent rains in other parts of the Midwest that have hampered crop gathering.
Prices
Corn futures for December delivery jump 1.8 percent to settle at $3.6925 a bushel on the Chicago Board of Trade.
Soybeans closed up 0.7 percent at $8.5825 a bushel, after rising as much as 1.4 percent. W
heat fluctuated before settling 0.5 percent lower at $5.08 a bushel.