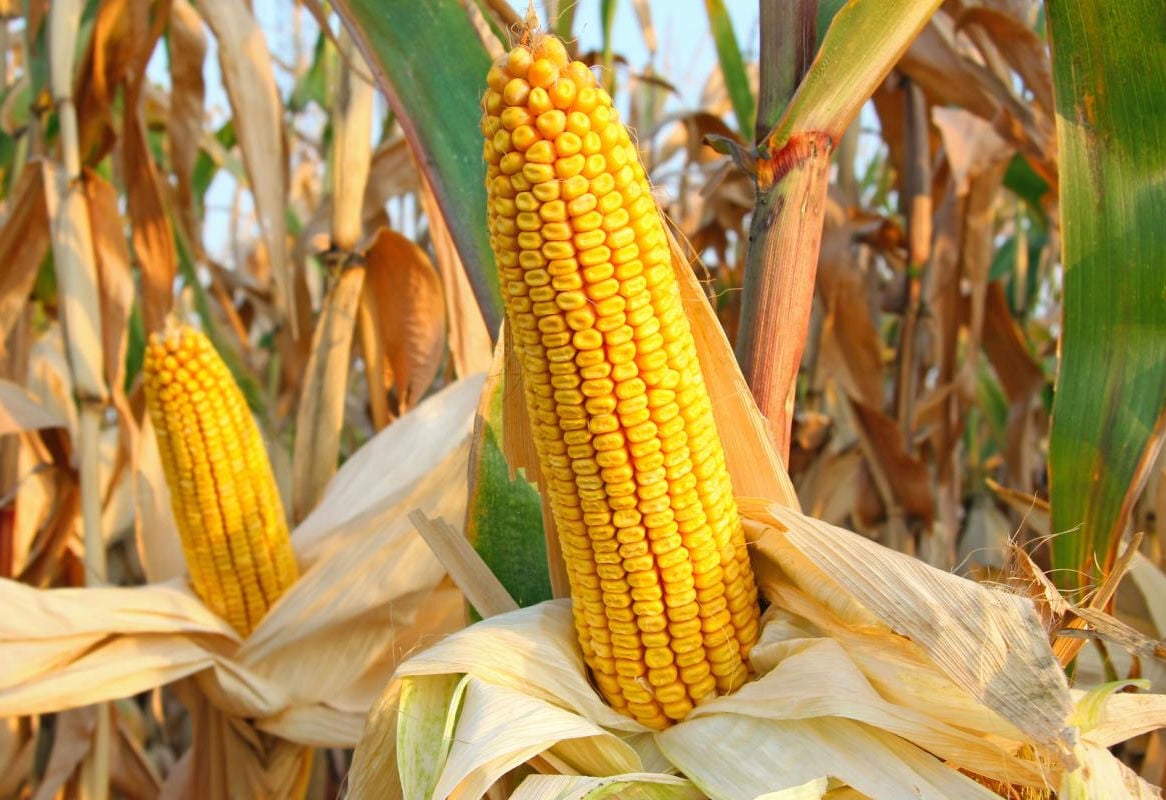 With the arrival of fall, many dairies are or will soon be harvesting and ensiling their corn crops as corn silage and high-moisture corn. The major efforts going on during the harvest time of the year will have year-round nutritional implications. To optimize nutritional value, several factors should be considered. Conducting team discussions with nutritionists, agronomists and crop consultants is also advised.
Time harvest right
Continuously monitoring plant and kernel maturity within and across fields to determine the best time to begin harvesting is key to ensuring optimal nutritive value of corn silage and high-moisture corn.
For corn silage, it's advised to combine the targets of 63 to 68 percent whole-plant moisture with a kernel milk line of 2/3 to 3/4. Combining those two targets helps to account for variations within and across fields and hybrids. Delayed harvest increases the accumulation of indigestible fractions, such as lignin, reducing fiber digestibility and yielding coarser, more sortable stover particles. Since drier corn plants contain less available water for bacterial growth, the silage undergoes less-thorough fermentation, resulting in poor aerobic stability and causing it to be more susceptible to undesired fermentation.
Kernel hardness increases with maturation impairing starch digestibility and the likelihood of kernels being processed well. If delayed harvest is unavoidable, more aggressive settings for kernel processor and chop lengths are suggested to break more kernels and decrease the proportion of particles that are too coarse.
Compared to corn silage, the low amount of moisture in high-moisture corn makes it challenging to reach an adequate fermentation pattern. Targeting for kernel moisture of 28 to 32 percent ensures sufficient bacterial growth, a faster rate of silage fermentation, more rapid pH decline and the proteolytic activity responsible for increasing starch digestibility in the silo.
Break more kernels
Breaking kernels is the most crucial factor affecting starch digestibility in corn silage. The corn hull, or pericarp, inhibits starch digestion in the rumen and intestine of cows. Even though kernels get softer through silage fermentation and are further broken down by cows when chewed, most kernels will pass through the cow still intact in the manure. In addition, breaking more kernels improves the benefits of silage fermentation on starch digestibility. Bear in mind that many factors affect the efficacy of kernel processing, such as plant maturity and harvester settings. Continuously monitor kernel breakage throughout harvesting to ensure proper roll-gap and chop-length adjustments are made to account for variations within and across fields.
Particle size plays a major role in high-moisture corn as well. Even though ensiling coarsely ground high-moisture corn can reduce labor, time and energy costs, those savings come at the expense of starch digestibility. Finely-ground high-moisture corn not only has greater surface area available for digestion, but also more thorough fermentation and proteolytic activity, which improves starch digestibility even further. Defining the best high-moisture-corn particle size for each dairy will depend on starch digestibility goals as well as labor, time and costs associated with its production.
Beware drought-stressed silage
Fields heavily affected by drought events during the 2021 growing season bring elevated concerns for the presence of undesired components. Nitrate can accumulate in drought-stressed silage, though adequate fermentation will reduce nitrate concentration. Nitrate values greater than 1.5 percent on a dry-matter basis may be toxic to cows.
In addition, some mycotoxins are more prevalent during hot dry weather. Despite the potential reduction in mycotoxins with silage fermentation, it is advised to send samples for mycotoxin analysis. Most importantly, if corn silage has mycotoxins or high levels of nitrate, take action to detoxify the silage, add a mycotoxin-binding agent to the diet or adopt feeding strategies that dilute the amount fed with non-contaminated feeds.
Luiz Ferraretto is an assistant professor in the department of animal and dairy sciences at the University of Wisconsin–Madison and a ruminant-nutrition specialist for UW-Division of Extension. Email ferraretto@wisc.edu to contact him.