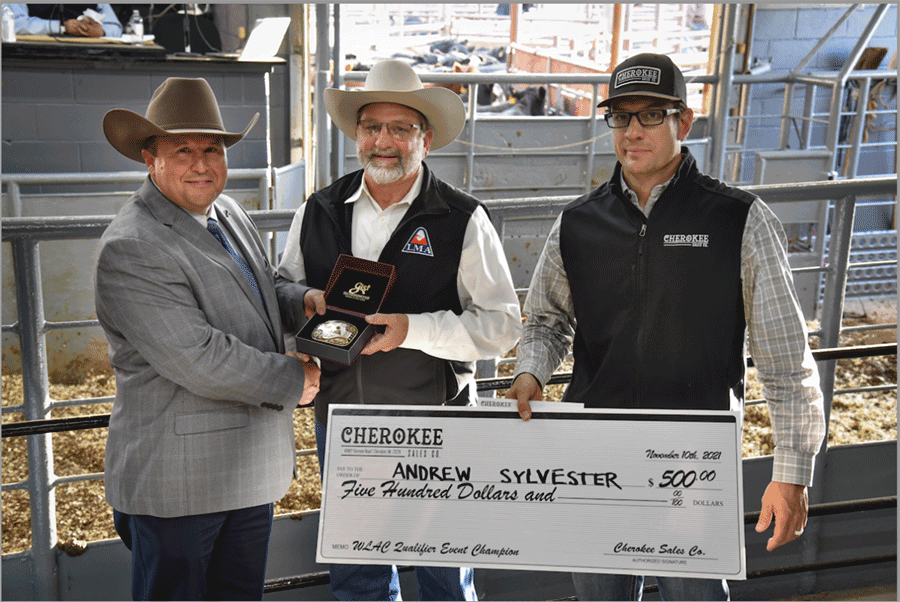 Andrew Sylvester of Wamego, Kan., won the 2022 World Livestock Auctioneer Championship (WLAC) Midwestern Region qualifying event. 
Cherokee Sales Co., located in Cherokee, Oklahoma, hosted the second of three WLAC qualifying events Oct. 10. A total of 30 contestants competed for a top 10 placing, which would grant them a spot in the 2022 WLAC semifinals at Shipshewana Auction, Inc. in Shipshewana, Indiana, according to a press release from the Livestock Marketing Association, which sponsors the competition.
"It's truly humbling," Sylvester said. "I honestly wasn't expecting this. My goal was to come here and not embarrass my family, my livestock market or myself. I just tried my best to come in genuine, and get up there and do my job."
This was Sylvester's first appearance in a WLAC qualifying event, where he also walked away with the title of High Score Rookie.
"Am I a rookie?" Sylvester said. "Yes — I've never been to the contest before, but I've been selling cattle for a few years and I've been involved in the industry during that time."
Sylvester originally started auctioneering with the interest of selling purebred cattle, but realized he was more interested in all facets of livestock marketing. He currently serves as the auctioneer for Manhattan Commission Company in Manhattan, Kansas, and Crossroads Real Estate & Auction.
A live cattle sale took place, with the market's regular buyers and sellers in the seats. Auctioneer contestants were judged on the clarity and quality of their chant, presentation, ability to catch bids/conduct the sale and how likely the judge would be to hire the auctioneer. Judges for the qualifying event were livestock market owners, managers, dealers and/or allied industry members from across the nation.
Individuals advancing to the semifinals with Sylvester are Zach Ballard, Presho, South Dakota.; Reserve Champion Justin Dodson, Welch, Oklahoma.; Runner-Up Will Epperly, Dunlap, Iowa; Brandon Hamel, Natoma, Kansas.; Lynn Langvardt, Chapman, Kansas.; Kyle Layman, North Platte, Nebraska.; Chris Pinard, Swainsboro, Georgia.; Barrett Simon, Rosalia, Kansas.; and Dustin Smith, Jay, Oklahoma.
Other contestants were Leon Caselman, Long Lane, Missouri; Spencer Cline, Kingston, Arkansas; Keelan Dunn, Bowie, Texas; Quest Flesner, Hannibal, Missouri; Jacob Hills, Ridgeway, Wisconsin.; Calvin Hollis, Mannford, Oklahoma; Michael Imbrogno, Turlock, California; John Kisner, Hays, Kansas; Josh Larson, Haxtun, Colorado; Lane Marbach, Victoria, Texas; Tilon Mast, Auburn, Nebraska; Clayton Neumann, Ringwood, Oklahoma; Lander Nicodemus, Cheyenne, Wyoming; Ross Parks, New Concord, Ohio; Kade Rogge, Rupert, Idaho; Ethan Schuette, Washington, Kansas; Jeff Showalter, Broadway, Virginia; Lonnie Stripe, Humeston, Iowa; Scott Twardowski, Swanville, Minnesota; Corbitt Wall, Canyon, Texas.