Thurston Manufacturing is a family-owned and operated business that's been a part of Nebraska agriculture since 1971. While the company's product line is diverse, agriculture continues to be at the heart of what they do. They specialize in fertilizer application and conservation tillage equipment.
"My father, Wayne Jensen, started the business," said current CEO Layton Jensen. "He and I had some other partners in the beginning, but we bought them out a few years later, so it was just him and I together. We started out selling some small agricultural products and did some repair work, too.
"After that, we got into fertilizer injection toolbars," he recalled, "particularly for anhydrous ammonia. That's what kickstarted things and caused the business to really begin growing. We also started developing a deep-tillage product shortly after that, which spurred even further growth."
The business got started in a grain-storage building in Thurston. In 1979, the company began construction on the first of several new buildings in their current location. They've expanded five times since the first new building went up at their location on the edge of Thurston.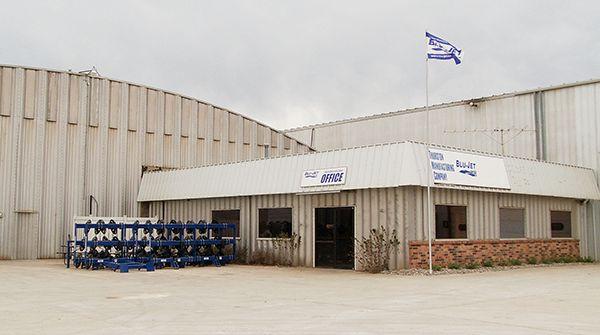 Wayne Jensen has retired, with Layton as the CEO and in business with his two sons, Nick and Ryan. His wife, Carolyn, is an integral part of the business as well. Jensen said it's a great opportunity to have family members working in the business.
"A lot of people ask me how you work with your better half all day and then go home and see each other some more," he said with a smile visible through a telephone connection. "It's really been easy. We leave work at work, plus we really don't see each other that much throughout the day as she works in a different building than I do."
Each family member has a different contribution to the organization. Layton heads up the Engineering Department. Carolyn is the administrative vice president who handles the bookkeeping. Jensen said his son, Ryan, "essentially runs the business." Ryan lives in Spencer, Iowa, where the family owns and operates Simonson Iron Works. Another son, Nick, handles the marketing.
"Things were pretty basic when we first started out all those years ago," Jensen said. "Over the years, we've enhanced our equipment in terms of new technology with CNC machines. We've got several robotic welders and some sophisticated paint lines in both facilities.
"Our current product lines include fertilizer injection applicators for anhydrous, liquid, and dry fertilizers," he added. "We still have a deep-tillage product line, as well as a few other types of tillage products. We also do a lot of contract manufacturing (at Simonson Iron Works), making parts and some finished products for other companies."
They also offer their Chuckwagon Mobile Grilling Systems. The family had done a lot of tailgating at Nebraska Cornhusker football games over the years. They got tired of loading up a grill in the back of their pickup, so they simplified it by designing a grilling unit that rolls into the back of a vehicle. The business has come a long way since the early days.
"Prior to 1971, Dad (Wayne) was selling feed supplements to area producers," Jensen recalled. "He found out he could sell. That gave him the confidence he needed to start the business. At that time, our family was looking for additional ways to make income in agriculture.
"Perseverance and our core beliefs have helped us to stay in business all this time," Jensen said. "We've worked hard on keeping our employees engaged and wanting to stay with us. We have a lot of long-term employees that know what they're doing."
The Jensen family also goes out of its way to meet face-to-face with customers. They spend a lot of time visiting industry trade shows, talking with customers and asking a lot of questions. Jensen said they want to know what kind of specific things customers are looking for.
"If they've already bought a certain product, we want to know how they think we can improve it," Jensen said. "We keep our eyes and ears open, enhancing the products we have while we try to develop new ones.
"Agriculture is definitely our core business," Jensen added. "We do a lot of domestic sales of agricultural products, as well as international sales, too. We've sold equipment on five continents, with some of the locations including Ukraine and Russia, two of our biggest international customers."
Thurston Manufacturing is a fixture in Nebraska. Jensen said they'd never consider moving from Thurston, population 132.
"We'd never go anywhere else like the east or west coast, just to make it easier to export products," he said. "That's why they have trucks."
Chad Smith can be reached at chad.smith@midwestmessenger.com.