Stan Stutheit was destined for the implement business from an early age.
Stutheit grew up on a farm near Syracuse, Neb. with his parents Wayne and Darlene and his three sisters. Then he headed with his dad to the John Deere dealership when Wayne purchased it in January of 1966.
"I literally grew up there," Stutheit recalled. "I would put parts away, sweep floors, set up machinery and do a lot of mowing — whatever we were told to do, we did."
He also grew up clearly understanding the dealership's motto that hasn't changed to this day, "Small enough to appreciate you and large enough to accommodate you."
"That motto was around when my dad was still around and holds very true today," Stutheit said about the dealership that grew to two in 2005 with another location in Auburn, Neb., and a new facility in Syracuse the same year.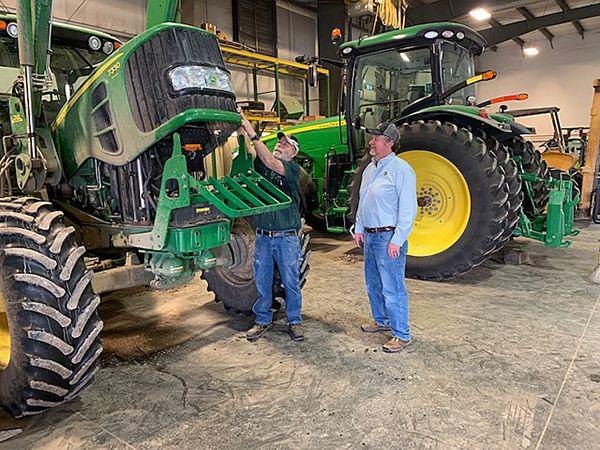 Stutheit graduated from the University of Nebraska-Lincoln in 1980, where he earned a Bachelor of Science degree and played on the UNL rugby team. He then returned home to work with his dad. When Wayne passed away in 1987, he took over at the age of 29. He was ready because he had grown up with the business and immersed in an understanding of agriculture.
"By that time I had also met a lot of the other dealers because I used to go to a lot of meetings with dad," he said. "That helped."
Early on, Stutheit's wife of 37 years, Kate, was a full-time employee as well, working as the service clerk. He said he has greatly appreciated Kate's support throughout the years.
"Kate has always been around the business," he said. "Now she works part-time and does a lot of the merchandising and promotions with the toys and memorabilia on the showroom floor. At Christmastime, when Santa Claus is here, she is here all the time."
Stutheit also said, in the early years of the business, he and his wife enjoyed the many company trips together all over the world to areas such as Australia, Sweden, Paris and Rome. Most of all, he has been proud to be associated with John Deere, his employees and customers. With that pride in what he does every day, it is also a need to adapt to change.
"Dealerships are getting bigger with more territory and customers are getting bigger, as well," he pointed out. "There have been big changes through the years. Much of that change is the equipment itself, the size and technology. GPS is a huge factor.
"I can't keep up with all the changes anymore and that's where strong employees come in. When I took over, we had eight employees and now we have 48 with the two locations. The parts guys have to keep up with their end of it and the salesmen and the rest of the team the same way. We send employees to the John Deere Training Center and a lot of training is now in-house and online with Distant Learning Modules and Distant Learning Classes," Stutheit explained.
"Another change is the internet today and it is far easier to travel to different dealerships to do business," he went on. "You hope the younger generation will continue to come to you. But, we fully recognize we have to do our part to prove that to them with our service. If we do not have good service, they know they do not have to buy from us, and they can go somewhere else."
What is most rewarding for Stutheit is working with a wide variety of customers.
"I enjoy the people the most — the employees and the customers," he said. "It's about finding satisfaction in what you are doing for the community and for your customers. About half of our employees have been here more than 20 years."
What's this lifelong implement expert's favorite tractor? Stutheit answered without a pause.
"The 4020," Stutheit said. "It is the tractor that turned John Deere around from the two-cylinder tractors. It was a good tractor — still is. John Deere gained market share with that tractor and the 4010 before that. There are still a lot of 4020 tractors running today and they are still very valuable. The customers do not like to trade them off because they are still using them to farm or it's their main chore tractor."
Time and again, Stutheit talked about employees, customers and the community being the most important part of the work he is committed to every day. He and his wife have always supported the county 4-H program by purchasing livestock during the county fair. The value of livestock is something engrained in Stutheit since his family had cattle and hogs up until 1975. They also enjoy giving towards FFA academic scholarships.
"The employees are very valuable — they are the main contact with the customers we serve," he said. "Our focus is on having employees that are reliable and personable. If not, we know the customers we value so much can go somewhere else. We are proud to serve in the communities and areas we do."
Looking towards the future, Stutheit said changes are coming at a faster pace than ever.
"There are going to be unbelievable changes with technology and what GPS can do for farmers," he said. "There are going to be more changes in the software than the actual physical iron. We are seeing those changes come with seed, fertilizer and application use. There is technology developed and being developed that will only spray the weed and not the ground or other crops. The technology will know the difference between a bean or cornstalk and a weed. Farmers will save more money and the spray will not be running off into the environment. It's already developed. It's just not in the hands of all the farmers yet, but it will be. That's going to be huge."
Stutheit said there will also be the growing ability to collect soil samples and just treating the parts of the field that need to be treated for the highest yields.
"Even testing the plant as you go along, like tissue sampling, will be more widespread," he said. "They are always looking at ways to be more efficient."
In the end, this lifelong implement enthusiast has no plans to quit doing what he has been doing since he was a young man growing up in the dealership.
"I hope to be in the business for a long time," Stutheit said. "We just try and do the best we can for our customers. We need them coming back. Customer service is really the number one thing we have to do."
Kerry Hoffschneider can be reached at kerry.hoffschneider@midwestmessenger.com.