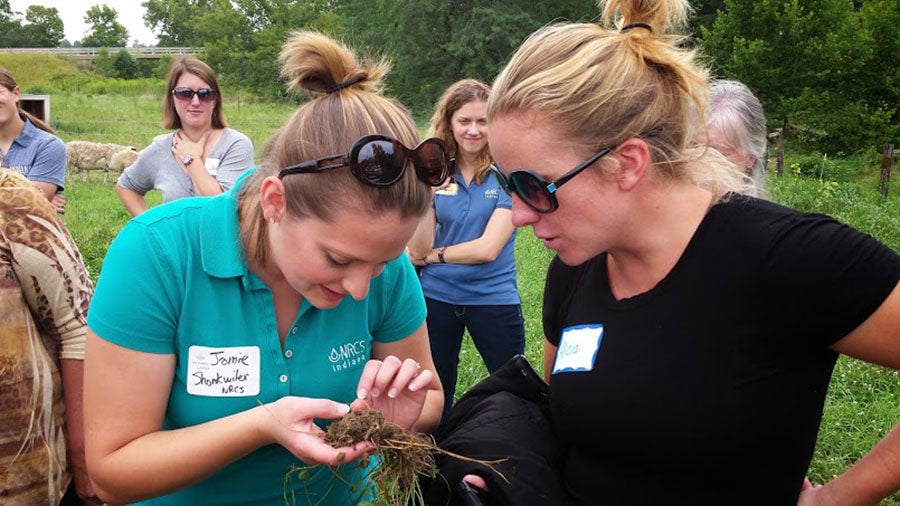 The Ontario, Canada-based Ag Women's Network was founded in 2013 and is still successfully growing strong. The program, which is volunteer-based, assists in the development of strong relationships and opportunities for women in different aspects of agriculture.
In 2017, AWN established its mentorship program in Ontario. According to Amanda Peer, one of the mentorship team leads, this mentorship program provides a unique opportunity for women from any sector of agriculture or career stage to connect in a mentorship partnership.
The application process is very much like applying for a new job, Peer explains. Mentees and mentors have similar questions they are encouraged to answer. AWN pairs 10 teams together to complete the eight-month program, she said.
Sister team leader Joan Craig said the key aspects of the program include the following – a road map goal setting document, in-person networking events and a give-back project that is completed by the mentee.
Through the experience of mentorship, participants will build a relationship that is beneficial to both mentee and mentor, Craig said. Together, they will set goals for mentee advancement. Mentees will develop skills while leading the mentorship journey. By sharing knowledge, experience and guidance, mentors will guide mentees to learn and acquire relevant skills. Both participants will finish with a wider network and more connections within the agriculture industry, she said.
Peer is a former mentor herself. Currently, she works as a Grain and Organic Grain Merchant with The Andersons Canada. She has had a full-time career in agriculture for more than a decade.
When not busy making sure customers have their paperwork or truck at the field for offloading grain at the combine, she can be found in the Dressage arena with her horse, she said.
"I feel the mentorship program has given light to a lot of individuals who have/had goals and maybe needed some extra networking to put 'such goal' into place," Peer said. "The AWN mentorship group has an open mind and is very welcoming no matter your involvement in agriculture."
Some of the things she said she learned were to reach outside your comfort zone, never be ashamed for your opinion or thoughts and be open to trying new things.
"The relationships you create through mentorship can last for a season or a lifetime," Peer said. "However, the best self-fulfillment is watching others grow you have met and had a reflection on."
Craig also believes strongly in the value of mentorship – both through informal opportunities and formal programs. She is a beef farmer, retired teacher and community volunteer. Craig has been involved with several aspects of the Ag Women's Network and am pleased to be one of the team leads for the AWN Mentorship Program.
"I believe that agriculture has been offering informal mentorships for generations through community organizations and family relationships," Craig said. "More formal mentorship programs allow individuals to benefit from the experiences and guidance of another who they might not already have connections with."
While the AWN Mentorship Program is strictly a Canadian operation at this time, mentorships can be established anywhere in a variety of ways. There are more and more mentorship programs being offered through different associations and workplaces. Mentors can also be found in a less formal manner.
"This requires mentees to have a good sense of what they hope to learn and/or accomplish," Peers said. "It will require approaching someone who you respect and who you think would have experience and wisdom to guide you."
Confidentiality is key with the AWN program and they make sure that is a key component even before pairs make their commitment, Craig said.
"Our mentorship program provides an opportunity for a person to connect with someone who they might not already know," she said. "Both mentors and mentees have indicated their serious intentions to create an experience that is beneficial and trusted."
For 2021, AWN has built a virtual platform of events that create all items that bring the program together: "Cultivating and Connecting Leaders through the Empowerment of Women."