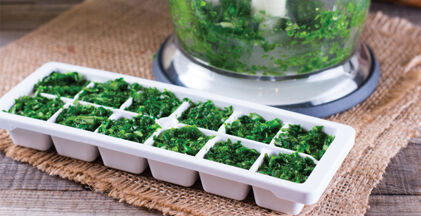 Have you ever wanted to grow herbs at home, but did not know how easy it is to raise them? Have you ever wanted to cook with fresh herbs, but didn't know how to or want to pay for herbs from the grocery store? Here is your chance to learn how to do both economically.
Nebraska Extension will offer an online class on four dates: Feb. 25, March 1, March 11 or March 25. The lessons will take place virtually via Zoom at 7 p.m. Central. Individuals can choose to attend date that fits their schedules.
Growing herbs in the garden or in containers is easier than most people think. Join David Lott, Nebraska Extension horticulture educator, to learn about the different types of herbs that are easily grown in the home garden or indoors in containers with easy care growing suggestions for the entire year.
Pat Jones, Nebraska Extension foods nutrition and health educator, will teach how to harvest and prepare food with added flavor using herbs and spices. Reduce added salts and fats to your diet by becoming familiar with cooking with herbs and spices.
Program participants will see demonstrations on how herbs are planted and raised year-round, indoors and outdoors. Participants will also see how herbs are used and prepared in a variety of ways that increases flavor and variety into popular food dishes.
Register online at https://go.unl.edu/growing_cooking_herbs at least one day before the class date in order for login information and educational material to be sent to you prior to class.
The cost is $5. Send the class payment to the Nebraska Extension Office, 348 W. State Farm Road, North Platte, Nebraska 69101.
Call David Lott at the Lincoln-Logan-McPherson Extension Office in North Platte at 308-532-2683 with questions.