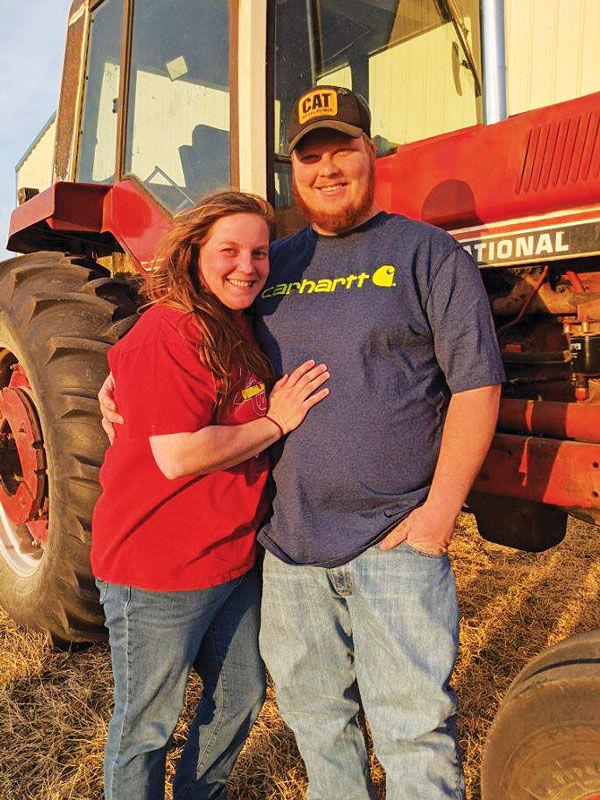 He likes the John Deere 6030 he worked on, but Micah Moulin said he's more of an International guy, so he really likes the Farmall 1206 pencil drawing he completed.
"Now that Farmall, that's old school, red power," Moulin said. "That is one of my best drawings recently."
Details are important to any artist, but for Moulin — an Adams, Nebraska mechanic who has also worked on all sorts of tractors and heavy equipment — the details are everything.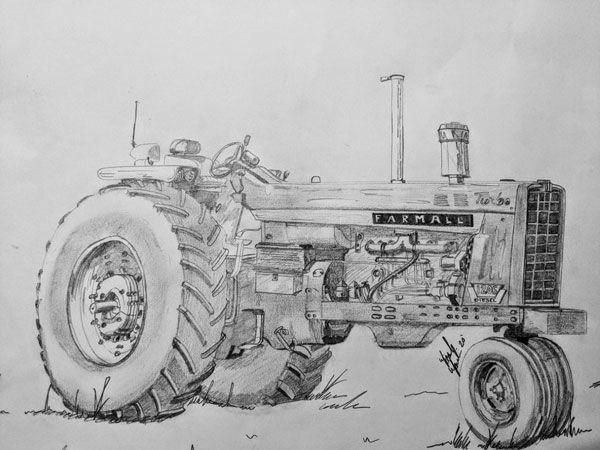 "Me being a technical person, I really focus on details," he said. "That is really important to me. A picture is not complete until it's all there and I know if something is missing. That can drive you crazy sometimes."
Since Moulin's formative years, he has always been passionate about wanting to farm, work with his hands and draw the subjects he loves. It's in his heart, blood, work gloves and flowing from the tip of his pen with his most recent venture: Moulin Farm Art and Repair. That's right — he can fix your machinery and draw it, too.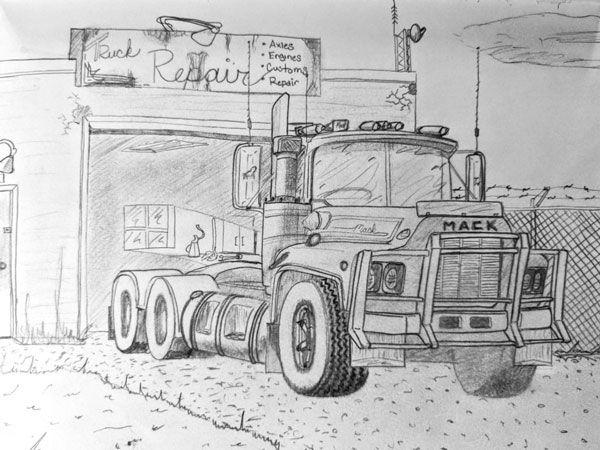 "I grew up wishing I was on a farm, but my dad, Lionel, had to move away from the farm in the 1980s, like so many others, when farming wasn't the greatest," Moulin said. "So instead, he always worked on trucks and other farm equipment, and I was always playing with my toy tractors and working by his side."
Lionel even named his repair business after his son; Micah's Repair in York, Nebraska.
"I wanted to go to school to be a mechanic, but after I graduated from Norris High School, dad wanted me to try something else first," Moulin explained. "I guess he didn't want me to be a mechanic like him. It can be a rough life and hard on the body. I suppose he wanted better for me, but that's all I have ever known."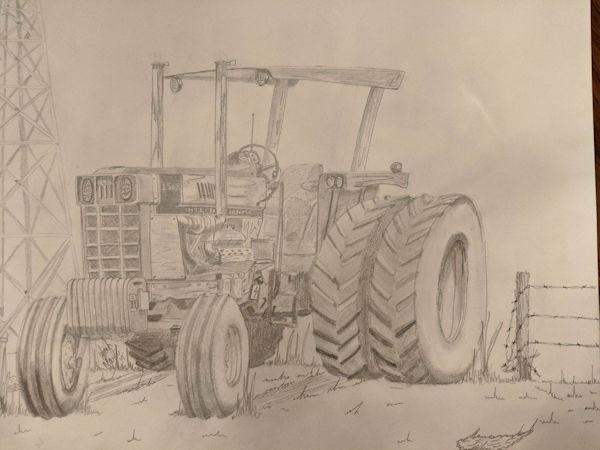 Moulin did heed his father's advice and initially pursued a degree in computer aided drafting, but it simply didn't excite him. Instead, he went back to complete a diesel technology degree.
Later, Moulin would meet his wife, Lindsay, who owns farm ground near Adams, Nebraska.
"Lindsay's dad farms and that reignited the farm passion I have always had," he said. "This is the first chance I have had to be consistently on the farm."
Drawing since he was in kindergarten, Moulin said art is also a consistent part of his life. He credits his mom, Joy, and that side of the family for his artistic abilities. His mom adds artistic flair to whatever she does, be it flower arrangements or a myriad of crafts. His aunt, Susan, also draws a lot of western art.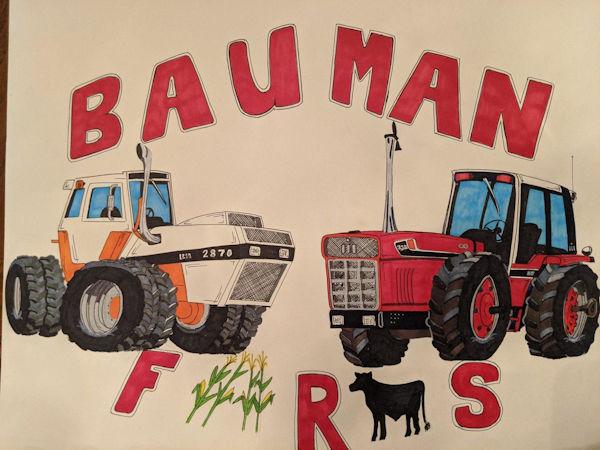 "Because of my mom and her family, I have never been afraid to try and do anything creative," he said. "Mom was always one to say, 'Do what makes you happy as long as you stay out of trouble.'"
At first, Moulin focused his drawings on pickups, trucks and semis, because that is what he grew up around the most, working with his dad. He has also drawn his grandfather Garvin Moulin's tractor, a 986 International, which he eventually also bought.
"I was trying to find a way to contribute to my wife's family farm near Adams," Moulin explained. "So, I found my grandpa's old tractor, worked on it with my dad and added a turbo onto it so we could use it on the farm there."
When he is not working his full-time job as a mechanic at Crane Sales and Service, helping his dad or his father-in-law on the farm, Moulin draws custom-made pieces or whatever inspires him. He also follows tractor pages on Facebook, too, and when he spots something he really likes, he draws it.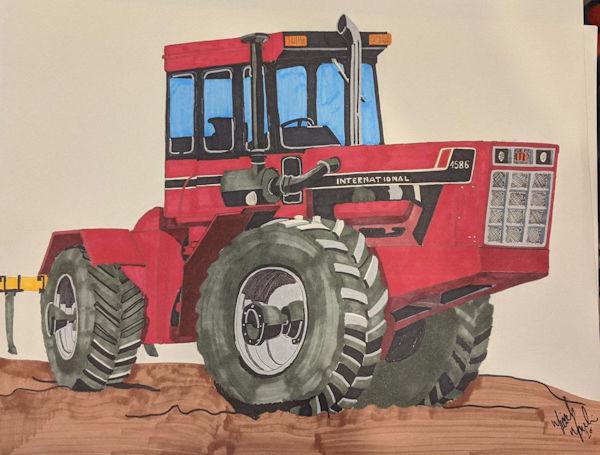 He's even been known to take his projects to Husker football games to fill the down-time.
"I am my own biggest critic," Moulin said about his drawings, which are primarily pencil now, but he is also considering delving into acrylic paint. "When I receive compliments, I appreciate it, but I am always striving to do better because I am not formally trained except art classes in high school."
Some of Moulin's commissioned pieces have included a Case IH MX240 for a gentleman in Louisiana, an International 3588 that went to Missouri and a Case 1030 for another man in Illinois. Moulin has done some artistic work for his wife, including drawing Lindsay's home church for items printed for its 150th anniversary. He also drew a Chevrolet C70 truck for a T-shirt for a family reunion, and Lindsay's grandparents' clan all wore the shirt. The drawing was fitting, because her grandfather was always known for his work with Williams Transportation.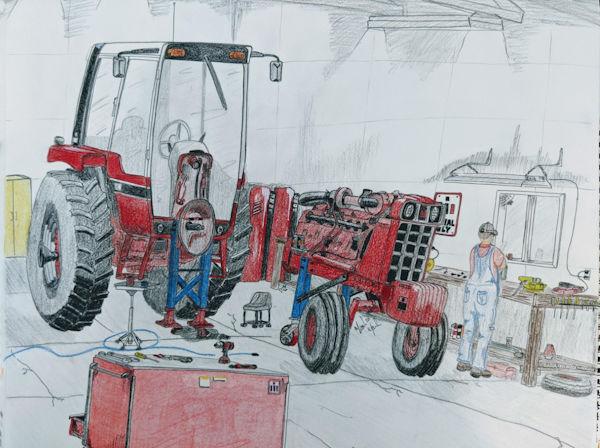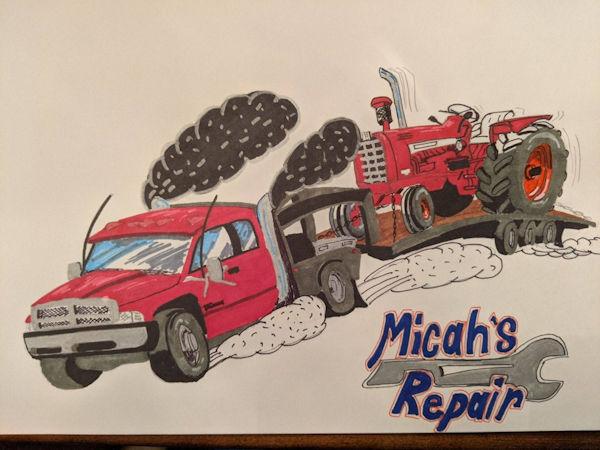 "My wife puts up with me spending hours drawing, talking about drawing and helping me ship drawings," Moulin said. "We also both like the farm and working together … Just the other day, my dad, her dad and the two of us built fence together."
Currently, the couple is building a shop house in the country close to where Lindsay grew up. They just started putting the roof on, another step closer to their goals.
Moulin said he doesn't sit still well, except to draw, with all this work to be done on building dreams.
"I am never going to turn away work and it is something I really enjoy doing," Moulin said. "If I could work out in my shop, farm, and do art on the side, why wouldn't I at least try and go for it?"
See more of Moulin's artwork at: https://m.facebook.com/moulinfarmartandrepair/.