In the world of quilting there are as many types of quilters as there are quilt patterns.
According to the Craft Industry Alliance there are between nine and 11 million quilters in North America alone. Of those the Alliance notes 98% are female and 65% are retired.
Some use only scraps, others work only with painstakingly matched fabrics and still others work in mediums ranging from leather, silks and flannel to denim. They also create quilts in all shapes and sizes and in all colors of the rainbow.
Among these fabric artists are three Nebraska women who have created their own distinctive styles and niches. Terri Uden of Lexington, Nebraska, has been quilting since high school and notes, "I sewed in 4-H for eight years. Both my mom and grandmother sewed so it was natural to start sewing."
Her first quilting effort was for 4-H in the "Design Your Own" project.
"I made a patchwork vest where I constructed the fabric and even hand-quilted the vest," she said. "It was the bicentennial, and quilting was having a resurgence."
She still has that vest and often uses it in presentations at quilt guild meetings. Her first true quilt was a flannel churn dash in black, hunter green and blue. She completed a "grandmother's flower garden" quilt during college and then ventured into baby quilts. She now does a variety of sizes and types of bags, pillows, table runners and toppers, along with quilts ranging from wall hangings to king-size bedspreads.
Lynn Greer of Edgar, Nebraska, started quilting in 1981. Her church was having a 100th year celebration and she was among a group in charge of making a raffle quilt for the centennial.
"I knew I liked quilts, had been in 4-H for 10 years and sewn all my life, but never made quilts," she said. "I decided to take a class in Hastings to learn the basics of quilt making and I was hooked."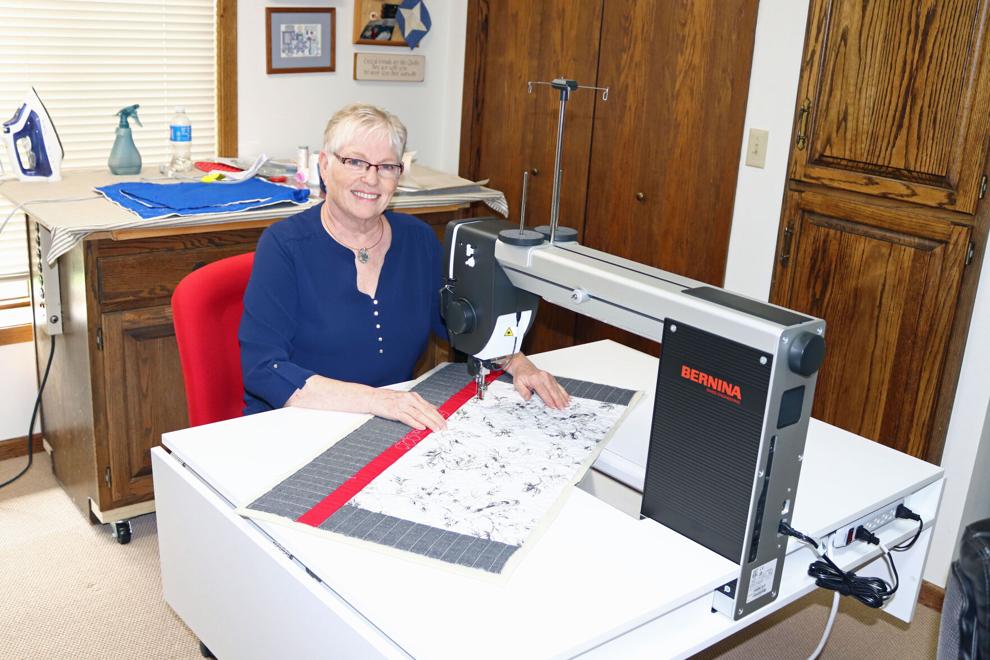 Her first project was a 12-inch hand-pieced and hand-quilted "drunkard's path" block that she made into a wall hanging. Her first full-sized quilt was a red, white and blue "Ohio star" that she hand-quilted on an old frame from her husband's family.
Since then she has specialized in miniature quilts and wall hangings with her favorites being whole cloth silk miniature quilts. Another medium Greer has tried is leather.
A patchwork tree skirt in 1981 was Diane Volk Harris' first foray into quilting.
"I made a sampler in that first class and it's still not finished because my tastes changed and my skills grew. I still have it and it's a good laugh during my trunk show of sampler quilts," said the Bladen, Nebraska, resident.
For Harris, quilting became her livelihood. After working in the quilting industry for 11 years as a magazine editor, she started her own business called Stash Bandit.
"My specialty is teaching people to make amazing scrappy quilts using the fabrics they already own, which are known as a 'stash,'" she said.
She teaches during quilt guild programs around the U.S. and Canada and in workshops, all of which have been virtual since spring 2020.
The quilts Harris makes now are usually to fill a void in one of her six trunk shows.
"Each one features from 25 to 125 quilts and focuses on a particular topic. Storing the quilts is a challenge because they need to be flat," she said.
As with any artist, the three quilters note their interests and works have evolved with time. Both Harris and Greer have been quilting now for 40 years and Uden for 45 years.
For 10 years Uden worked at the Prairie Point Junction quilt store in Cozad. During that period she sewed samples for the store. While many of those samples were projects she might not have chosen herself, she notes she learned from each one.
"One technique that I like to do is paper piecing," she said. "A paper foundation is used to sew the pieces for the block. After the blocks are put together the paper is torn off the back of the quilt and then the quilt is sandwiched together as for any other quilt."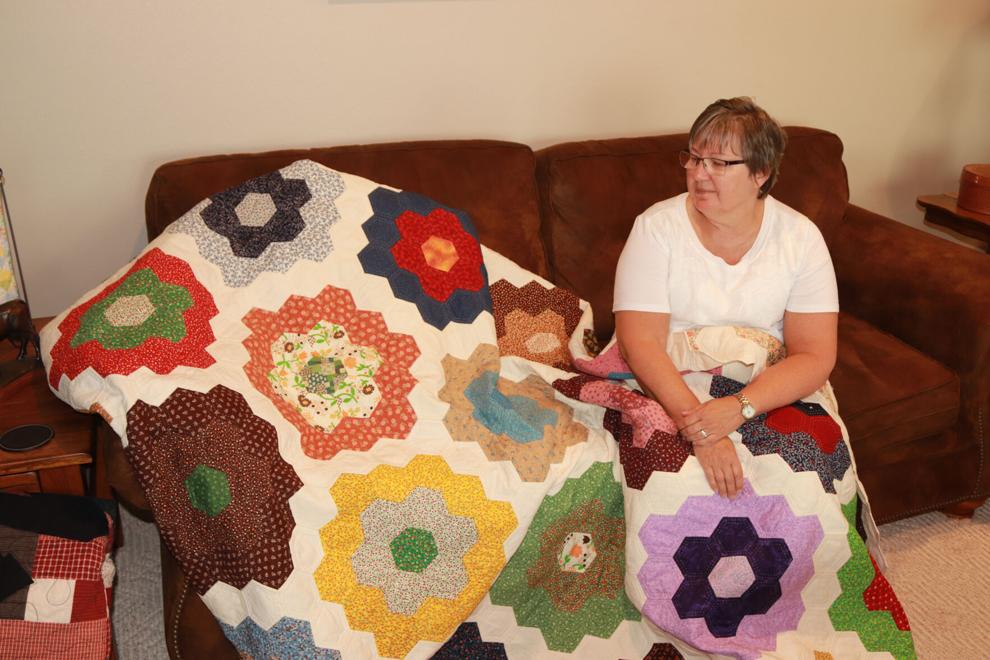 Quilters have a number of options when finishing their projects. They may choose to hand quilt them, machine-stitch them or send them somewhere for finishing, which is what Uden does with her larger projects.
"I send them to a long-arm machine quilter for any quilts throw- to king-size," she said.
One medium Greer has worked with that she wishes she had more time for is leather.
"I designed and made a wall quilt using the leather from an old coat. The design included a pasture, windmill and cattle in the center, plus a pieced border using cotton fabrics and then an outside border of the brown leather," she said.
She has also made more than 30 bags and purses, several of which are her own designs.
"Another new interest is finding old linens in antique stores and flea markets and incorporating them into my quilting," Greer said.
Her family still thinks she is mildly insane when working on her miniatures, Greer said with a laugh.
"The smallest quilt I made was one for a bed in my doll bed collection," she said. "The quilt is one-inch square and has 25 pieces, all machine-pieced, then hand quilted. I sometimes use a magnifier that I can attach to my machine to see the really small stitching."
Harris noted the pandemic opened a lot of doors for her and expanded her business significantly.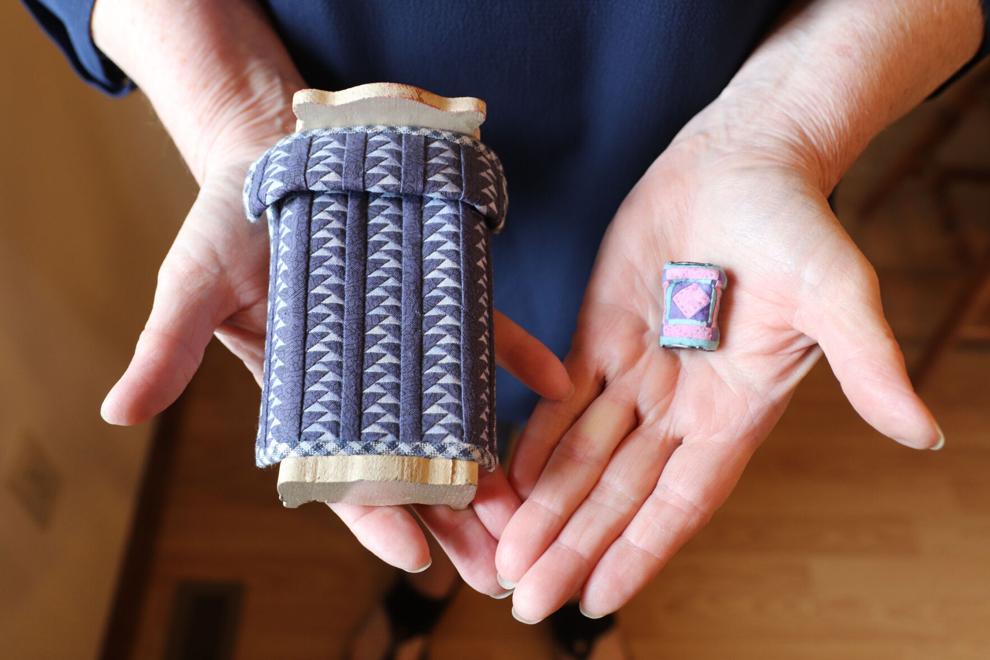 "Before that I was traveling around the country, quilts in tow, to speak for guilds, shops and events," she said. "When everything shut down, it was stunning to realize my income was going to evaporate. I resisted virtual teaching for months out of fear. But by July 2020 I knew it was jump in or die."
While it was stressful pivoting toward speaking online, once she learned to manage the technology, Harris said she fell in love with it.
"I reinvented my live presentations into slide-based, concept-rich content I could share in a virtual setting," she said. "Now I believe quilters actually learn more from a virtual presentation than an in-person experience because they have fewer distractions."
"When I retire in six or seven years, quilting will go back to being my hobby," Harris said. "I look forward to that because there's a certain amount of pressure with a business. I'm always thinking about what should come next, what will people want to learn, how will something fly?"
For those interested in learning the craft of quilting, all three women encouraged finding a friend or quilting group that individuals can learn from and share projects with.
"Join a class for beginners, scour the internet for videos, tutorials and patterns," Greer said.
"Hang out in quilt stores, attend quilt guild meetings, quilting events and search online via Instagram and Facebook," Harris added. "Get to know the local quilt shop in your area and support it with your purchases. It's another way to make quilty friends!"
Uden agreed: "With the internet everything is just a click away, but it is good to have a favorite quilt shop to go and actually see the fabrics and notions."
Each of the three quilters have also earned their share of accolades and honors. Uden has entered her county fair for many years and started entering the Nebraska State Fair when it moved to Grand Island in 2010.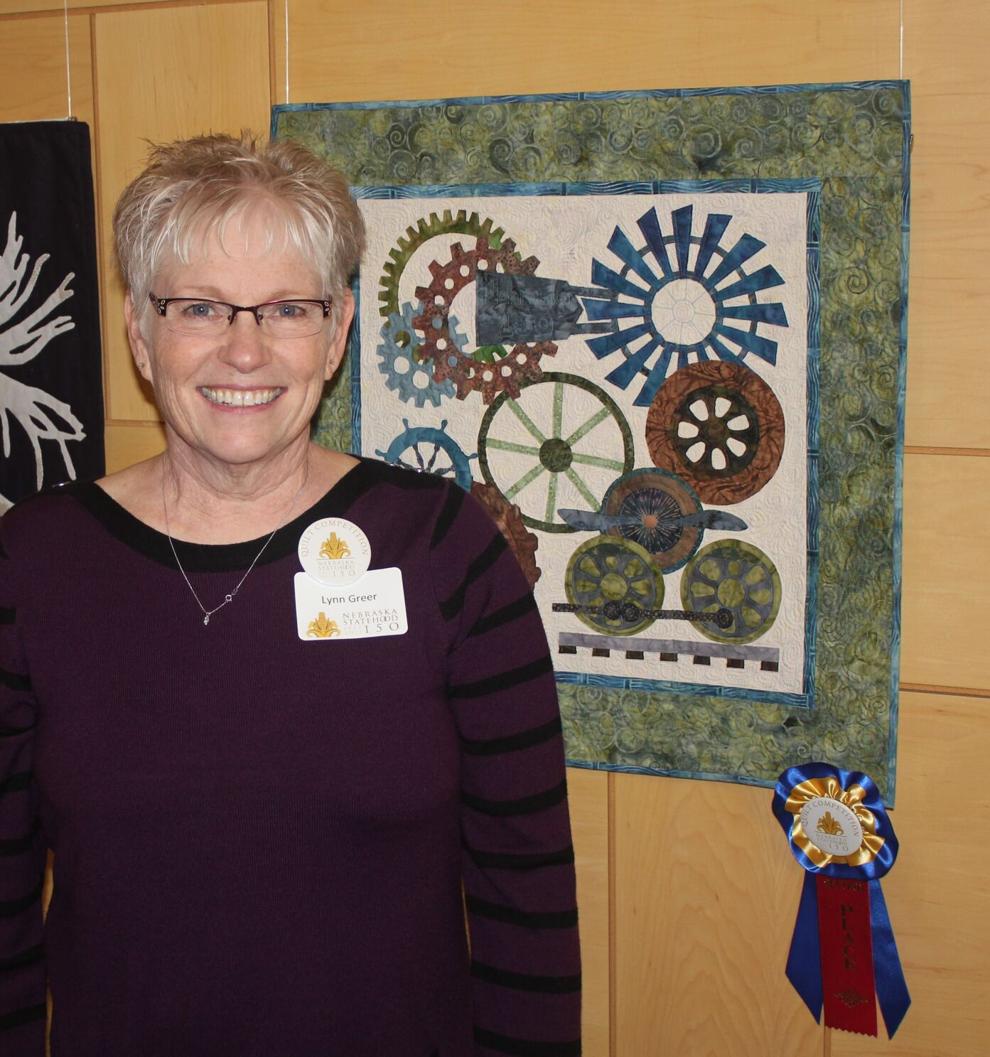 "Winning a 'best in county' ribbon is always fun. Winning any ribbon at the State Fair is great because there are so many to compete against," she said.
She should know as she is quilt superintendent for the Nebraska State Fair.
"There were 461 quilts in the 2019 State Fair Exhibition. I begin my time at the State Fair on Aug. 16 this year and I am then there until the close of the fair on Labor Day. It is a big job but I enjoy visiting with quilters from all over the state," Uden said.
For Greer one of her most prized awards was having a quilt win second place in the Nebraska Statehood 150 Quilt Competition in 2017. It traveled the state for almost a year being displayed in many communities.
Harris's all-time favorite project was tied to Nebraska's sesquicentennial, too. She created the raffle quilt titled "Scarlet Sampler" for the Nebraska State Quilt Guild as well as a blog to tell the quilt's story found at scarletsampler.blogspot.com. The quilt featured 150 blocks and the guild sold every last ticket allowed by law.
"Designing that quilt of significance related to Nebraska and her history was my most treasured honor," Harris said.
Uden notes some of her most gratifying moments come in gifting her quilts.
"I like the denim quilts I make for graduation gifts and an occasional wedding gift," she said. "As I am tying the quilt I usually know who the quilt will be given to and even though I make the same pattern every time, it is fun to know they will have a quilt as they start their new adventure."
For Greer, she is grateful to her mother for taking the time to teach her to sew and to love fabric: "It has been the best gift she ever gave me!"
"Quilting has held my attention because creating beautiful things from fabric feeds my soul in a way that nothing else does," Harris said. "We are wrapped in cloth when we arrive on earth and again when we leave. I think that says something about its importance," she concluded.