It has been a whirlwind year and Nebraska's FFA president notes she probably won't be able to catch her breath until it is all over.
Amanda Most was chosen from 12 finalists for state officer last April at State FFA convention.
"We got a week off after convention and then hit the ground running and haven't stopped since," noted the Ogallala, Neb., native.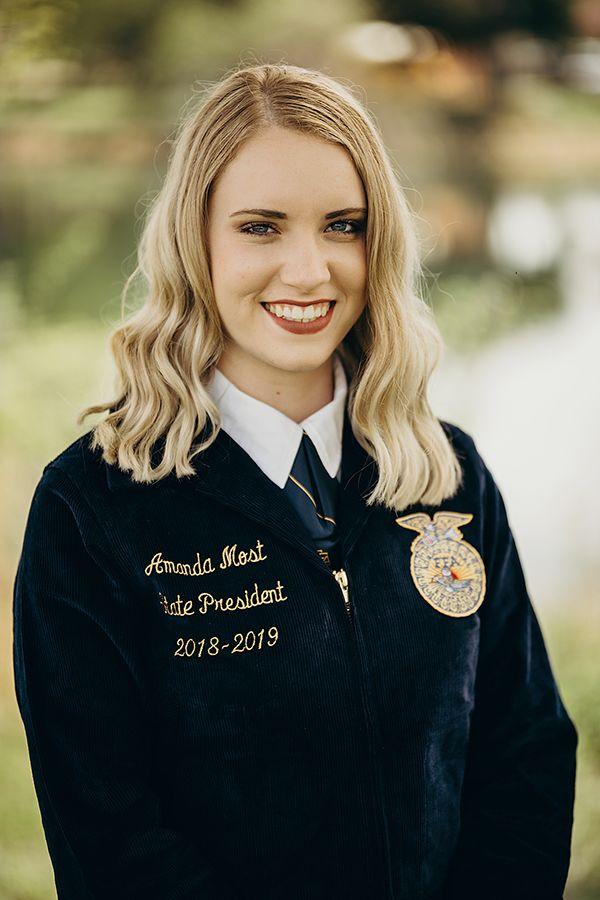 Most said her route wasn't quite what most State FFA presidents take.
"Ogallala did not have an FFA program until 2015, so I started my sophomore year as a charter member of the new chapter," she said.
She attended her first state convention in the spring of 2016.
"I had no expectations going in, but that experience was very influential on the rest of my high school FFA experience," she said. "I remember leaving convention and saying it would be really cool to become a state officer."
While most state officers enter the program as freshmen, giving them an additional year to build their FFA portfolio, Most had to work hard to make up for that lost year.
Since her family is involved in production agriculture, her Supervised Agriculture Experiences were beef production entrepreneurship and swine entrepreneurship. She also showed cattle at the county fair.
During her junior year, the school got a new advisor and he worked to build different teams and prepare individuals for competitions and contests.
"I was blessed that my vet science team won state my junior year, so I got to compete at national convention that fall," she said. "Then in the summer of 2017, I got to attend the Washington Leadership Conference (WLC)."
Most's advisor, Seth Heinert, encouraged her to apply for state office, which she did in the spring of 2018, her senior year. A total of 32 FFA members applied for seven positions on the state leadership team.
"We had to submit a written application and answer general questions about our leadership involvement and activities," Most said. "Next, we completed a round of preliminary interviews in Kearney over two days. At the end of those two days of preliminaries, the group was narrowed to 12 for final interviews. Those were conducted one day of the week of state convention."
The final night of convention is when the new state officer team is announced.
"It was all a whirlwind," Most recalled. "They announced president last and at that point I realized, either I would be president or not even have an office. Going into the evening, I was actually pretty calm, but after my name was called I was a wreck and pretty much in disbelief."
After a week's break, the new officer team began training and preparing for their roles as officers.
"Our first big event was Chapter Officer Leadership Training (COLT) in Aurora. We saw more than 1,000 Nebraska FFA members during four sessions that were conducted in less than two weeks," noted Most of their hectic schedule.
After that officers traveled the state on business and industry visits, and went to Washington, D.C. for the annual State Officers Summit. This was followed by EDGE conferences in the fall, Husker Harvest Days in September and National FFA Convention in Indianapolis in late October.
"We then started helping with LDE's (Leadership Development Events) and right before Christmas break we started chapter visits," she said. "Then right after the New Year, our officer team went to South Africa for 10 days."
The Nebraskans toured farms, learned about the South African ag industry, did some historical stops and touristy things, Most said.
"The main goal was to learn about agritourism and agriculture in South Africa," she said. "While some things are similar to the U.S., as they grow Pioneer corn and drive John Deere tractors, many other things aren't. The cattle breeds were different and we toured unique operations such as crocodile and ostrich farms."
Keep in mind that Most and her fellow officer team members are doing all this traveling while full-time college students — one of the requirements to be a state officer. Most is enrolled at the University of Nebraska-Lincoln, where she is a freshman studying ag communications. Since returning a month ago from South Africa, the team has continued traveling to chapters and preparing for state convention.
"The biggest challenge for me this year has been traveling this much and being gone this much," she said. "Time management and being able to balance everything and remembering to take time for you is very difficult. Being away from my family has been difficult, too."
Her parents, Sam and Jody Most, have been supportive of her whirlwind year, she noted. It also helps that her older brother, Micah, is a senior at UNL. A younger brother, Caleb, helps out at home where he is an eighth grader in Ogallala, Neb.
She counts South Africa as the high point of her year, with the state officer summit a close second.
"Getting to meet other state officers in July, then again in October at national convention and some more on the international trip in January has been special," she said. "Those friendships have been incredible and sharing experiences with them means there is a special bond."
The main message Most shares with fellow FFA members while touring the state?
"I'm passionate about FFA and agriculture," More said. "Not everyone will be and that's OK. FFA can help you develop and build skills for the future and help you find what you are passionate about."
Barb Bierman Batie can be reached at barb.batie@midwestmessenger.com.