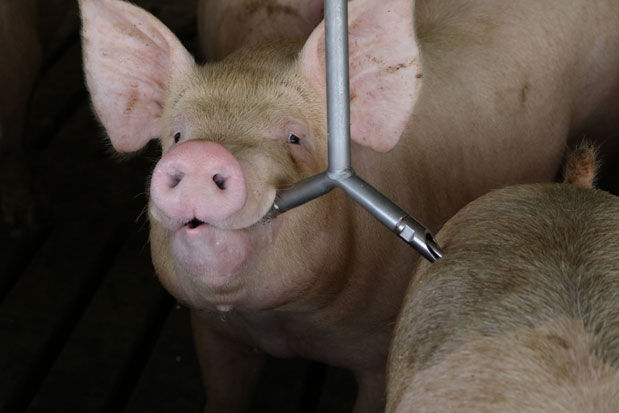 There is no better time than October to celebrate that Iowa is the country's top pork-producing state. That achievement is a testament to the work done by the women and men who work in the industry. In fact, if all the people who worked in pork production were aggregated into one place, those 147,000 people would make up the state's third largest city.
Iowa pig farmers and all the other essential workers in the pork industry continue to respond to our uncertain times with resilience and creativity. That's why the Iowa Pork Producers Association will celebrate October Pork Month, or #Porktober21, with great appreciation of not only delicious and nutritious pork, but all the people that are part of this important food system in our state.
Those people work in the barns to make sure pigs receive the best care possible. They drive feed trucks to deliver Iowa corn, soybean meal and other nutrients to pigs. Others are driving trucks filled with pigs as they move them through the production system. And then, there are the veterinarians and the processing plant workers – both focused on the final outcome of providing safe and healthy pork to consumers.
"Pork is the leading animal protein for consumers across the globe, but our most important consumers will always be those here at home," said IPPA President Dennis Liljedahl of Essex. "Porktober21 is when we highlight both the people and the product. It is a celebration of real stories, real farms, and the real way people feel when they enjoy the taste of pork and the way it brings them together."
Learn more about pork and Iowa's pig farmers at www.IowaPork.org/Porktober21/. There, you'll find quick and affordable pork recipes, videos of Iowans who are part of the pork industry, as well as information about the sustainability of pork production.
Below is a recipe from the site:
Ground Pork Mexican Casserole
Ingredients:
4–10-inch flour tortillas, quartered
1 pound ground pork
½ cup diced onion
1 packet taco seasoning
1 can RO*TEL tomatoes
1 can black beans, rinsed and drained
1 can mexicorn, drained
4 ounces cream cheese
2 cups shredded Mexican cheese
toppings (salsa, sour cream, avocado, cilantro, etc.)
Directions:
Preheat oven to 350F and grease a 9-by-13 pan.
Brown the ground pork with the onion. Stir in the taco seasoning, RO*TEL tomatoes, black beans, corn and cream cheese. Let cook on low, stirring frequently until the cream cheese is melted and smooth.
Add ½ of the tortillas on the bottom of the pan, then add ½ of the pork mixture and 1 cup of cheese. Repeat.
Bake for 25 minutes.
Serve with toppings, if desired.