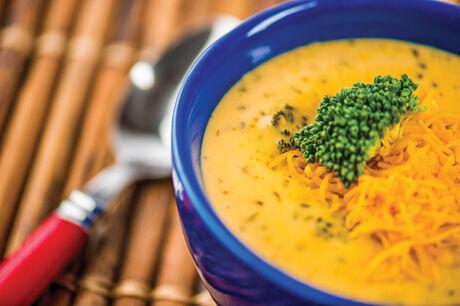 Thanks to Susan Steward of Palmyra, Nebraska, for submitting this recipe! 
Ingredients
1/2 cup finely chopped onion
1-3/4 cup milk
1 clove garlic (minced) or garlic powder
1/2 lb. Velveeta (cut up)
1 tbsp butter/margarine
1/2 cup beer
1 tbsp flour
Directions
Cook onion and garlic in the butter in a large saucepan on medium-high heat until tender while stirring frequently. Add flour and mix well. Cook until hot and bubbly while stirring frequently (about 2 minutes). Stir in milk until well blended. Cook until mixture boils and thickens while stirring constantly. Reduce heat to low and simmer for 5 minutes while stirring occasionally. Add Velveeta and beer. A few drops hot sauce and Worcestershire sauce are optional. Mix well. Cook until Velveeta is completely melted and soup is heated through while stirring constantly (about 5 minutes). Yield 4 servings.
Send recipes to katy.moore@lee.net or Midwest Messenger, Attn: Katy Moore,
P.O. Box 239, Tekamah, NE 68061