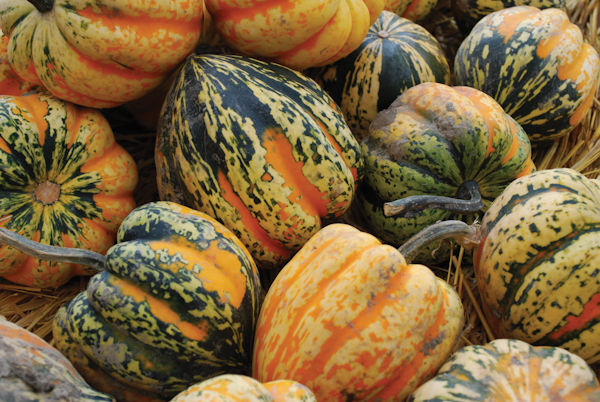 I like to display a variety of winter squash on my kitchen counter like pieces of art, but all too often, I skip cooking these hard beauties because the task feels daunting.
However, a beautiful tower of golden roasted, sliced delicata squash at St. Lou's Assembly in Chicago jolted me out of my kitchen laziness. Fantastic. As we gobbled up the tender, slightly sweet squash, skin and all, I vowed to rethink squash at home.
Acorn squash are everywhere, but these days, butternut, spaghetti, delicata, blue Hubbard and sweet dumpling appear regularly at supermarkets and produce stores.
I choose small specimens, free of blemishes and soft spots. Look at the stem end — where it was attached to the vine — which should not be too dried out or bruised.
Most winter squash enjoy a steamy environment for cooking. So, cook them whole (pierced to allow steam to escape) in the oven or microwave, or speed up the cooking by cutting them into pieces and adding moisture (water, broth, oil) during cooking. Cooked squash keeps several days in the refrigerator and can be frozen. This means it's now a weeknight option.
Stuffed squash makes a great meatless main course or elegant side to a roast chicken dinner. My favorite combination of rice, green chile, corn and cheese makes a terrific stuffing for acorn or delicate squash.
Acorn squash with cheesy rice and poblanos
Prep: 30 minutes; Cook: 55 minutes; Servings: 4
Ingredients
4 small (about 1 pound each) acorn squash, halved, seeds and fibers removed
2 to 3 tbsps unsalted butter or olive oil
2 medium-size poblano chiles, halved, seeded, chopped (or 1 poblano and 1 red or yellow bell pepper)
1 medium-size white onion, chopped
3 large cloves garlic, crushed
2 cups cooked white or brown rice OR 1 pouch (8.8 to 10.5 ounces) fully cooked rice
1 cup frozen corn kernels, thawed
1/2 tsp salt
1/2 tsp each: thyme, black pepper
1⁄8 tsp ground allspice
1 1⁄3 cups shredded Chihuahua or Monterey jack cheese
3 green onions, trimmed, chopped
1/4 cup chopped fresh cilantro
Lime wedges
Directions
Put squash halves, cut side down, in a single layer in a microwave-safe baking dish. (Work in batches to accommodate your microwave oven.) Add about 1/2 inch of water to the dish; cover with lid or plastic wrap vented at one corner. Microwave on high, turning dish if needed, until a fork can be inserted easily in the flesh of the squash, 13 to 15 minutes. Keep covered while you cook the remaining squash. (Refrigerate cooked squash halves up to 2 days.)
For filling, melt butter or heat oil in large skillet over medium heat. Add onion and poblano; cook until tender, 5 to 6 minutes. Stir in garlic; cook 1 minute. Stir in rice, corn, salt, thyme, pepper and allspice; heat thoroughly. Remove from heat. Stir in cheese, green onions and cilantro. Taste and adjust seasonings.
Heat oven to 350 degrees. Arrange cooked squash halves cut side up in oiled baking dishes. Sprinkle with salt and pepper to taste. Spoon a quarter of the filling into each squash. Cover with a sheet of oiled aluminum foil. Bake until heated through, about 20 minutes (longer if squash has been refrigerated before stuffing). Serve hot with a squeeze of lime.