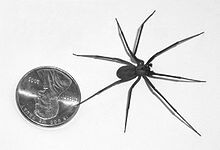 Susan Moseman, a retired nurse from Craig, Nebraska, was bitten by a brown recluse just six years ago, when she was 60 years old. She was cleaning out the garage at her home at the end of summer, and never saw the spider nor did she feel it bite her on the temple.
She only knew she had been bitten when she saw a pimple-sized wound on her face about three hours later that started to swell to the size of a grape a short time later. It is common for a brown recluse to bite someone and that person not feel any symptoms for hours or even days.
She went to the clinic in Tekamah where the bite was diagnosed, and was given antibiotic treatments. It took two months for the wound to heal and even now bears a slight scar.
"My mom was also bitten by a brown recluse spider – about 40 years ago," Moseman said.
Very little is known about the venom of the brown recluse. It is said the venom is as potent as that of a rattlesnake, only injected in much smaller portions. Spider venom experts have been looking for ways to effectively tell whether a brown recluse has bitten a patient as well as an antidote for its venom.
According to the UNL entomology website, The brown recluse spider can be light brown, dark brown or even gray. Sometimes it is called the violin spider since its head has a darker mark on it that looks like a violin.
Including their six legs, these spiders can grow to roughly the size of a quarter. Their most unusual feature is their six eyes -- two less than most other spiders -- which appear in grouped clusters on their faces.
The brown recluse spider is infamous for its bite, which can cause the affected skin to necrotize in a matter of hours. Sometimes the necrosis becomes fatal, but these fatal bites are actually very rare, and most bites from brown recluses are no more harmful than a normal spider bite.
Brown recluse spiders have been feared since they were discovered in 1940, and people will often take drastic approaches to rid their homes of these spiders. They can live without food or water for over a year, and can survive in people's homes over harsh winters.
They are called 'recluses' because of their shy and timid nature, tending to hide during the day in dark, abandoned places. They typically avoid humans if they sense them, which is why they are considered an uncommon threat.