Each year the Nebraska Sandhills Cowboy Hall of Fame recognizes longtime ranchers from western Nebraska. Leading up to this year's induction ceremony Nov. 21 in Ainsworth, the Midwest Messenger will be featuring profiles of each of the nine inductees.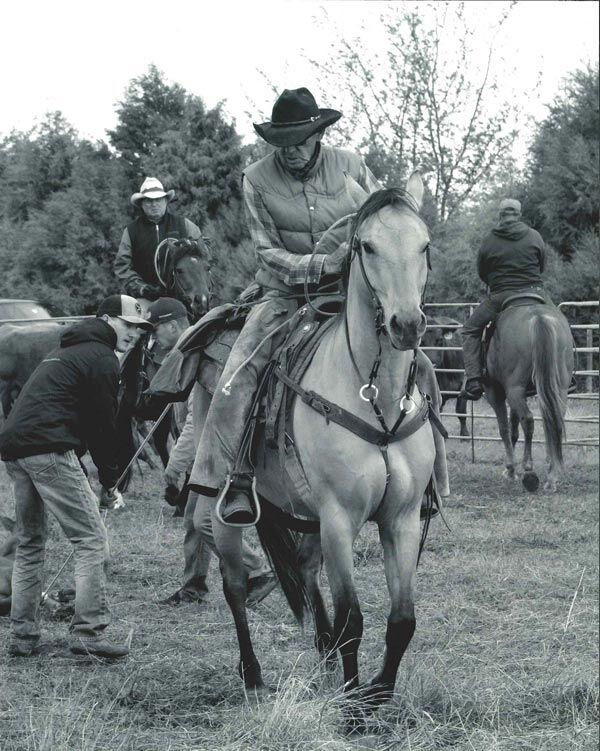 Clarence J. Lanka
Feb. 5, 1929
Clarence J. Lanka was born Feb. 5, 1929, in Arthur County, Nebraska. He grew up there until age 20 when he moved, along with his parents, three brothers and one sister to Logan County, Nebraska. They purchased the Cody Lake Ranch north of Stapleton, doubling the size of the ranch in Arthur County so that the sons might have an opportunity to raise cattle for a living.
This was Clarence's first and only ambition — ranching, caring for cattle and using horses for that purpose.
In 1952, Clarence was married to Judy Bakewell and together they raised four children: Dawn, Greg, Julie and John. In September 2017, they celebrated 65 years of marriage with nearly all of their children and spouses, grandchildren and great-grandchildren attending the celebration and a family reunion.
Clarence was drafted into the Army in 1954 at the end of the Korean War. He spent the following two years training in El Paso, Texas and serving in a Nike Missile Unit at Ft. Niagara, New York. During this time his brother, Elton Lanka and his father, Frank, operated the ranch, keeping a place for him when he returned home.
During his years in Arthur County and early on in Logan County, Clarence participated in the sport of tie-down roping and attended many local rodeos and roping events. His focus was always on working with and training good horses.
As his family increased in size, he no longer participated in competitive events. One of his greatest enjoyments in his retirement years has been helping his sons and neighbors with brandings and cattle moving projects. He continued riding and roping until age 88 and still owns his faithful horse, Cody, especially for the grandchildren to use.
Clarence served his community and his church on various boards during his active years in Logan County. He has always had a heart for the spiritual growth of young people, including his own family and sponsored the youth group of First Presbyterian Church at Stapleton, as well as teaching a Sunday school class for many years.
In his recent years of retirement, Clarence began a hobby of cleaning used horseshoes and welding a large variety of items from them for display at craft shows and similar events.
Clarence was born into a ranch family and from an early age he showed signs of a natural affinity for ranching and cowboying. He grew up caring for and feeding cattle, riding and breaking horses, putting up hay, fixing fences and all the other jobs that go with running a ranch.
As a young man he developed a talent for roping and especially liked calf roping. He participated in and placed in many local rodeos. His success was not limited to the rodeo arena but also included raising and training ranch and roping horses.
He has also worked at and developed his abilities in all aspects of working with, sorting and caring for cattle. He knows the best way to gather, drive and sort cattle horseback, to check and care for calving cows and knows the nutritional requirements of cattle during the various seasons of the year. It has always been important to him to develop good horses and to work cattle in a way that is the least stressful to the cattle.
Along the way he has acquired a reputation as being a good "any situation" roper and is especially consistent at heeling and dragging calves in a branding pen, a skill he still enjoys today.
He has also always been very willing to help younger people and kids with skills and tips about roping, ranching or working cattle and doing it the cowboy way.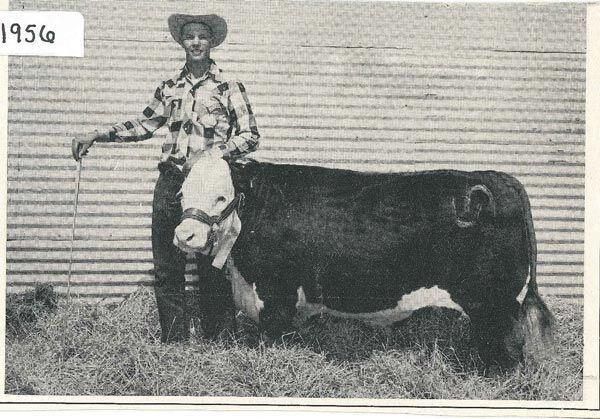 Don Powles
Aug. 14, 1938 - May 24, 2016
Don was born Aug. 14, 1938, to Rolland A. and Emelene (Thurston) Powles in Ashby, Nebraska. He lived his entire life in the Bingham area on the family ranch. He and his sister, Carol Ann, were the last graduating class from Bingham High School in 1956.
He served a brief term in the Army, returning home to marry Gretchen Pisel on June 3, 1962. To this union, three children were born: Tena, Jana and Bryon.
Don grew up raising horned Hereford cattle with his dad. They participated in the Cow Town Hereford Bull Sale along with the Westover family and many others for years.
Don then began a new venture in the early 1970s breeding Gelbvieh cattle with his longtime friend, Phil VanDervort. Gelbvieh cattle were known as "Golden Cattle," but Don felt his beloved Sandhills black cattle would be more popular, so he began crossing Gelbvieh cattle with Angus to eventually breed Black Imprint, the first homozygous black, homozygous polled Gelbvieh bull.
Other herdsires — Buster, Polled Midnight, Black Velvet and Jetstream — put the Powles Gelbvieh Ranch on the map, both nationally and internationally. Powles' sold Gelbvieh bulls for over 20 years and Don enjoyed personally delivering the bulls to his customers. He was active on the ranch with the seasonal routine ranch work until a sudden heart attack in 2016 took his life.
Don won numerous awards as a youth in 4-H including the most prestigious award in their county, Sheridan County 4-H King. Don loved to judge livestock and excelled in judging and showing. Don's Gelbvieh cattle won awards at the National Western Stock Show in Denver, the Black Hills Stock Show in Rapid City, Nebraska State Fair and neighboring state fairs.
Tena, Jana and Bryon all participated in 4-H, rodeo and cattle show competitions under Don and Gretchen's guidance. He was an active member of various cattle and breed organizations throughout his ranching career and gave several herd starting heifers to many youth.
Don's father, Rolland, raised horses, and Don was the rider on many a matched horse race at the Alliance track when he was a young boy. When Rolland found a bargain at a horse sale, Don got to "test it out" before anyone else.
Don competed in calf roping as a young man and then participated in team roping with various partners but especially Bill Shrewsbury. They placed at the Nebraska State Rodeo finals for many years. He won numerous buckles throughout his rodeo and roping career.
Don served as a Bingham school board member for 27 years, was a lifetime member of the Bingham church, member of the Cowboy Chapter of the Fellowship of Christian Athletes and was active in Gideon's International. He was a huge supporter of 4-H and FFA and ran the Hyannis FFA cowherd for years. He was honored to receive the Ak-sar-ben Good Neighbor Award in 2003 and was a board member of the Nebraska Cowboy Hall of Fame at the time of his passing.
Don loved to hunt and fish, especially fishing after retirement. He had no greater joy than sharing a fishing trip with a family member or a good friend. His delight and joy was so obvious in the experience itself and if you caught fish, that was a bonus. Many people enjoyed a great community fish fry because of the hours Don and his friends spent fishing for the catch; however, it was usually paired with a great beef steak from the Powles herd.