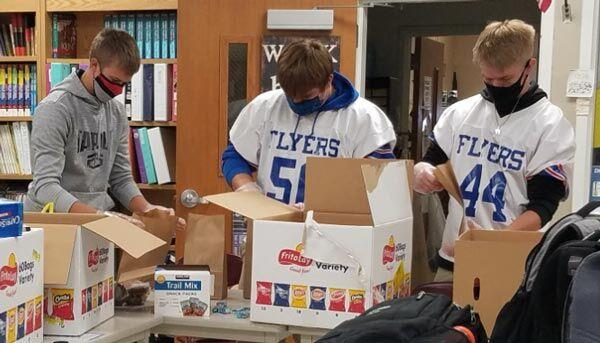 The Humphrey FFA Chapter has earned a National Three-Star Chapter status and is recognized as a Premiere Chapter.
Founded in 1974, the Humphrey FFA chapter currently has 89 members, 82 of which are high school students. A private school in the area has its students participate in the Humphrey Public Schools activity.
Robyn Graham has been the FFA Advisor for 15 years. With her guidance Humphrey has produced multiple State Degree recipients, including 11 last year. The chapter has six students working toward their State Degrees this year. One former student is working toward her American Degree – Danie Brandle, a sophomore at the University of Nebraska-Lincoln.
Humphrey earned the prominence of a Premiere Chapter through its activities and the participation of its members, Graham said. One of those activities was Feed A Farmer Fridays, which just wrapped up.
The Humphrey FFA Chapter packed a total of 325 meals for farmers, she said. Partnering with Central Valley Ag, which served as the host site for the activity, meals were provided in a "grab and go" style due to COVID concerns.
Meals included water, pop or Gatorade, chips, apple, baked good and an additional snack. A total 57 FFA members helped by donating items for the meals or packing and delivering meals.
"We feel it's important to support our local farmers and help them with a quick meal during their busy time," Humphrey FFA President Hailey Goering said. "Agriculture is essential, and doesn't stop due to COVID."
Graham said the FFA chapter could not have earned its prestigious status without the amount of support it receives from the community, local businesses and the school's administration.
"We feel it is important to give back to our community," Goering said.