Making hay in a whole new way
Hay — alfalfa, grasses, clover or legumes — is a great source of protein for feeding animals. In the 1940s, there were major advances in the machinery that cut, dried, processed and stored the crop.
The main development was that tractors began to replace horses on farms. The number of tractors on U.S. farms rose from about 1.6 million in 1940 to 2.4 million in 1945 — an increase of two-thirds.
During World War II, the U.S. government was faced with a big problem — how to provide both tanks and tractors. Agricultural equipment manufacturers were caught in the middle. They were expected to produce for war as well as the farm.
The challenges created innovation. During this decade, tractors got smaller and more powerful, hydraulic systems made it possible to control larger implements and tractors replaced horses on farms forever.
Getting the new machines wasn't easy during the war years, though. Still, farmers found ways to buy them; sometimes outside the prohibitions placed on such items by the government.
Orville Hoffschneider, of Westboro Township in York County, Neb., remembers how he needed a corn picker and tractor during the war. Orville ended up buying the tractor on the black market.
"Rationing... you lived with it," he said. "You have people that would sell you something."
Before the war, the New Holland Machine Company introduced the automatic mobile pickup baler. One farmer, alone, could now bale 35 to 40 tons of hay a day. After the war, other companies quickly followed.
International Harvester, for example, introduced their No. 50-T baler in 1945. The T stood for "twine" baler. It used heavy twine to hold the bales together.
John Deere introduced their automatic, wire-tying baler, the 116-W, in 1946. The machine produced 16x18-inch bales. The smaller model 114-W produced 13x18-inch bales that weighed between 50 and 70 pounds each.
Allis-Chalmers took a different approach to hay production during the 1940s. They were convinced that larger, round bales were better than the rectangles ones produced by everybody else.
In 1910, a farmer and inventor from Seward County, Neb., Ummo F. Luebben, had patented a machine that gathered the hay and rolled it into a large round bale. Allis-Chalmers bought the patent rights from Luebben in 1940 and adapted his ideas to their own machine. Six experimental machines were built in 1941 and tested by A-C and several farmers in the Midwest. The new "Roto-Baler" worked. The next step was to convince farmers that round bales were better than rectangle ones.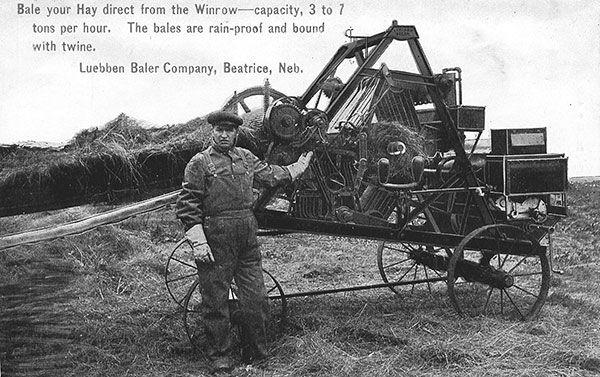 Round bales left more leaves on the stems, were easier to unroll and feed to cattle, and could be left outside and still protect the hay inside. The sales crew also argued that cattle liked rolled hay better because it didn't have sharp ends to jab their mouths. Within three years, 23,000 Roto-Balers had been sold.
Even in the country's darkest years, producers and companies found a way to revolutionize the agricultural industry. A tribute to American exceptionalism.
Jon Burleson can be reached at jon.burleson@lee.net