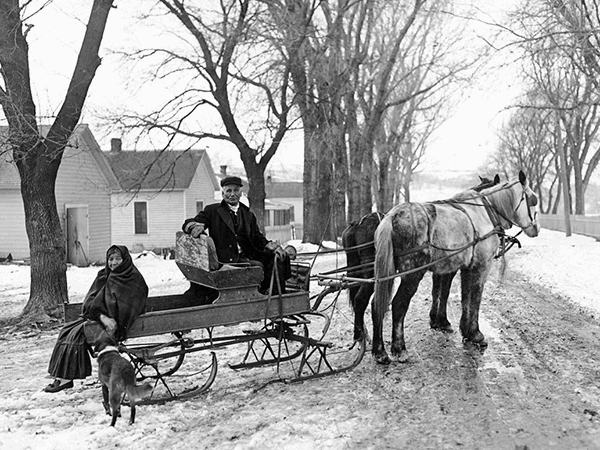 Sleigh parties of the 19th Century
Present day snow ties up more than its share of Nebraska's traffic, but in pioneer times it added to the ease and pleasure of travel. A good coat of snow made farm hauling easier — much easier than the heavy ruts developed by the thawing weather — and perhaps more important, made sleigh riding one of the year's most pleasant entertainments.
The early newspapers frequently mentioned sleighing parties in their columns. Many of the accounts were located in the "society" news.
A bob-sled, its bed partially filled with hay, drawn by horses with sleigh bells, was a luxurious conveyance. The jingle of the bells and the laughter of the occupants could be heard for a long distance over the empty prairie on a crisp, still winter night.
Frequently, the young people of one town visited another for a combined sleighing party and dance. The Brownville Advertiser of Jan. 31, 1861, contains descriptions of two such parties:
"On Saturday evening, a half dozen sleigh loads of `young folks' went from this city to Rock Port; stopping at Cook's Hotel. They partook of an excellent supper, after which, together with their friends of that place, they `all joined hands and circled round,' until the `wee hours' admonished them to `go home with the girls in the morning.'
"The same evening, a host of pleasure seekers from our sister city of Nemaha came up to this place, and put up at the Brownville House, where they were treated in Doctor Macks' best style. They were accompanied by Dye's Brass Band, and favored our citizens with some of their excellent music. After supper, and a couple hours dance, off they went, band playing."
The Nebraska City News of Jan. 14, 1860, reported a gala sleighing party, in which the young men were very strict in collecting a "toll" from the young ladies every time a bridge was crossed. The fact that there were few bridges had little effect. The same one was crossed many times during the evening.
The man fortunate enough to own a sleigh and a matched team of horses was much like the owners of a sports car today. Most young people, however, were unable to afford the luxury of a sleigh and horses of their own. Consequently, livery stables with sleighs and horses for hire did a flourishing business during the winter season.
To submit a historic photograph to be featured on the front cover of the Midwest Messenger, send a large resolution copy of the photo and your contact information — including phone number — to Midwest Messenger, Box 239, Tekamah, NE 68061. Digital submissions can be sent to support@midwestmessenger.com.