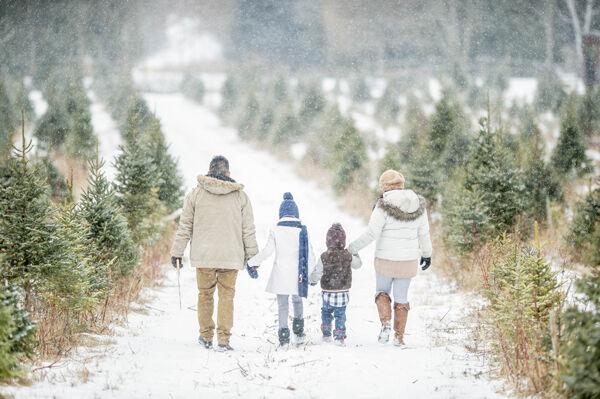 It's hard to believe, but it is nearly Thanksgiving again — let the holiday decorating begin. I know a lot of people go out on Thanksgiving weekend to pick out their Christmas tree for the holiday season. So, I thought it was a good time to discuss this holiday decoration.
Christmas trees
There have been many different civilizations throughout history that have used evergreens in their homes, decorated or not, to celebrate the holidays, according to the University of Illinois Extension. Christmas Trees came to the United States in 1747, when people in Pennsylvania decorated wooded pyramids with evergreen branches and candles.
By 1850, decorated Christmas trees were a widely used tradition in America. The first retail tree market was in New York in 1851 and the first U.S. President to put a Christmas tree in the White House was Franklin Pierce in 1856. The first national Christmas tree was put up in 1923 on the lawn of the White House by President Calvin Coolidge.
Tree selection
There are many tree species to choose from for your Christmas tree. The most common tree species used for Christmas trees include: Balsam fir, douglas fir, fraser fir, noble fir, scotch pine, Virginia pine and white pine. If you have a lot of heavy ornaments, look for a fraser fir, scotch pine, blue spruce or black hills spruce because they have stiff branches that will hold ornaments better. Balsam fir is the choice for those looking for a Christmas tree scent. White pines can be used for areas where you prefer softer needles.
Before leaving to go pick out your tree, measure the area of the room where the tree will be placed to ensure you get a tree that fits the space. You don't want to have broken windows like Clark Griswold in the National Lampoon's Christmas Vacation movie.
When choosing your tree, assess the tree condition. Walk around the tree to look for holes in the branching. Slightly tug on the needles that are on the tree to ensure they are tightly attached to the tree and have some flexibility. Also, give the tree a good shake — if green needles fall off or if it has a lighter green color, that is not a fresh tree, choose another. Brown needles will naturally fall from the interior of the tree, that doesn't mean there is a problem with it.
Home care
When you take your tree home, place it immediately into the tree stand with plenty of water. If the tree was cut within the past 12 hours it doesn't need to be recut but if it has to sit longer than 12 hours prior to placing it in the stand, it will need to be recut to improve water uptake. Place the tree in a stand that holds at least 1 gallon of water and be sure to add water daily. Research has shown that additives and water alternatives are not as effective as plain water in maintaining a tree through the holiday season.
Keep the tree away from sources of heat to reduce water consumption and help reduce fire hazards. Christmas trees rarely start fires in our homes, but they need to be watered to help them retain their color and keep your floor from getting too messy from fallen needles.