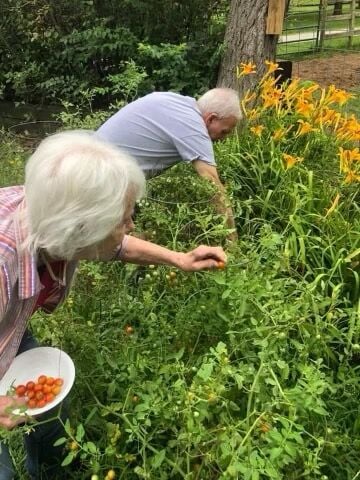 In the summer our lawns and gardens take a lot of care, but it is very rewarding. To have an appealing lawn, healthy trees, fantastic landscapes, and a productive vegetable garden is worth all the work.
Watering
During the summer the weather is often too dry for our plants. The recent rains have helped, but there are areas still dealing with drought conditions and the rains last weekend won't hold us through the rest of the summer. If irrigating, lawns should receive 1-1.5 inches of water per week. If that isn't provided through rain, irrigation may be necessary. It is good to irrigate one-third to one-half inches 2 or 3 times a week. It is best to irrigate from 4am-10am to avoid disease problems.
Remember, our trees and shrubs need irrigation too, if we aren't getting much rain. Use different irrigation heads for trees and shrubs. Lawns irrigation is short, frequent bursts trees and shrubs need deeper, less frequent irrigation for best management. Even older more established trees will need a drink in very dry conditions. Let a hose trickle for about an hour once a week. Newly planted trees only need 20-30 minutes of irrigation per week for best growth.
Use a screwdriver or probe to see how wet or dry the soil is prior to irrigation. Stick it in the ground around the roots, if it comes out with powdery soil on it or if it is very difficult to push the probe very far into the soil, it is time to water. If the soil is more muddy and the probe is easy to push through the soil, it doesn't need to be watered.
Weed Control
Weeds can be problematic in the summer months, but they are more difficult to control then, too. During the summer weeds are large and their activity slows down making it difficult to control with herbicides. The best time to control many of our lawn and garden weeds is in the fall. Throughout the spring and summer all plants are making sugars through photosynthesis. During the fall, plants take those sugars from the leaves and move them into the roots for winter storage to help the plant get up and growing next spring. If the weeds are sprayed when they are moving the sugars into the roots, they will take the pesticide too, for higher efficacy.
Fall treatments for weeds works for perennial weeds such as bindweed, dandelions, clover, and creeping Charlie as well as winter annual weeds such as henbit. However, treating in the fall will not work for summer annual weeds such as crabgrass. Crabgrass is best controlled with a pre-emergence herbicide in the spring before it starts to grow or an early summer post-emergence herbicide if you missed the pre-emergence window.
If weeds are a problem in a landscape bed or garden, they can be controlled now with spot sprays using glyphosate products such as Roundup. Be very careful with these products and do not spray them onto the foliage of desired plants because glyphosate is a non-selective and will harm your desired plants. You can use a spray wand or use a piece of cardboard as a barrier between desired plants and weeds to spray the weeds. You can also use a paint brush to paint the herbicide onto the leaves of the weeds around desired plants.
A great way to manage weeds is to hand pull them. Dandelions and other lawn weeds can easily be dug up or pulled as well. After a rain event is a great time to go out and pull weeds, they will pull easily with the full root intact. It is best to destroy these weeds or place them into the garbage after removing them to avoid regrowth.  
If you have any further questions please contact Nicole Stoner at (402) 223-1384, nstoner2@unl.edu, visit the Gage County Extension website at www.gage.unl.edu, or like my facebook page at http://www.facebook.com/NicoleStonerHorticulture and follow me on twitter @Nikki_Stoner