Saying it was "the time to do it," a Kansas woman in pursuit of a career goal of working abroad, sold all her belongings and is growing her agricultural business with her new husband in the United Kingdom.
Having navigated an international move, a career change and entrepreneurship while, at the same time meeting the man of her dreams while touring farms during a U.K. vacation several years ago, Laura (Mushrush) Wise and her farmer-husband Edward have built Wise Agriculture Limited together in North Yorkshire.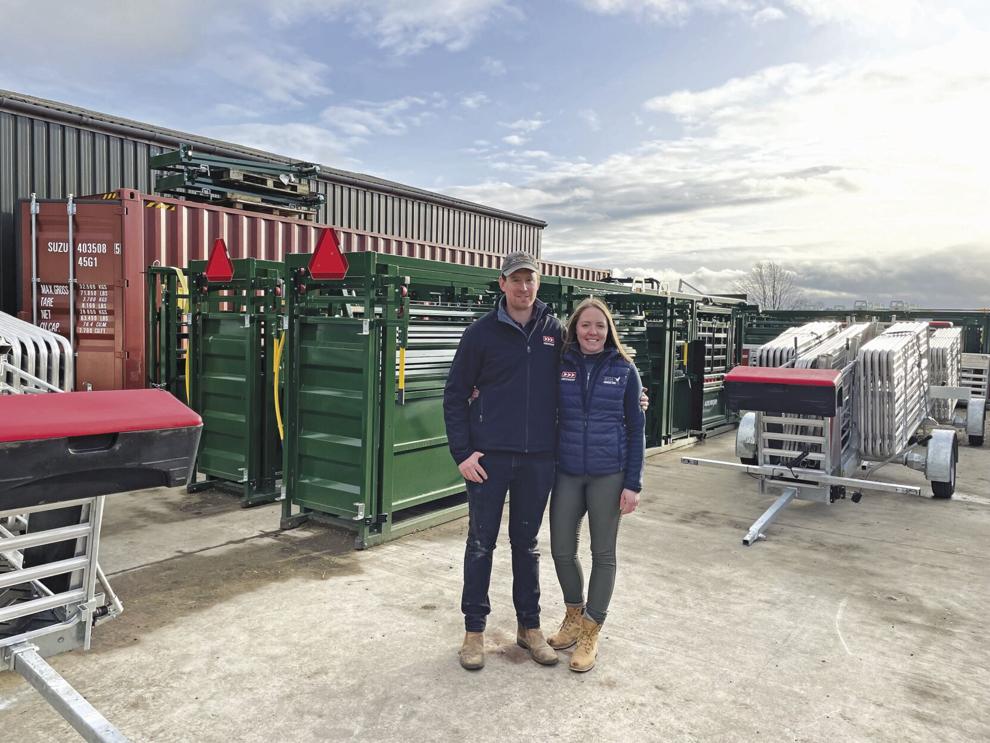 Their clients are British and international businesses, focusing on dairy, beef, sheep nutrition and virtual fencing technology. They provide sheep handling equipment from New Zealand, Tru-Test weighing equipment and motorized cow brushes from Italy to their customers across the U.K. They don't supply any equipment to the U.S. since shipping and import fees wouldn't make it cost effective.
Growing up with her parents Joe and Connie Mushrush on their purebred Red Angus ranch in the Flint Hills of Chase County, Kansas taught Wise a strong work ethic and resiliency. She learned invaluable lessons as a 7 year old, taking care of a bottle calf before and after school. She spent high school summers heading to pastures at sunrise before the heat of the day. Later, she used the business model she grew up with to help others' beef operations.
"Although I didn't appreciate it as much until early in my career, this type of exposure made me appreciate there are very different ways of doing things," Wise said.
Her work as a journalist, marketer and service provider gave her an understanding of producer pain points and needs, she said, allowing her to "cut through the noise and deliver solutions of value."
Laura (Mushrush) Wise graduated from Kansas State University in 2013 with a degree in ag communications and journalism. She began her career 10 years ago as a journalist at Farm Talk Newspaper in Parsons, Kansas - and later with Drovers, contributing to its national print magazine, managing digital content and working with public relations agencies.
Now Wise is living her dream, which began seven years ago while working as a print journalist and dabbling in marketing. On a media trip for a new vaccine launch, she was sitting next to one of the company advisors who lived in Germany and regularly traveled in the U.S. It sounded exciting, Wise said. She was ready to leave the media company, and try a new experience.
She and her brother began planning a long-wished-for trip to London, but it didn't go so smoothly. Frustrated while in a foreign country, she reached out to a media contact from Richmond, North Yorkshire, whom she'd met covering the 2015 Cattle Industry Convention in San Antonio. He helped redirect their vacation plans to his area; five hours north of London.
"He took one look at our itinerary that was full of city visits and said 'you're not going there – I'm taking you to North Yorkshire,'" Wise said.
The next morning, she and her brother walked with their host to see the countryside and learn more about British beef farming. They visited an integrated row crop and beef finishing unit, which also grows wheat, barley and canola.
"When we arrived, a handsome farmer by the name of Edward Wise stepped out to greet us," she said. "Long story short, I've been married to that handsome farmer for nearly three and a half years now."
After meeting Edward, her search for international work took a U.K. focus. She accepted a position at a British agricultural marketing agency, Agribusiness Communications, in Shropshire, England, in 2016. Following her work visa approval, she sold all of her belongings and made the move to England in June 2017.
She married Edward in 2019, then moved to his family's farm in North Yorkshire. Her husband worked in farming full time until 18 months ago. That's when he decided to focus on building Wise Agriculture LTD, together with Laura. They saw an opportunity and need for equipment and quality customer service in the U.K. market.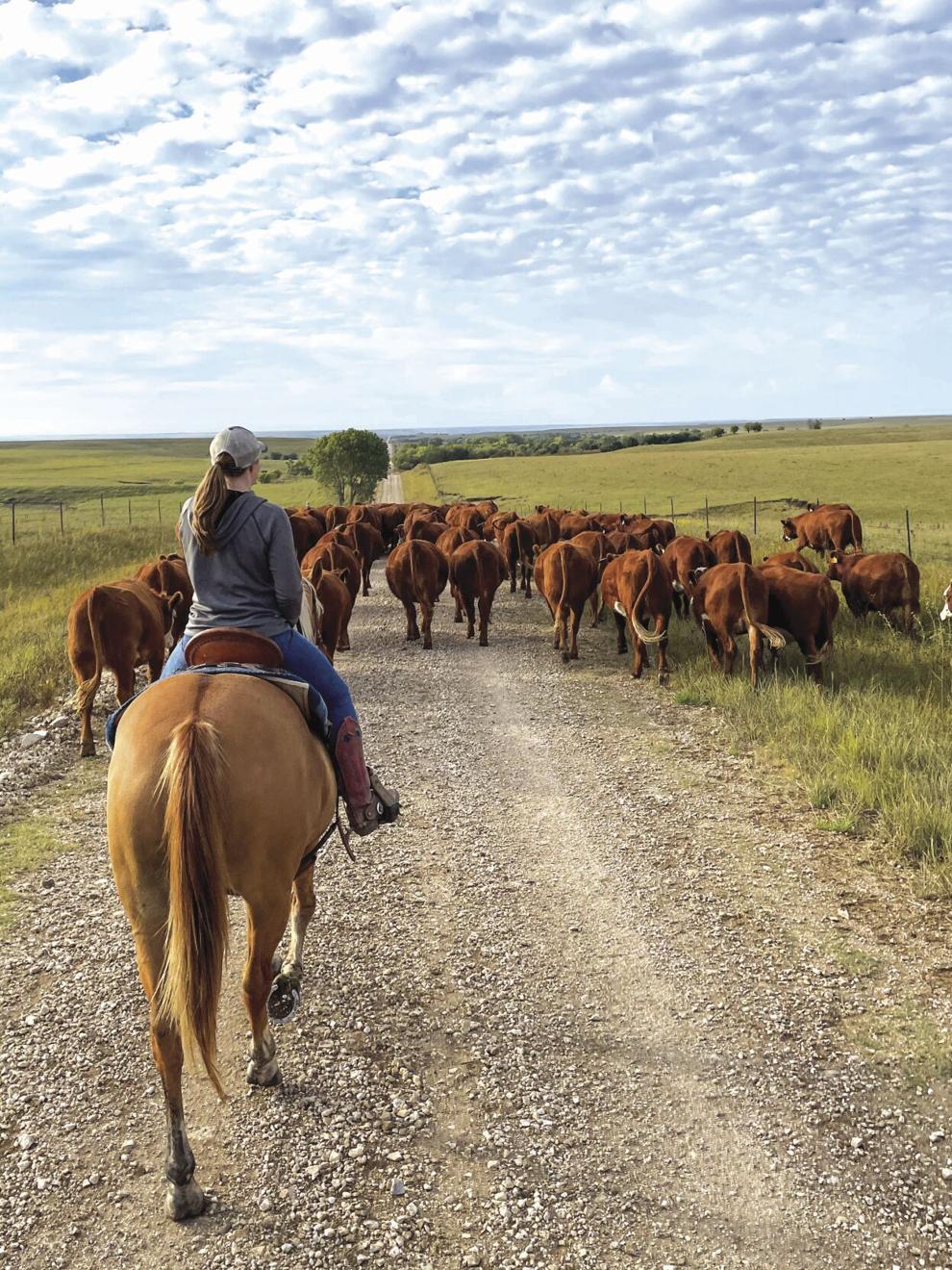 "We decided to step away from the traditional dealership model that provides a wide variety of goods locally, to instead only focus on offering a concise line of premium products nationally," Laura Wise said. "Edward has done an incredible job of setting up and running Wise Agriculture, and I am so proud of him."
Aside from helping bale straw occasionally during harvest, she doesn't have much involvement on the farm itself.
Her career in England invovled marketing vaccination plans and educating forage growers on cover crops. Last year, she won the U.K.'s Veterinary Marketing PR award for a dairy hygiene campaign.
Now that she's been in the U.K. for five and a half years and is officially visa free (visas are a nightmare, she said), and she's applying for dual citizenship.
Before the pandemic, she went back to Kansas twice a year. Now she travels back yearly, and hopes to make it in March for her family's production sale.
She misses Kansas, but knows she had to take this opportunity.
"I had a wonderful life in Kansas and had a good opportunity to build a career there. But I didn't want to ever have a moment where I looked back and said 'I wish I would have,'" she said. "22-year-old me would have died at the thought of trading in my high top cowboy boots and work in the U.S. beef industry for Wellies and work in British livestock farming. But here I am at 32, the most fulfilled I've ever been in my life."
With the motto of Kansas, "Ad Astra per Aspera," meaning, "to the stars through difficulties," in Latin, Wise has followed the stars over Kansas and continues reaching for the stars of her dreams.
Reporter Amy Hadachek is a two-time Emmy Award winning meteorologist and a storm chaser who earned her NWA and AMS Broadcast Meteorology Seals of Approval. She and her husband live on a diversified farm in Kansas. Reach her at amy.hadachek@midwestmessenger.com.