Fighting through whiteout conditions and relentless, swirling -50 degree wind chills a few days before Christmas, a South Dakota couple worked on horseback to trail their cattle home after the wind pushed their cattle 12 miles away from home.
Isaac and Jerylin Dahlman raise a herd of about 500 Angus-cross cattle near Faith in western South Dakota.
Even before the storm, the Dahlmans were uncomfortable with where their cattle chose to congregate, Jerylin said. They left an area of protection and the Dahlmans weren't able to get them to a better spot.
The blizzard started Wednesday afternoon, Dec. 21. The cattle drifted out of the area and wouldn't follow the Dahlmans to the next creek.
The next day, the herd got mixed with the neighbor's cattle and drifted another eight miles away. Isaac Dahlman found them and was able to get hay to them, but since there wasn't much access to a water source, their only option was to walk them back home.
"We trailed them on horseback, and the first day we made it back to our neighbor's. The next day we sorted ours and took them the other two miles home," Jerylin said.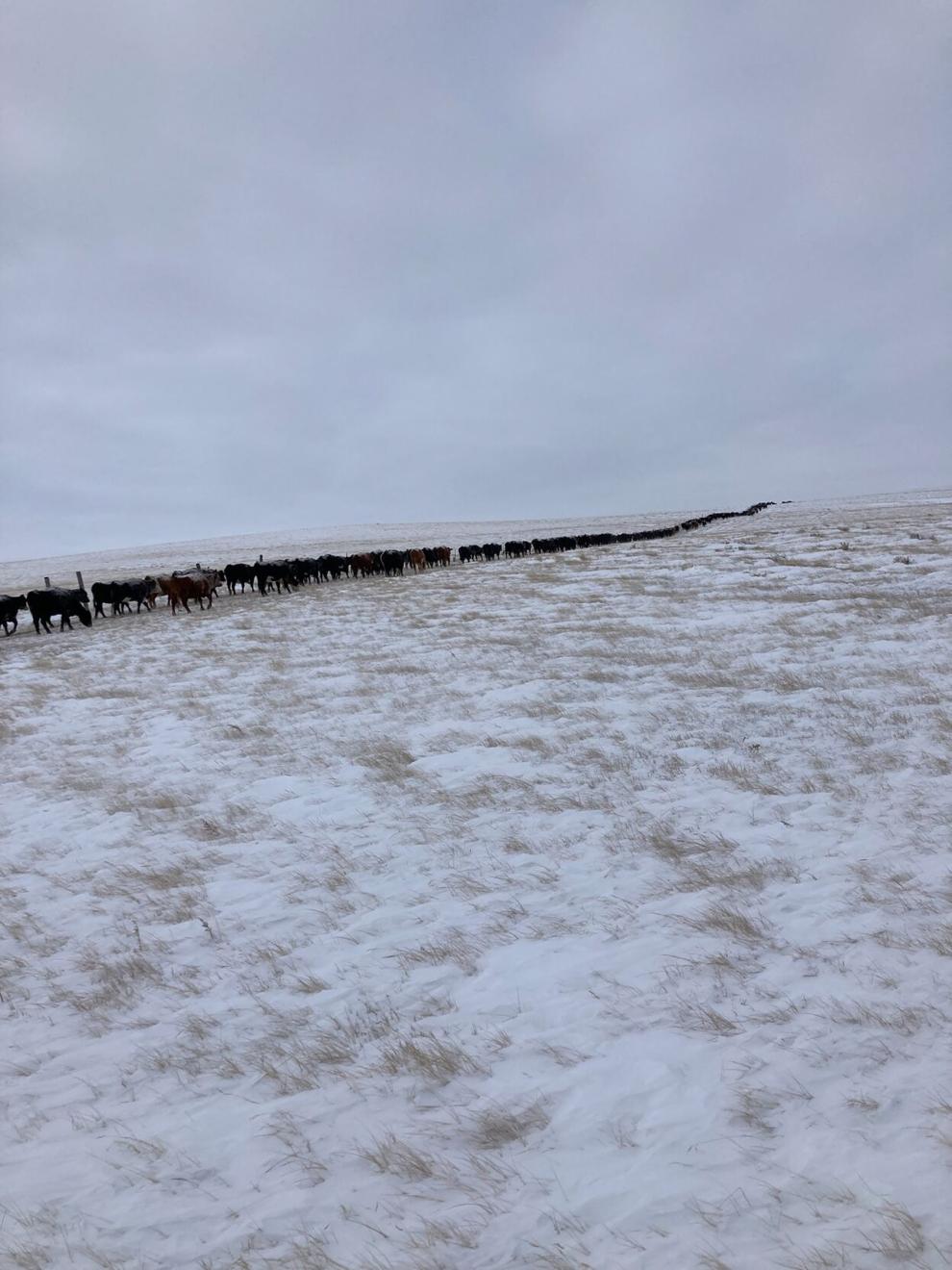 They expected the cold and wind chills, but Dahlman says they weren't prepared for the whiteout.
That first day they trailed the cattle, it was Christmas Eve and zero degrees.
"It warmed to 6 degrees, and when we went back home the wind was at our back, which was a blessing," she said.
The herd was able to stave off dehydration by licking snow, but they lost a handful of cattle.
Even though the blizzard was devastating, the moisture it brings was welcome. It will help some in cracking drought conditions that grip most of the Midwest and western states.
"We've got to have some snow to make the grass grow in the summer," Jerylin said.
A neighbor in Mud Butte about 35 miles away measured an inch of moisture.
"Maybe next spring this snow will have helped … it's better than nothing," said Larry Stomprud, an Angus rancher and former president of the South Dakota Cattlemen's Association.
His area had 10-12 inches of snow a week before Christmas, but not a lot of wind, so it didn't cause a lot of problems, he said.
The day before Christmas brought a fierce wind and bitter cold. The temperature was -27 but the wind chill was -58 at the South Dakota Department of Transportation site at Mud Butte.
"We're pretty much recovered and had enough advance warning that we changed things up, did some things we'd never done before," Stomprud said "We brought our older cow herd into our corral for a week, which we never do. Our calves were in a different spot."
The biggest problem was keeping water from freezing. He has tire tanks and an automatic waterer with ground heat.
Another winter blast hit heavy in southeastern South Dakota in a storm that started Jan. 2.
When 22 inches of heavy snow and a ferocious, relentless wind forced snow over the ventilation system on his hog finishing barn, Mike Jaspers, a hog farmer and Angus cattle rancher near Bridgewater, South Dakota, knew his biggest job was ensuring the confinement system would stay operational.
He got some help digging the snow off the ventilation system to maintain airflow for the 2,400 hogs in the barn. Then, there were concerns about keeping cattle fed and comfortable.
"When you lay that much snow across everything, even with wind breaks set up to protect cattle and keep them fed, you had snow on top of bedding. It was challenging to get to feed sources like the silage pile, with frozen obstacles, even when pushing with front end loaders and trying to use snowmobiles to get around," said Jaspers, a former South Dakota Secretary of Agriculture and former state legislator.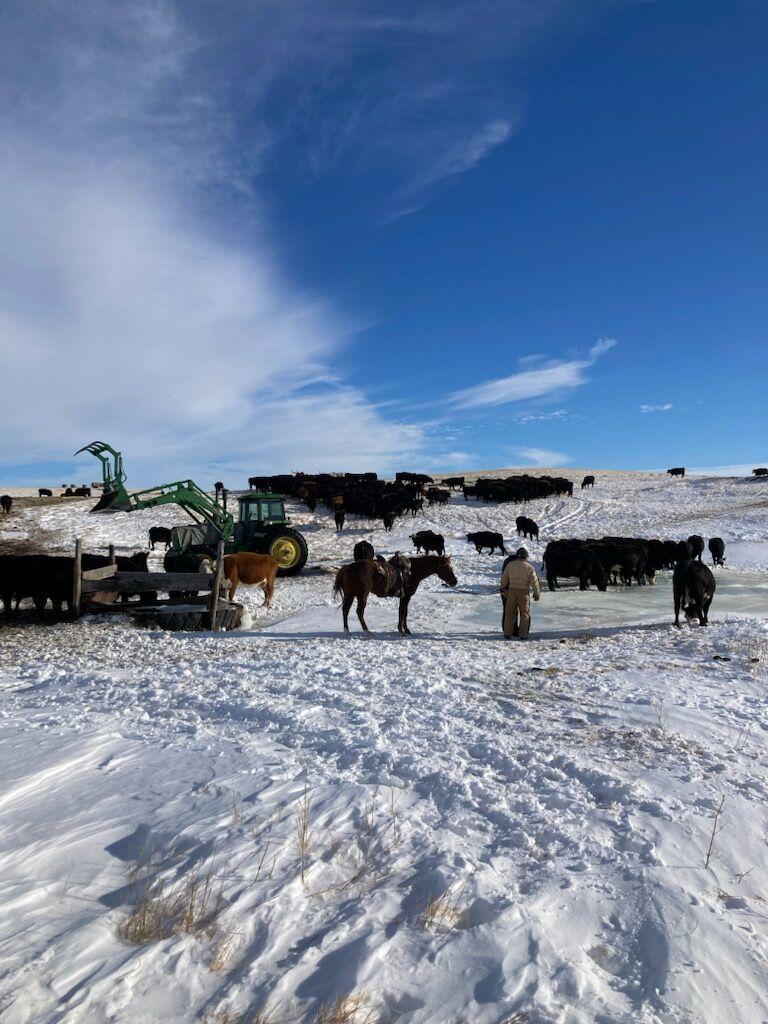 Wind chills were -40 and -50.
"Makes 2 hours of chores turn into 14-hour days to keep your livestock comfortable and safe," he said. "It's things that most people don't think about when they're just shoveling their driveway."
Even his snowmobile was inoperable for a time. A week into the new year, pushing snow around the silage pile and hay bales was expected to take another few days of work.
But Jaspers knows that the moisture is needed after two years of drought.
"When it quit raining in July of 2021 our grass production has been suffering," he said. "Although we're still not out of the woods, it looks like the weather pattern is shifting. There's never a good time to get a lot of snow, but it's definitely going to help a lot."
Hopefully, this spring, the wet snow will melt into the soil and other snow will melt into the ponds, Jaspers said.
In South Dakota, a whopping 27 inches of snow fell in Fulton, South Dakota, in the two-day period of Jan. 2-3, and 25 ½ inches fell in Ethan and Humboldt, South Dakota. Mitchell recorded 23 inches. Sioux Falls got walloped with 13.4 inches of snow, which was the largest two-day snowfall in Sioux Falls in January since the 1960s.
"It's rare to get heavy snowfalls here in the Sioux Falls area. It's usually colder and drier overall so we typically don't get the amount of moisture needed to produce this kind of snowfall in January," said Jennifer Hacker, meteorologist with the National Weather Service in Sioux Falls.
In northwestern Iowa; Rock Rapids received 13.1 inches of snow, Spirit Lake got 6.4 inches, Sheldon received 5, and Spencer 3.7. Icy conditions were worst in that area.
A blizzard in the Nebraska Panhandle the week before Christmas left ranchers with heavy snow, and strong winds continued for another four days, followed by relentless wind chills of -40 degrees the following week. Hardest hit during the Dec. 13-14 blizzard was Chadron in the northern Panhandle which recorded 2 feet of snow. Scottsbluff received 10 inches, with other Panhandle snowfall in the 8-12 inch range.
Then, ferocious, biting cold winds Dec. 21-22 descended on Nebraska Panhandle with a vengeance Dec. 21-22, steering 40-60 mph wind gusts for several days.
"The primary impact that made it so significant was the wind and the duration of it, and especially the snow. Even after the snow stopped, we had blowing and drifting snow of several feet," said Michael Natoli, meteorologist at the National Weather Service in Cheyenne, Wyoming, which covers eight counties in the Nebraska Panhandle.
Typically in the High Plains, the snowiest months occur in the spring, March and April, and again in November.
Western Nebraska rancher Melody Benjamin who owns a commercial cow-calf herd in Lakeside, Nebraska, said they're still covered up with snow Jan. 6, and the weather spiked a bit of digestive stress in some of the cattle. They didn't want to eat or drink for a short time.
Asked if the biggest problem was the blizzard, the biting cold, or the tumultuous wind chills: "It was all of it," she said.
The first snow of 6-8 inches blew into 8-foot drifts, then the area got another 12 inches.
"I don't think there's a lot of moisture in this snow but it is an indication that the tide has turned, and we can get precipitation to help somewhat with the drought," said Benjamin, vice president of policy engagement at Nebraska Cattlemen.
She's hopeful that all this snow should give them some green grass in the spring.
Reporter Amy Hadachek is a two-time Emmy Award winning meteorologist and a storm chaser who earned her NWA and AMS Broadcast Meteorology Seals of Approval. She and her husband live on a diversified farm in Kansas. Reach her at amy.hadachek@midwestmessenger.com.