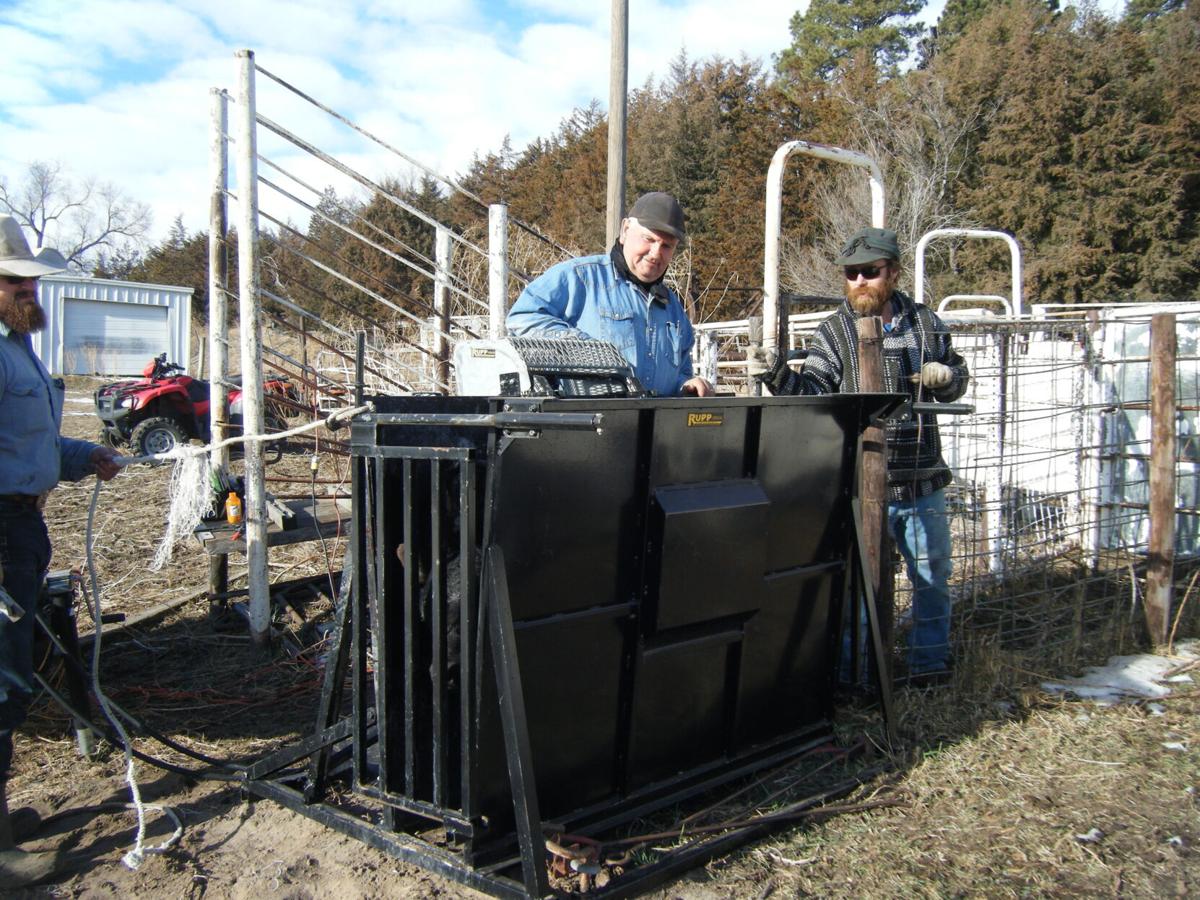 Rick Wolfenden was still a babe when his Grandpa Warren started taking him along for chores on the ranch.
"I grew up along the fence line, working the ranch," Wolfenden said. "We lost Grandpa when I was 9. Up until Grandpa got sick, I spent every waking minute with him."
Wolfenden has spent nearly every waking minute of his life on the ranch located in the middle of Cherry County, Nebraska. Half his day is spent feeding livestock and the last half of the day is typically spent working on machinery and fence.
Just about every minute is work and he wouldn't have it any other way. Today, Rick and his wife Joyce, ranch with a passion for cattle and retaining their independent way of life.
"We're in a pretty remote area," Wolfenden said. "I started driving the 8 miles to country school when I was 8 years old. The closest town is Mullen, 40 miles south and the county seat is Valentine, 60 miles to the north. Everywhere else is about 100-plus miles away."
Wolfenden said he doesn't mind the remoteness because his strength is his Christian faith, "When a man is at peace with Christ, he is never alone."
During his formative years, Wolfenden attended high school away from the ranch at Nebraska Christian in Central City, Nebraska.
"It had a dormitory there and we were 238 miles from home. It was traumatic at first. But the values and friendships I got out of the experience are priceless," he said.
At that time, his dad had an airplane, and he flew them home on the weekends as much as he could, or they drove home.
After graduating, Wolfenden took one year of Bible college in La Grange, Wyoming, and then headed to Laramie to study diesel technology.
"I came home and have been working on the ranch ever since," he said.
He and his brother Bob ran a mechanic shop for a few years to help make ends meet. Then his dad's uncle wanted to sell his cows. Wolfenden bought them on a contract and that's when they started transitioning from Hereford to Angus cattle on the ranch.
"We are definitely in the Sandhills," Wolfenden said, describing the landscape that has surrounded him his entire life. "We have ranges of hills and valleys."
They typically summer the cattle in the hills and winter them in the meadows, cutting prairie hay off the meadows when they can. If they run short, they purchase hay. The Wolfendens also take in a few cattle for another producer.
"I expect the cows to calve on their own for the most part," he said.
He calves year-round, with most of the herd calving in the spring. It's a way to spread out the risk, he said.
"During those early spring blizzards when everyone is calving so intensely, it sickens me to think all those babies are coming right then," he said.
The majority of his calves come in late spring, a few in the fall and occasionally in the winter.
"It seems to work for us," he said.
Wolfenden met his wife Joyce in 2000.
"I am a quiet man, and don't go where there's drinking, dancing, and partying," he said. "Consequently, I did not know many girls."
He was invited to a Christian singles group and met his future wife.
"She changed my life," he said.
They married when he was 39 years old. It was the first time either of them had been married, and they have now been together for more than 20 years.
"Joyce is truly my help mate," he said.
While the openness and freedom of their location has been endearing to the Wolfendens, he said fewer people in the area is a concern.
"We don't have many neighbors left out here. One of the biggest changes I have seen is the migration of the people from the area," he said.
With just the two of them working in tandem, fewer neighbors can mean different challenges, he admitted.
"There is just not the hired help anymore or people around to help a fella. So, when you have equipment, it needs to be reliable," he said.
Equipment also becomes important when the hard work of daily activities begins to cause wear and tear on the bodies of farmers and ranchers. Wolfenden said.
"I started working really young and it has caught up with me," he said.
He's had five shoulder surgeries. One was the result of tipping a tractor over. The other four, the surgeon told him, were clearly a case of over-use.
"The surgeon told me bone spurs had cut into my ligaments so badly that the ligaments in my shoulders were ready to tear in two and would have caused my arms to go limp," he said.
Wolfenden had screws put in both shoulders to hold them together. He is also on his third knee surgery. Two surgeries were the result of working with livestock. This time he is getting a complete knee replacement. But, despite the physical challenges, he is bound and determined to continue ranching.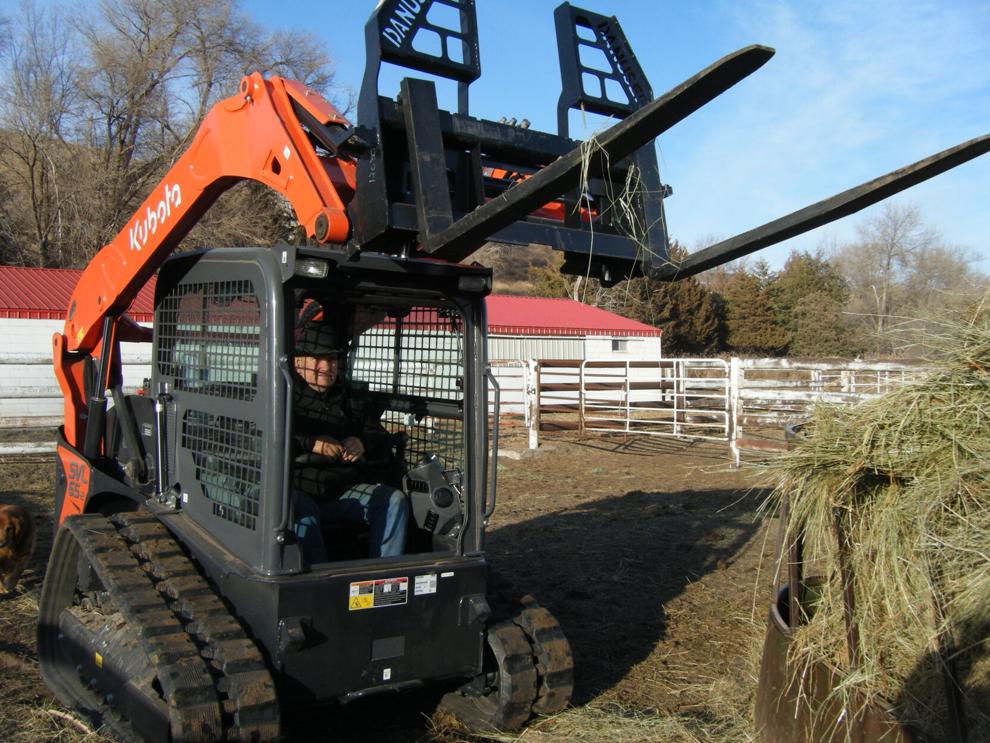 That's where Nebraska AgrAbility can become a vital resource for farmers and ranchers like the Wolfendens who are seeking to continue their ag businesses, despite physical challenges.
Wolfenden first heard about AgrAbility at a farm show in North Platte. The group pointed him toward Rod Peterson, AgrAbility program manager from Easterseals Nebraska. Peterson came to the ranch and looked over Wolfenden's situation, asking what his greatest needs were.
"I told him it would be great to have a hydraulic calf table," Wolfenden said.
At that time, a cow had broken Rick's neck and the Wolfendens were needing to get the calves worked. Rod directed the couple to another Easterseals project outside of AgrAbility called the Alternative Financing Program where he was able to obtain a low interest loan to buy the calf table.
"I got that table, and it has been such a blessing to us. Joyce and I can now go and work calves together," Wolfenden said.
He's thankful his spinal cord was not injured and he's not paralyzed from his run-in with the cow. He still has neck issues, but he said he's thankful to still be able to do the work.
Wolfenden is also thankful for the skid loader he has been able to add to his ranch operations with resource coordination from AgrAbility.
"I had been handling all my own feed sacks and was lifting about a half ton of feed a day by hand," he said. "Now I can handle the feed with the skid loader."
The machine also allows him to lift dirt, haul hay to the corral and handle corral panels. He added a hydraulic post hole digger, which he said has been a huge help.
"Digging post holes by hand was such a killer on my shoulders," he said.
He encourages others to reach out to the AgrAbility program for help.
"I am a very conservative man and I detest government handouts. This is not a handout though," he said. "Agriculture generates so much for our country and sometimes with very little return. This is a way to keep us working hard."
He's appreciative of the help he's received.
"It's keeping me going," he said. "Ranching is in my heart! I love it."
Learn more at: https://agrability.unl.edu/