It rained. I feel like I should just end my article here because for the last several weeks, it feels like all I've been talking about is the lack of moisture here.
Last week I told you about the rodeo I encountered, and the words I certainly didn't learn from the Lord. What I didn't tell you is that the words that passed my lips I can about guarantee at some point I learned from my Grandad, Lynn. I laughed out loud thinking about how he must be looking down wondering how on Earth, out of all his descendants, I was the one chasing cows throwing my cap to the ground in a string of curse words - just like he used to. He was a tough ole cowboy with a soft heart, and unfortunately, we said goodbye to him way too soon. My grandad was a scrapper in my book, he always made do with what he could find and he could fix about anything with just his pliers. His style was one of dust yourself off and get back on the horse - there's no crying in baseball - which I'm sure is where my mom, Valerie, got her tenacity.
I visited my mom for Mother's Day this weekend, and we spent the afternoon shopping for plants and rummaging around Junkstock. My mom grew up in ag, and between riding horses, jumping off chicken coops and stirring up trouble with her sister, she also learned to be a scrapper like her dad. She's always worked, volunteered and found ways to make the world beautiful with her kind voice, deeply caring heart and her amazing eye for landscaping. The woman can take junk and make into something you would have never thought and puts together the prettiest things.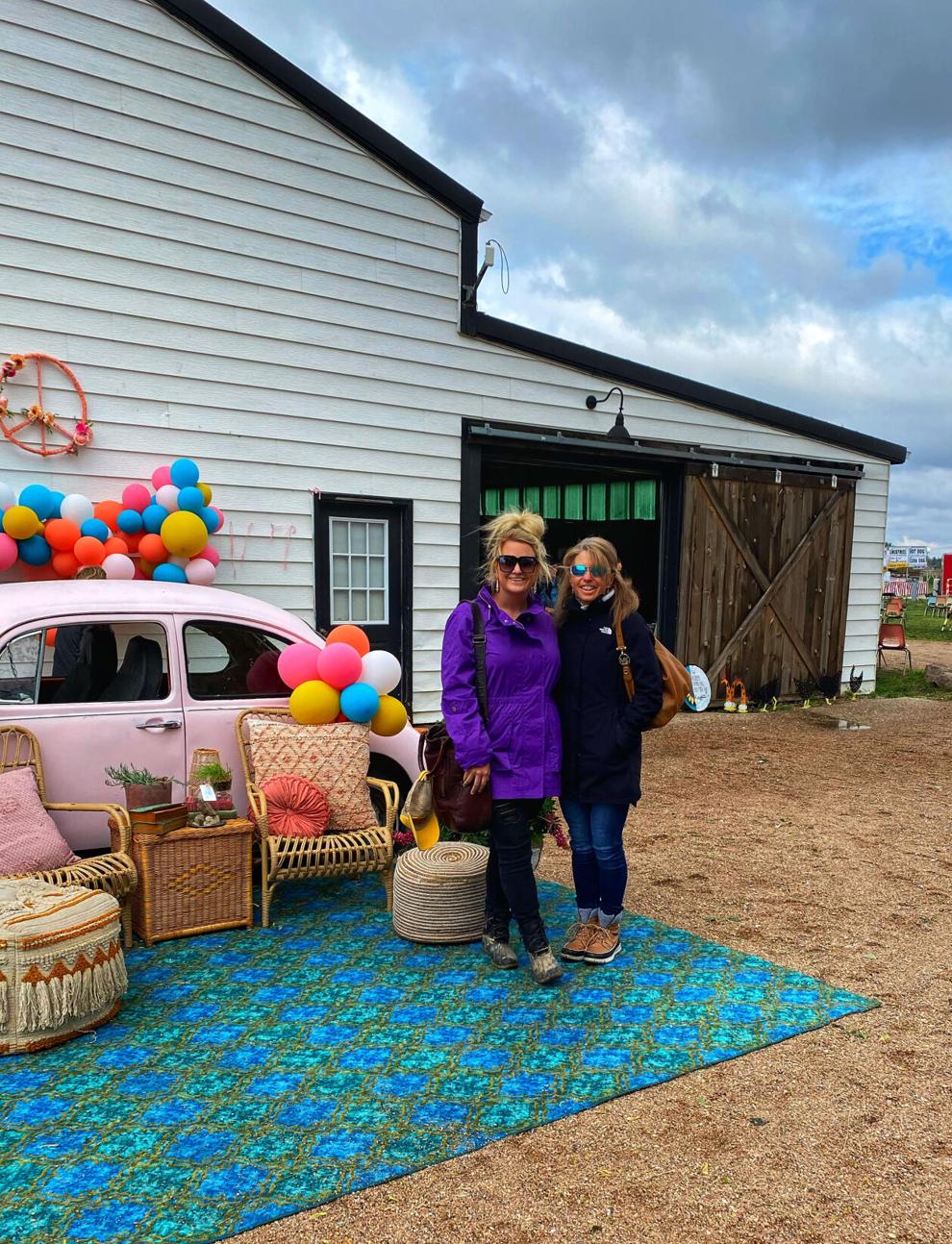 I have memories of riding in trucks with my dad, but I also have great memories of riding in the grain cart with my mom. I watched her work all day in town, come home and feed us, attend all of our events, and somewhere in between she'd get our bills paid, help move fields, or be in the tractor herself. The woman isn't scared to jump in and do anything, and witnessing her whip axes at Craft Axe Throwing in Lincoln reassured me that yes, I should still be scared of her a little bit.
My mom taught me the importance of being present in the ag industry, especially in your own operation, as well as the power of saying yes and figuring it out later. The "get back on the horse" mentality is something she's always lived by, and every day I pray to just be half as brave as she is. She continues to show up for me in a moment's notice, and she always has encouraged me to chase whatever it is I wanted too, even if it meant doing it scared.
My mom was the biggest encourager when Jason and I were talking about relocating, and without her support, confidence and reassurance, I can honestly tell you I wouldn't be here. Over the course of this last summer, my mom carried me both literally and figuratively in a way I can't even describe. I know someday I'll be carrying her too and it'll be the biggest privilege and the least I could ever do with everything she's done for me.
My mom has unfailing support and unwavering faith, and I know I'm extremely lucky to have her. I know some of you reading this might not have the ability to call your mom like I do, and that breaks my heart because I call my mom for basically everything. From my vacuum issues to life advice, and for consultation on how to hard boil eggs (I somehow always forget.)
I know these articles are titled "Producer Progress" reports, and I know I wouldn't make any progress without my mom.
We all hear "thank a farmer" or "thank a rancher" and I love that, but to be more specific: "thank your mom" is what I say today, and every day. I believe the women in and behind ag are the true backbone - the ones holding it all together - keeping dreams afloat and making it all possible. I'm sure you know a mom, a wife, a sister, a daughter or a friend that deserve more than just a day on the calendar. So "here's to the strong women. May we know them, maybe we be them and may we raise them."
Happy belated Mother's Day to all of you! – Katie Kaliff-Jagels