China reopened to U.S. beef imports in 2017, and Nebraska producers immediately took advantage.
The state exported $33 million dollars' worth of beef to China as of 2018, according to the Nebraska Department of Agriculture. Now that the Phase One trade deal between China and the U.S. has been signed, beef industry analysts say that number could very well go higher in the years ahead.
Nebraska had more than half of the total U.S. beef exports to China in 2018 at 54%. The success doesn't just come from China, either. Hong Kong is another top Nebraska beef buyer, and 2018 beef exports to Hong Kong totaled $139.5 million. That was almost 24% higher than the 2017 total, making Hong Kong the third-largest Nebraska beef customer.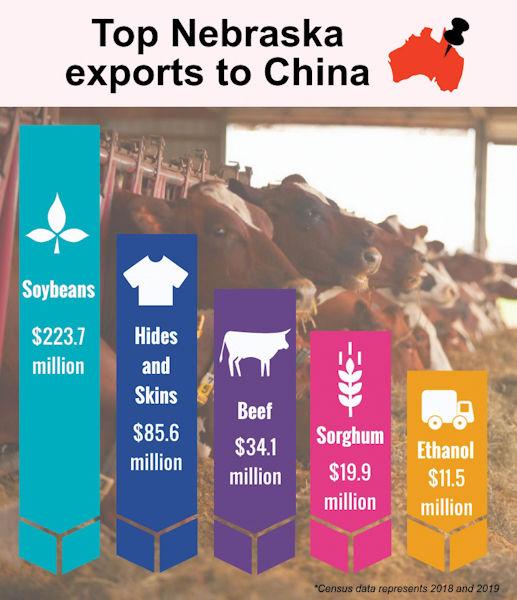 Nebraska was the No. 1 U.S. beef exporter to China last year. China reopened to U.S. beef exports back in 2017 and asked other countries to send only non-hormone treated cattle (NHTC) to their import locations. It was the first U.S. beef on the Chinese market after a 13-year hiatus. 
Nebraska Cattlemen president Ken Herz said Nebraska got a jump on competitors exporting beef to mainland China.
"The first beef imported to China in 2017 came directly from Nebraska because of the NHTC program," he said. "It definitely gave us a leg up, but there wasn't much beef going into China right away when it reopened."
That's changing, and demand for beef in China is high, he said. He's encouraged by work on the Phase One deal and said they're working to get it implemented.
"Some of the non-tariff barriers are coming down," Herz said.
The NHTC discussion can be a little tricky because the European Union is the only trading partner that actually says in writing that all beef coming into its ports has to be in the Non-Hormone Treated Cattle (NHTC) Program. Joe Schuele, spokesman for the U.S. Meat Export Federation, said when it comes to exporting beef to China, it gets a little confusing because China is so similar to the EU.
When China opened in 2017, the fastest way to find eligible cattle was to find those that were already in the NHTC program, he said. The export library to China didn't specifically require cattle to be part of the program, but exporters knew it would be an advantage.
"Suddenly, Nebraska cattle had a leg up on the competition," Schuele said.
There were already packing plants in Nebraska that had experience in exporting cattle to Europe, so they knew the ins and outs of the shipping requirements. Those plants were already set up with the special processing modes, and that meant those same plants were ready to ship cattle to China in 2017, Schuele said.
"I've seen headlines that say Nebraska shipped a lot of the early beef to China soon after the country reopened. I have no doubt that's true," he said.
Now that the Phase One trade deal is signed, sealed and delivered in both China and the U.S., Schuele said there's no doubt in his mind that it will benefit Nebraska beef producers, as well as those around the country — that is, if it's implemented as the deal is currently written.
"I'm not going to strike up the whole band yet," Schuele said. "It's still dealing with China."
If it's implemented with the current provisions, China has agreed to treat hormone use the same way other trading partners do. Countries like Japan and Korea regulate the use of hormones and check for hormone residues in beef. But the requirement is no longer hormone-free. Instead, they use internationally accepted "tolerances." China has agreed to a similar import structure.
Herz, a cattle producer from Lawrence, Nebraska, said China wanted a traceability system included in the Phase One agreement with the U.S. They now recognize the U.S. traceability system, which goes back to the point of slaughter.
"There are no more bookend requirements, which is a good thing," he said.
China also removed the 30-month BSE restriction as well, referring to Bovine Spongiform Encephalopathy, commonly known as mad cow disease.
"That matches world trade guidelines, so that's good, too," Herz added.
Schuele is convinced there's an opportunity in the Asian nation.
"The demand for American beef is there," he said. "It's just a question of whether the technical barriers to American beef will continue to come down."
One other thing that broke in favor of Nebraska producers is the No. 1 beef exporter to China, Australia, has been hit hard by drought, leaving Chinese consumers short on beef. As Australia liquidates some of its herds, U.S. producers have a chance to fill in that gap.
"China will have to look to other suppliers to meet their demand for beef," Herz said. "Now that the playing field has been leveled, we think American producers can take over at least some of that market share."
Chad Smith can be reached at editorial@midwestmessenger.com.