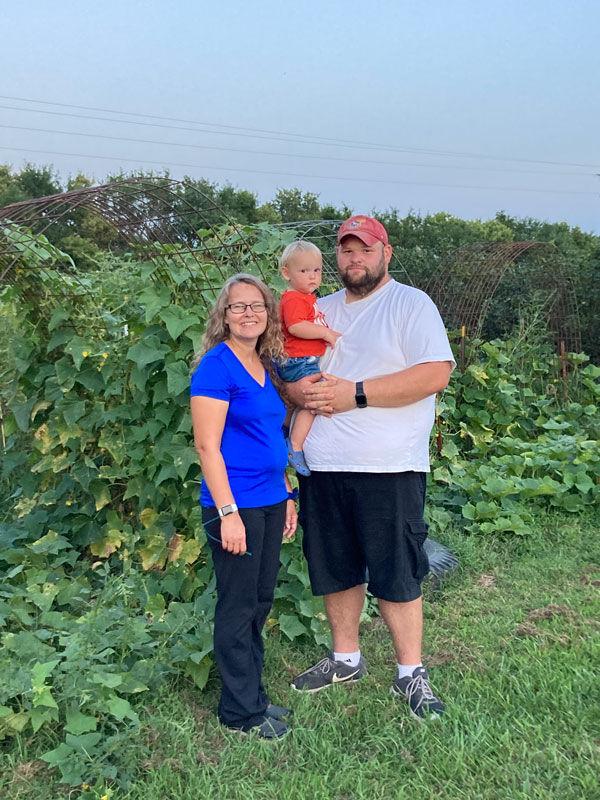 Sharing great passion for agriculture through his affable personality, Jacob Andres of Abilene, Kansas smiles easily, especially when asked how he became a farmer.
"I don't know that I decided to get involved in agriculture, so much as agriculture decided to pull me in," grinned the newest Producer Progress Reporter for Midwest Messenger.
Andres explained the family tie that brought him into the industry — three years ago, Loney and Bev Riffel contacted his wife, Jennifer (Stoffer) Andres, about her son, Connor, working on their farm and ranch, Rock Creek Farm, in Hope, Kansas. Since Connor was already working for his own family's farm, Andres said, Jennifer volunteered the couple's services instead, and they've been working at Rock Creek Farm ever since.
The Riffels raise a crossbreed of Angus and Simmental cattle, and grow wheat, soybeans, milo and "dabble" in oats.
Andres said at Rock Creek Farm, he fulfills the typical hired hand role.
"Much of what I do, I learn on my own and on the fly, because if something has to be fixed, it needs to be done right away," he said. "Thank goodness for YouTube and Google!"
He helps build and mend fences, feed cattle, and puts out bales. During hay season, there's moving, loading and unloading bales.
"During harvest season, I am the 'gofer' person," he added.
Being the crew's gofer involves running the grain cart, hauling seed wheat in to be weighed and stored, general equipment maintenance and keeping the planter tractor loaded with seed and fertilizer.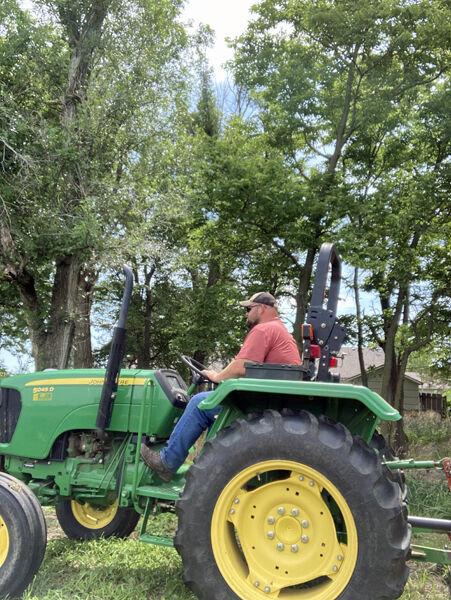 "I run around making sure everyone has what they need," Andres said. "This year I've been told I'll learn how to run the Bobcat to saw and cut trees, so that should be exciting."
In his reports, which begin Friday, Aug. 21, Andres will share insights about working six days a week on Rock Creek Farm, as well as some unique happenings on Jennifer's fifth generation family farm, Wheatridge Covenant. Their operation, based in Abilene, Kansas is a true family endeavor, with Connor running the combine and working on the farm full time, in addition to help from his sister Addie, brothers Carson and Carter, cousins Katie, Matthew, Christine, Campbell and their parents, Jason and Rebecca, and grandpa Curtis and grandma Peggy.
During the school year, Andres's other job title is band director, so he heads to the farm right after work at 3 p.m. His school schedule is fluid, and dependent on farm and band seasons.
"We have football games and marching festivals to work around during the fall months, and concerts and contests in spring," he said.
As an educator, Andres is accustomed to making split-second decisions, which parallels his jobs on the farm.
"I enjoy a challenge that takes me out of my comfort zone," he said. "Recently, I learned how to rewire a piece of equipment, so it was exhilarating to learn that skill ... and actually repair the equipment to make it usable again."
COVID has impacted Andres in multiple ways, both as a farmer and a teacher.
In March, Andres learned he wouldn't be returning to his classroom. Teaching shifted online.
"This turned into a rare gift to be a stay-at-home father and support my wife, and still work," Andres said. "We planted one of our most successful gardens ever, with zucchini, summer squash, butternut squash, tomatoes, three different varieties of peppers, green beans, okra, carrots, strawberries, asparagus, rhubarb, cantaloupe, watermelons, cucumbers, potatoes, beets, gourds, spinach, lettuce, radishes, onions and kale."
They'll also start a fall garden and a greenhouse. Andres is teaching Jennifer how to can and preserve foods through water bath and pressure canning techniques.
"Our ultimate goal is to turn this into a ministry to serve our communities with fresh produce," he added.
Farming is in his blood. Andres' father worked for a rancher in high school, milking cows at 5 a.m. every day. Jacob's mother raised sheep, pigs, cattle, chickens, and rabbits on their family farm.
"My parents live on a 17-acre plot and run enough head of cattle to butcher in winter to fill up family freezers with homegrown beef," he said. "Even though I chose to become a band director, I still have an opportunity to honor my family's past, and teach my (young) son (and others) great life lessons on the farm."
We would like to welcome Jacob Andres as the newest Midwest Messenger Producer Progress Reporter! Look for his first report in the Friday, Aug. 21 edition. — Midwest Messenger editorial team