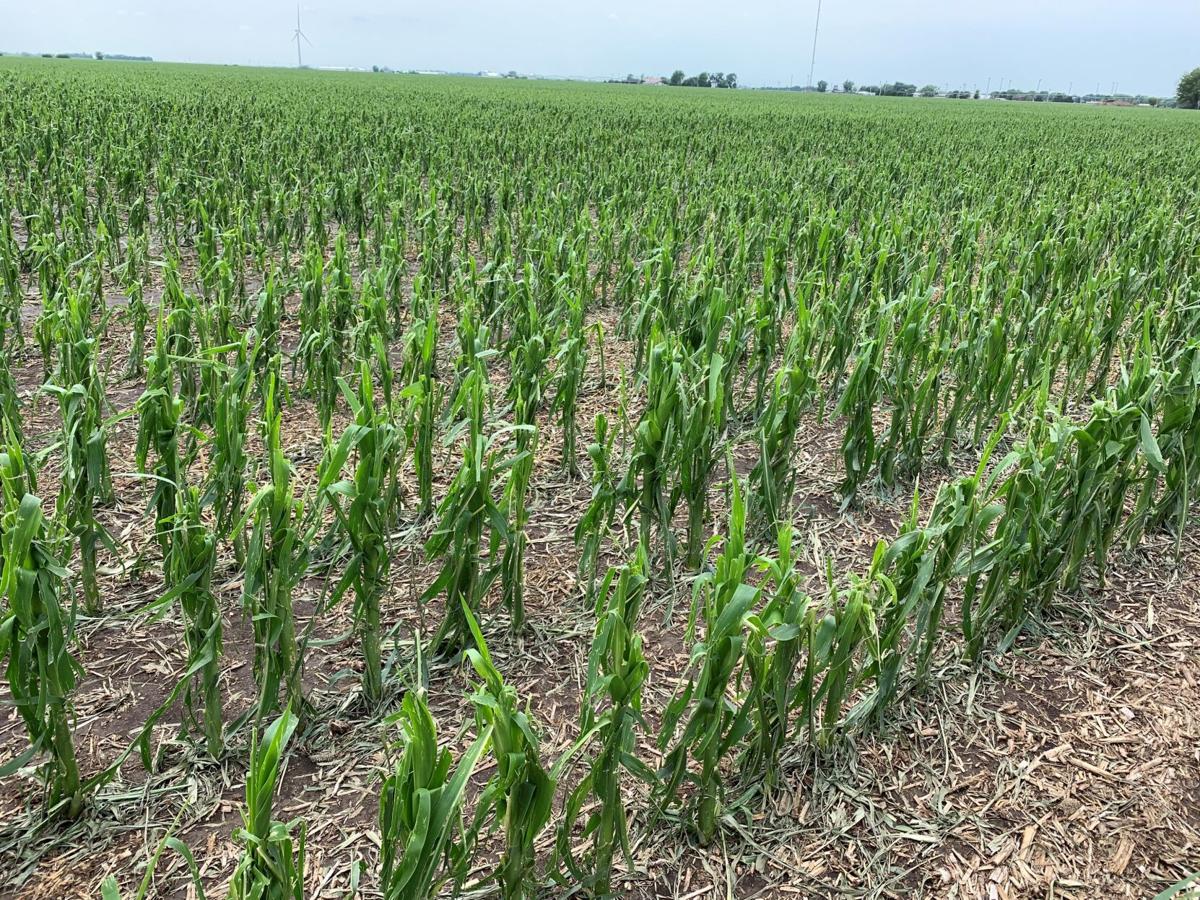 The severe thunderstorms that tore through parts of Nebraska in late June unleashed hail that smacked corn and soybean fields, causing extensive damage just as crops were flourishing.
One Polk County farmer said his soybeans might grow up above the ground again, but that the corn is stripped.
In addition to the hailstorms Tuesday, June 22, there were thunderstorms in north central Nebraska the next night, late Wednesday, June 23 into early Thursday, June 24. The storms started in Cherry County at the South Dakota border and morphed into an MCS (Mesoscale Convective System, which is a complex of thunderstorms that organizes into either a cluster of storms or a squall line, and persists for several hours). The MCS turned east, then southeast and caused a swath of severe winds from Ord to York, Nebraska.
There were also 60 mph winds in part of Kansas.
It was the combination of wind and hail during the intense June 22 storms between 7-9:30 p.m. that stripped crops near Neligh, moving toward Genoa and near York. A swath of crop damage was reported from the counties of Platte, as well as Nance, extreme northeastern Merrick, Polk, and into part of northeastern York County, meteorologists said. Some fields were completely stripped.
"The amount of hail damage varies along the path, but generally in the 1 to 2-inch range (the size of an egg. Golfball size hail is 1 ¾ inch)," said Aaron Mangels, National Weather Service meteorologist in Hastings, Nebraska.
However, there is some hopeful news for some areas that had hail. A Nebraska Extension agronomist in Colfax County said while his county missed the damage, all damaged fields will have to be checked, and farmers need to be in contact with their crop insurance. Unfortunately, some corn fields will be a total loss, he said, having only 3-4 inches left of the stalk.
While crops may be lost in some spots, other fields should recover – especially if the growing point is OK. In a couple of weeks, they could put on new leaves.
"Some fields are done, but others – you need to wait three to five days, which gives it enough time since soybeans have a lot of growing points, and you can evaluate then to see what kind of stand you have left," said Aaron Nygren, agronomist with Nebraska Extension in Colfax County.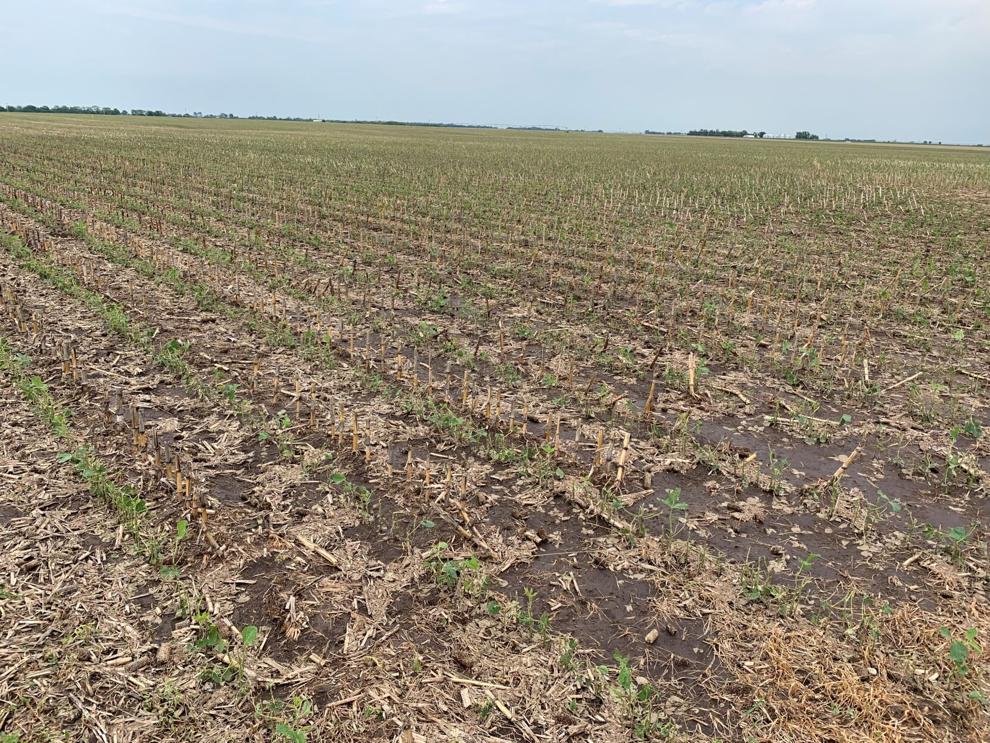 The University of Nebraska-Lincoln recommends producers wait about a week after the storm to give the plant a chance to regrow before assessing the damage, added Dr. Melissa Bartels, Nebraska Extension educator based in David City, Neb. She directed producers to the University of Nebraska-Lincoln's Hail Know site at https://cropwatch.unl.edu/hailknow where there are videos detailing how to assess field damage and other resources.
Although the June 22 storms were intense, meteorologists say they were very mobilized, affecting a few counties. The storms the night of June 23 were more widespread.
There were some significant winds after midnight June 23 in to June 24, with a 70 mph wind measured in Valley, Greeley, and Boone counties into Omaha. An 85 mph gust was reported at the Albion airport the night of June 23.
On the Storm Prediction Center's national map, it shows there was also an extensive list of storm reports from Nebraska June 23-24.
"The swath (the worst of those winds) were in Antelope and Boone county, also Madison County, Platte, Stanton and Colfax counties; traveling southeast into Neligh and Addison," said meteorologist Brennen Darrah with the National Weather Service in Valley, Nebraska.
Darrah said those storms on the second night mostly caused tree damage.
Storm Prediction Center reports late Wednesday into Thursday, June 23-24 detailed wind damage. Trees measuring 3- to 4-feet in dimeter were knocked over and took down power lines in Stanton. A modular home roof was blown off just east of Columbus. There were 60 mph wind gusts in the Nebraska communities of Atkinson, O'Neill and Neligh. In Dodge County near Fremont and Scribner, power outages were reported with power lines down and a road closed. There was a 71 mph gust on the west side of Ord. Just north of Bellevue in Sarpy County, a large tree fell on a residential home causing roof damage. East of Omaha, significant tree damage was reported near 34th and Harney, with a tree in the road. At Omaha Eppley Airfield there was a 66 mph wind gust reported. An open-faced cattle shed was destroyed in 70 mph winds in Ericson in Wheeler County. Because of 60mph winds, a deputy in Wolbach in Greeley counties had to remove a branch blocking part of Highway 22. In Humphrey in Platte County, officials say a farm outbuilding lost part of its roof.
There was other storm damage, but these were some of the accounts. Also, 60 mph wind gusts June 23-24 were reported in the northwestern Kansas counties of Sherman and Thomas.
For more storm reports, visit www.spc.noaa.gov/climo/reports/yesterday.html.
Reporter Amy Hadachek is a two-time Emmy Award winning meteorologist and a storm chaser who earned her NWA and AMS Broadcast Meteorology Seals of Approval. She and her husband live on a diversified farm in Kansas. Reach her at amy.hadachek@midwestmessenger.com.