Some Kansas farms will be connected with high speed internet in exchange for a promise to use soil health principles as part of a new pilot program.
The Heartland Opportunities, Markets & Environment (HOME) will improve broadband infrastructure along Kansas highways 81 and 83. In exchange for burying fiber optic cable alongside a farmer's land, the farmer would be asked to implement soil health principles on at least one of their fields.
Producers participating in the pilot project will enroll one field to implement soil health principles of minimum disturbance, keeping the soil covered with plant residue, increasing diversity, keep living roots in the ground, and integrating livestock. Participants will receive a stipend to collect annual soil samples and record field operations data .
Agencies will work with local internet service providers to ensure broadband the enrolled field is internet-ready, allowing producers to use precision ag technologies to gather and transmit data. One idea is that this data will eventually allow farmers to participate in carbon markets offered by private industry. The pilot project will continue for three years, and at the end of the project producers can sell generated carbon credits at their discretion.
The pilot will be studied to determine its effectiveness in expanding broadband access and in improving soil health while considering the return on investment. Work will begin in late 2021 or early 2022.
A key part of the HOME project will enable the Kansas Department of Transportation (KDOT) to repair its existing infrastructure and modernize the transportation system through the Eisenhower Legacy Transportation Program (IKE). Part of the work includes installing fiber optic cable to carry information to message boards across the state, and help future technological advancements to make roads safer through the traffic and emergency information to be displayed on message boards to drivers in real time.
"We want to leverage the public investment we're making on the two 81 and 83 highways, and we focused on ag, to provide producers with a new opportunity to enter into carbon markets and explore soil health principles like no-till, grazing, and cover crops," KDOT deputy secretary Lindsey Douglas said.
The department joined forces with the Kansas Department of Agriculture (KDA) and two soil health groups, the newly formed Kansas Soil Health Alliance and the No Till on the Plains organization to introduce three new pilot projects to farmers and glean input directly from ag producers. They hosted a workshop Sept. 8 in Concordia, Kansas and another in Hoxie, Kansas.
"KDOT and the KDA came to us and said they're launching the pilot, and wanted to talk about soil health, and felt the Kansas Soil Health Alliance would be a great fit to put together the two meetings, to help growers and see if we could all participate," said Jennifer Simmelink, coordinator of Kansas Soil Health Alliance, which earlier this year became a non-profit encouraging farmers to apply soil health principles on more acres in Kansas.
The Concordia meeting kicked off with two farmers, Josh Lloyd and Mike Cleveland, explaining how their no-till farming has helped their soil thrive. Lloyd, who farms near Clay Center, Kansas, and Cleveland, who farms near Concordia, provided extensive details on how their soil helps root systems flourish, promotes water storage, cycles nutrients and suppresses weeds and disease.
Other pilot projects include a freight plan and a grazing exchange.
KDOT is conducting a rail and freight plan to determine the kind of commodities that are using rail, where it exists, and how the state can help support that movement. Feedback from farmers will shape the plan and help prioritize future transportation investments.
"The biggest priority that producers shared was local system infrastructure and bridges for lower weight travel, which limits semi (truck) use of those bridges, and results in long detours," said Douglas.
Since time is money, they want to make sure farmers and producers can get their commodities moved as quickly as possible, Douglas said.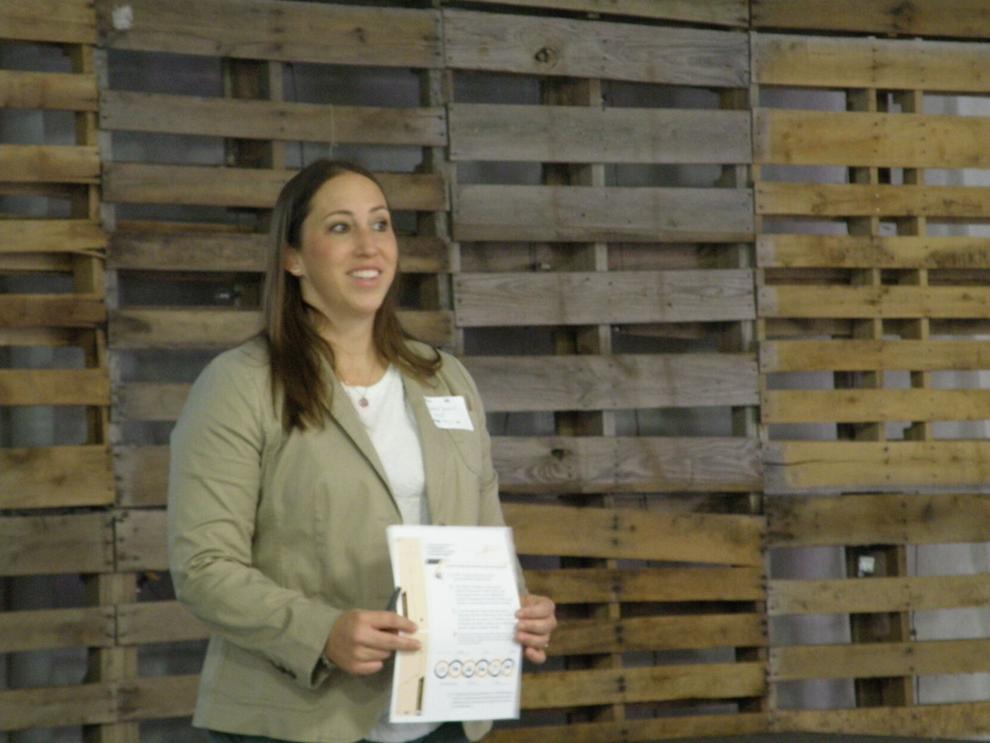 KDOT officials say this is a pilot program and if there is further demand, they would they would consider expanding it across Kansas.
A third pilot, called the grazing exchange program is being considered for the future. It would enable producers or landowners to make land for grazing available to another farmer or rancher in Kansas. The Kansas Soil Health Alliance is taking feedback about potential interest. If there's a need, the alliance will consider establishing the website. Meanwhile, the Kansas Soil Health Alliance has an option for producers to express interest in the idea: https://kssoilhealth.org/grazing-exchange/
Through an all-inclusive events calendar, KSSoilHealth.org can help get the word out about anything relevant to soil health throughout the state of Kansas.
"So, if you'd like to learn more about soil health, you can go to this one calendar and find out what's going on in Kansas, and into our bordering states," Simmelink said.
The organization will continue adding resources, including events and on-farm research.
The brief application for the HOME broadband pilot project can be picked up at the Sheridan County conservation district office in Hoxie and the Cloud County conservation district in Concordia.
Reporter Amy Hadachek is a two-time Emmy Award winning meteorologist and a storm chaser who earned her NWA and AMS Broadcast Meteorology Seals of Approval. She and her husband live on a diversified farm in Kansas. Reach her at amy.hadachek@midwestmessenger.com.