Although the Easter snowstorm and cold snap that hit much of the Midwest may make one think weeds are weeks away from being a problem, experience has shown they can explode literally overnight once the weather warms.
"Early detection is important," noted Nebraska Extension Educator Sarah Sivits during a weed identification workshop at the 2020 Women in Agriculture conference. "The best time to hit (weeds) is when they are small."
Participants in the workshop learned about the two major types of weeds — grasses and broadleafs — and how to differentiate between a number of common annual weeds. Being able to identify the various types of weeds when scouting a field helps producers determine whether spraying is necessary, noted Sivits and her co-presenter, Extension Educator Megan Taylor.
The pair displayed trays with a variety of common Nebraska weeds in various stages of growth. During a hands-on portion of the workshop, audience members visited each table to identify the specimens based on various identifying factors.
For instance, broadleaf weeds are dicots with two cotyledons or starting leaves. They can have palmate or pinnate venations, which is another term for leaf veins. Leaf margins and petioles — the stalk that joins a leaf to a stem — are also identifying factors. As for stems, whether they are round, triangle-shaped or square can also help with identification, as can ocreas, which are sheaths that form beyond the petiole.
In grasses, identification can be made from whether the stems are round or flat, whether they are bunch or creeping, and by surveying the blade, collar, sheath, ligules and auricle, which are found at the junction of the leaf sheath and blade.
Proper identification of weeds is critical in determining what type of herbicide to apply, noted Sivits and Taylor. A number of weeds have some tolerance to herbicide because they have survived and reproduced after a treatment — a process called natural tolerance.
However, a number of weeds have become herbicide-resistant, which is the inherited ability of a plant to survive and reproduce following exposure to a dose of herbicide normally lethal for the wild type. These escapes that have reproduced need to be handled carefully in order to achieve maximum control, noted the Extension educators.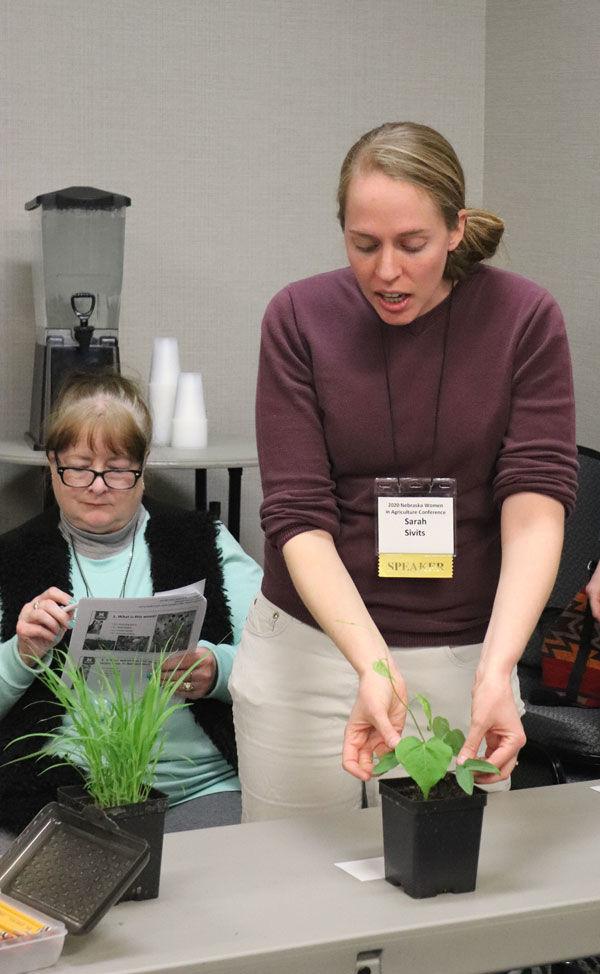 They reviewed the importance of integrated pest management and herbicide management plans. By scouting routinely, producers can determine when and what types of herbicide mixtures will be most effective for weed control. To effectively manage weeds, producers are encouraged to select several herbicides with varying modes of action, they noted.
Among the pesticide resistant weeds in Nebraska are common ragweed, Giant ragweed, kochia, horseweed, Palmer amaranth, common waterhemp, redroot pigweed and shattercane.
Producers must also be on the lookout for noxious and invasive weeds. A noxious weed is one considered to be harmful to the environment or animals, especially one that may be subject to regulations governing attempts to control it.
Nebraska's noxious weeds include Canada thistle, diffuse and spotted knapweed, knotweed, leafy spurge, musk and plumeless thistle, phragmites, purple loosestrife, saltcedar and sericea lespedeza (also know as Chinese bush clover).
"All counties have noxious weed authorities. If you get a letter noting that land you own has had a noxious weed infestation identified on it, respond immediately," Sivits said. "If you don't have the resources to take care of it, contact them and they will do that for you."
Invasive plants are both non-native and able to establish on many sites and grow quickly. They can spread to the point of disrupting plant community or ecosystems, Sivits said. Some are listed under both the noxious and invasive titles, such as purple loosestrife, plumeless thistle and leafy spurge. Other invasive plants in Nebraska include absinth wormwood and amur maple.
One of the best tools for managing weeds noted Taylor is the 2020 Guide for Weed, Disease and Insect Management in Nebraska by the University of Nebraska Extension. The book contains charts on herbicide modes of action, principles of weed management, safety and environmental stewardship tips, suggestions for types of application equipment to use on different crops and best management practices, as well as formulas for calibrating sprayers, herbicide and fertilizer compatibility and what types of spray additives work best when added to a tank mix.
Spray patterns and application programs for common Nebraska crops are also included in the book. Hard copies may be ordered for a cost of $15 each from MarketPlace.unl.edu. A downloadable version is also available.
Barb Bierman Batie can be reached at editorial@midwestmessenger.com.