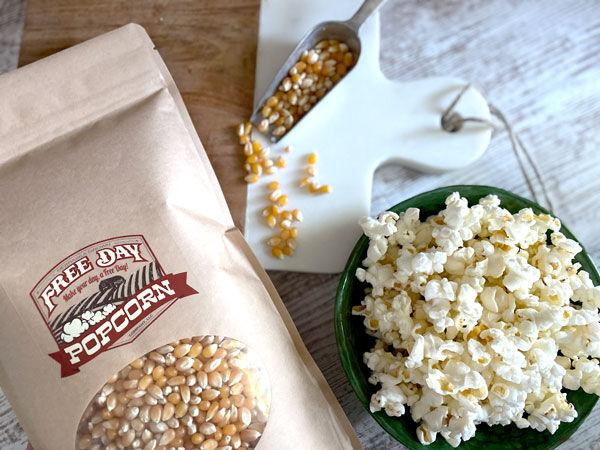 With theaters and gourmet popcorn shops closed or at reduced capacity due to COVID-19, sales from homegrown, fresh-from-the-farm popcorn lately have been reduced by around 90%. However, in this different new economy, two separate farm families who grow popcorn in the nation's Heartland are keeping the fields planted and the popcorn popped.
At the Nebraska/Kansas border, Nate and Stacey Freitag of Byron, Nebraska and their four daughters pour heart and soul into growing their popcorn business, Free Day Popcorn, which they established in 2015.
"Free Day Popcorn plays on our heritage," Stacey said. "Freitag means Friday in German and translates literally to 'Free Day.'"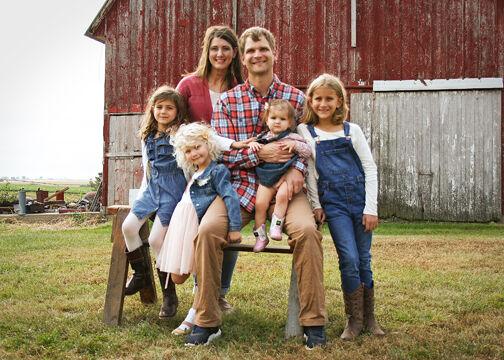 This summer, Stacey worked with a graphic designer to create a custom-designed zipper closure package for popcorn customers.
Now, with autumn just around the corner, this is a time of great anticipation as the family looks forward to the upcoming harvest. Harvest is in late September, when the moisture content of popcorn kernels is ideal at approximately 15%.
"We generally try to plant in early May and harvest in late September. Every year is different," Stacey said. "If the popcorn is harvested at too high a moisture content, the kernels could crack or get scratched. Too dry (below 13%) and the kernels won't pop as well."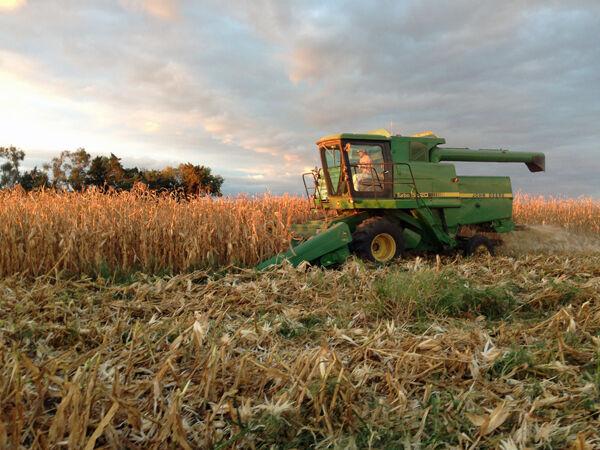 Stacey's parents enjoy coming out to the farm every year around harvest time to help pick, sort and package their "Popping Ear" gift product — ears of popcorn that they sell to be popped directly on the ear it grew, in the microwave.
Also, other favorites in their product line are unpopped kernels of yellow butterfly popcorn, which Stacey calls "the good old fashioned movie theater popcorn," mushroom popcorn, which pops in a ball, and white butterfly popcorn — preferred by people who like fewer hulls.
Nate and his dad handle most of the field work; Nate is also a full-time social studies high school teacher working virtually for Insight School of Kansas, based in Olathe, Kansas. Stacey covers sales, marketing and social media.
Although their popcorn business is in its first generation, Nate and Stacey are actually a seventh generation family of farmers. Nate's great-great-great-grandfather (Johan Christoph Freitag) purchased the original family farm in 1879 for $3 an acre, and that's the location where Nate and Stacey grow popcorn. They also grow field corn and soybeans. Nate's dad — who has been farming popcorn for three decades for commercial processors — shared his business savvy to get the business popping. 
In an exciting generational transition, another popcorn farm in Northeast Kansas will continue its legacy of providing fan-favorite, homegrown goodies. Gary and Marian Schlaegel, longtime owners of Schlaegel's Popcorn near Whiting, Kansas, have turned over managing the popcorn family farm to their grandson, Jacob Yingst.
Yingst said his grandfather has been farming since the 1960s, and also had a tax preparation business. But then he started growing just enough popcorn to give it away as a gift to his clients.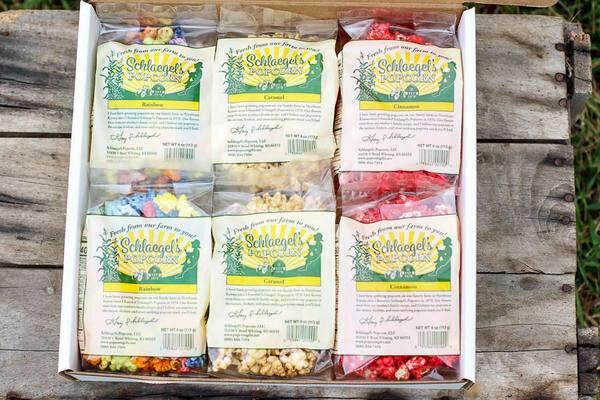 "People loved it," Yingst said. "They kept telling him he needed to start selling it."
So, in the late 1980s-early 1990s, Gary Schlaegel began developing a full-scale popcorn business, growing enough popcorn to sell. He expanded the operation from just growing and selling unpopped kernels to also popping their product for customers.
"The popcorn we grow matures in about 103 days," Yingst said.
Popcorn is based on similar agronomy concepts as field corn, although it typically has a shorter season and is more susceptible to insects and the elements. Its stalks are weaker than field corn. It takes less water and nitrogen than field corn.
"We always make sure it is well watered during pollination," Stacey said. "Then we store it in grain bins to condition it until it is at the ideal moisture for popping: 13.5 percent. We have it cleaned at Polansky Seed in Belleville (Kansas) and bagged. We never blend with a previous year's harvest."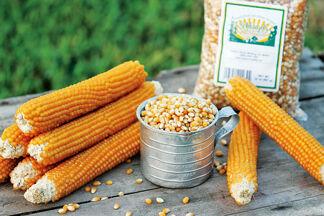 Growing popcorn is a lot like farming field corn, but it is all non-GMO so it is more susceptible to plant diseases, insects and you cannot spray it with glyphosate, Stacey said. Popcorn grows better in cooler evenings during pollination.
Once COVID flattens out, Schlaegel's Popcorn hopes to get back to offering educational tours.
Of the Schlaegel's popcorn, caramel is their best seller.
"Also, cheddar, Rainbow, Kettle Korn, Cinnamon are all very popular flavors. Butterscotch, Cherry Cheesecake, Ranch, and Jalapeno are a little more unique flavors that I think are very, very good," Yingst said.
What Yingst enjoys most about the popcorn business is coming up with new flavors.
"What will taste good? What will catch the customer's eye? That's a pretty fun process," Yingst said. "It's also just fun to work as a family."
All members of the family enjoy helping out at Schlaegel's. Gary and Marian's three grandchildren, who lived two miles down the road, have always been reliable part-time help with the family popcorn business. They all worked on the weekends and summers. Jacob, the oldest grandson, eventually came back to run the business after graduating from Kansas State University. Mike Tanking is also an owner alongside Gary, Marian, and Jacob; Tanking grew up working for the business all throughout high school and college, and then joined the business after graduation.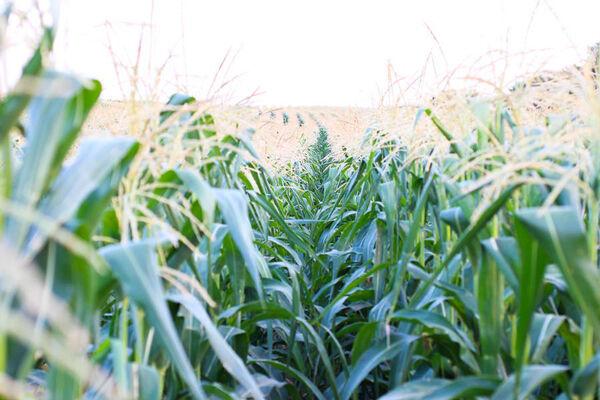 "I think the most unique thing about us is the fact that we grow our own popcorn and then make our own popcorn," Yingst said.
Both popcorn farms ship orders.
As more and more people thirst for the connection of knowing where their food comes from and the farmer who grew it, popcorn is a tasty fiber-filled crunchy comfort food that offers a chance to connect with homegrown food on farms like the Schlaegels' and Freitags'.
"It's cool to grow popcorn and know where it ends up," Stacey said. "Nothing is greater than sitting in a movie theater with other people eating the popcorn grown on your farm. We cherish our customers who make it all worthwhile."
For more information: freedaypopcorn.com and https://popcorngifts.net/.