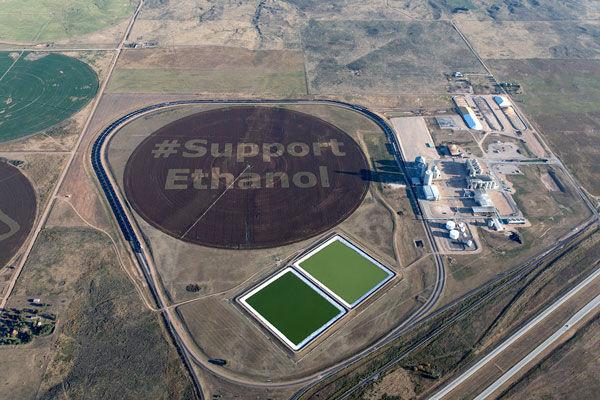 A sixth generation Kansas sorghum grower who is already raising a young seventh generation was recently elected vice chairman of the National Sorghum Producers Board of Directors. A board member for almost two years, Craig Meeker is energized about propelling the sorghum industry, its cohesive relationship with the ethanol industry and new sorghum hybrids for next spring.
"My priorities as vice chair are to represent the sorghum industry with effective policy, adding to our sorghum producers' bottom line, and contribute to the ethanol industry," said Meeker, a sixth-generation farmer near Wellington in Sumner County, Kansas. "We need demand, whether it's Chinese demand, pet food or ethanol."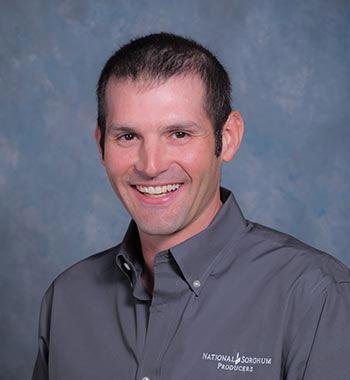 Meeker farms his dad and mom, uncle and aunt, and wife, Melissa. Their kids, ages 10, 9, and 5 work alongside them.
"Hopefully I don't screw it up so they'll have the opportunity to operate the family farm in Sumner County, Kansas," he said.
Overall, the U.S. sorghum crop is doing well. In late October, the Meekers started harvesting double crop sorghum after their wheat.
National Sorghum Producers harvested about 5 million acres as of Oct. 1, with 370 million bushels.
"Overall yields are average. Farmers are seeing really good prices right now, particularly at harvest," said Jennifer Blackburn, vice president of communications with National Sorghum Producers.
The U.S. Department of Agriculture showed yields in some parts of Nebraska were below average this year, but some were above, depending on moisture and hail damage.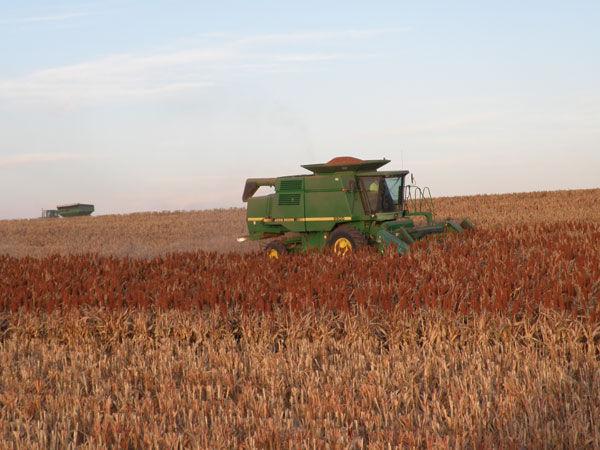 Far southwestern Kansas saw below average dryland yields due to lack of rain during the growing season. Further north and east in Kansas, average to slightly above average yields were reported. Lack of rain in some Kansas areas in August and September hurt yield potential.
"It took a crop that was above slightly above average to average or slightly below average," Blackburn said.
Ethanol is a huge portion of the sorghum organization's portfolio, as the majority of production takes place in Kansas, the largest sorghum producing state.
"Our support for ethanol is incredible. We are very supportive of our producers not only in policy in Washington, D.C., but in other ways," Meeker said.
To encourage support for ethanol, Kansas sorghum producer Rocky Ormiston from Kismet used precision planting with a mix of red and white/yellow sorghum to create "crop art." He spelled out #SupportEthanol in sorghum.
"I appreciate what Rocky has done — not only his support for ethanol, but to also draw support for what farmers do and what our technology has become. It's not just about turning dirt," Meeker said. "The huge amount of evolving technology is helping us become more sustainable."
Meeker is also excited about a new non-GMO variety of sorghum expected out in early 2021.
"It will have the over-the-top grass herbicide control. So, you will be able to spray this new herbicide on it, and it will control different kinds of grasses," Meeker said.
National Sorghum Producers is working alongside the industry to attain regulatory approval for the chemical side of the technology from the Environmental Protection Agency.
Sorghum's toughness and resilience to the Kansas climate and extreme weather conditions is what Meeker likes most about growing the crop.
"Also, it fits our rotation and climate well and has always been one of the most profitable crops on our farm," he said.
Traditionally, sorghum use is split three ways. One third goes into ethanol production. A third is exported as a feed grain and the rest is used for animal feed in the U.S.
"The market landscape for sorghum has changed lately, as China is buying the bulk of the U.S. grain supply for animal feed and to make baijiu; a popular Chinese spirit and the most consumed alcohol in the world," Blackburn said. "There are also domestic markets for poultry, pet food and aquaculture feed gaining more traction."