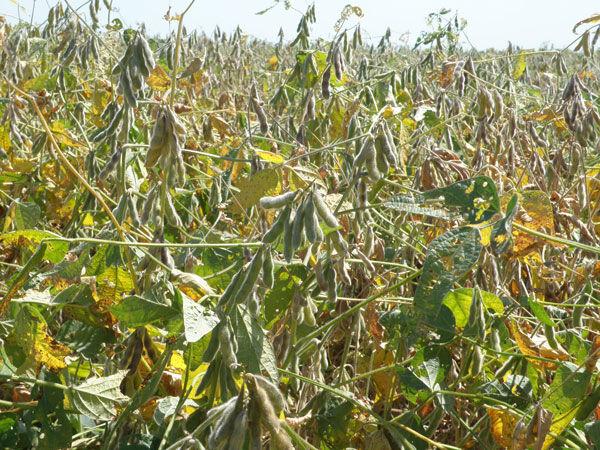 A new herbicide-resistant soybean called XtendFlex is expected to be approved and ready for growers to plant next spring.
XtendFlex is genetically engineered to have resistance to three different chemical modes of action — dicamba, glufosinate and glyphosate — allowing farmers to use all three in their bean fields to battle weeds. The new soybean variety comes at a time when farmers are awaiting a decision on dicamba's federal registration after it was pulled from shelves following a ruling from the Ninth U.S. Circuit Court of Appeals in San Francisco this summer.
"We expect to receive authorization in the near term, and we're planning a full launch of XtendFlex when we receive import approval from the European Commission in Brussels, Belgium," said Lisa Streck, Bayer Crop Science soybean Launch Lead.
She said XtendFlex has passed all the safety testing, and with EU authorization, they will take pre-orders from dealers in September.
Some farmers are frustrated with the court ruling that pulled dicamba's registration this summer.
"It's difficult to accept that a court 1,500 miles away who has no idea how farming works could so negatively impact us," said soybean farmer Steve Kuhlmann of Chester, Nebraska. "If neither the XtendFlex gets approved or if dicamba is not re-approved, then I'll still use Fierce MTZ and the Enlist product."
Another Nebraska soybean farmer, Robert Johnston, said all of his beans are Xtend, and he's hoping the XtendFlex and the alternative to dicamba will (both) be approved for the sake of cleaner fields.
"We're getting inundated with weeds here. The Palmer amaranth is coming in like crazy, and other weeds are also getting resistant," said Johnston, who grows soybeans, corn and alfalfa near Clearwater, Nebraska and serves as chairman of the Nebraska Soybean Association.
Palmer amaranth is a pigweed that's been spreading northward and quickly developing resistance to herbicides.
"We've got to have these new traits approved and different herbicide options all the time, or the weeds are going to win," Johnston said. "Soybeans are one of this nation's top exports and if we can't have these new technologies, the exports will dwindle because we wouldn't be able to continue raising the same volume of beans."
University Extension educators have been conducting summer trials on XtendFlex. At the University of Nebraska-Lincoln, weed management specialist Dr. Amit Jhala has been doing field studies the last couple of years. He's found the XtendFlex soybean to have "outstanding" tolerance to all three post-emergence herbicides — dicamba, glufosinate and glyphosate.
When it comes to glyphosate-resistant pigweeds like Palmer amaranth, best managing them in XtendFlex soybean fields would start with a residual herbicide with multiple modes of action at planting and then a single application of glufosinate, Jhala found.
The Environmental Protection Agency is currently reviewing Bayer's submission in support of a new registration for XtendiMax herbicide with VaporGrip technology for the 2021 season. If XtendFlex and XtendiMax aren't ultimately available for next year, the company would still have Roundup Ready 2Xtend soybeans available. Farmers can use Roundup and another approved herbicide for post-emergence weed control.
Further into the future, Streck said there's other Bayer technology coming in three to four years: "We continue to have a robust soybean pipeline, bringing multiple traits to the marketplace."
Editor's Note: An earlier version of this story incorrectly stated Enlist is a dicamba product. Enlist uses 2,4-D choline with Colex-D. We regret any confusion this may have caused.