The soybean gall midge is tiny, but it has damaged soybeans in Minnesota, South Dakota, Nebraska, Iowa and Missouri.
The tiny fly and its minute offspring were recognized as a new species in February 2019. Resseliella maxima adults are less than a quarter-inch long, have slender bodies, mottled wings, long legs banded with an alternating light and dark color pattern and an orange abdomen.
The soybean damaging larvae are small, legless and maggot-like. They are clear to white-colored when they are little and turn bright orange as they mature. The mature larvae drop to the soil to pupate.
A generation takes 25-30 days, and during 2019 there were two complete generations and a partial third generation – the latter overwintering in the soil as larvae.
It has a cousin – the white mold gall midge, Karshomyia cauliola.
Although the larvae are similar, you can tell the difference because soybean gall midge is found under the outer layer of soybean stems, usually near the base of the plant. The white mold gall midge is not a soybean pest and can be found anywhere on the stem or pods where the white mold fungus is present.
Scientists haven't figured out where the soybean gall midge originated, said Bruce Potter, University of Minnesota Extension Integrated Pest Management specialist in Lamberton, Minnesota.
One idea is the soybean gall midge has always been here but just recently adapted to soybeans.
The soybean gall midge was reported in South Dakota, Iowa and Nebraska for several years, but was thought to be a secondary invader of injured plants. Potter first learned of its presence in Minnesota in August 2018, when he received phone calls from Rock County in extreme southwestern Minnesota.
As early as June 2018, growers in Nebraska, Iowa and South Dakota saw severe damage in soybean fields.
Now it's time to be aware of this pest for the current growing season.
Eggs from the adults are laid close to the base of young soybean plants. Cracks in the soybean stem allow the larvae to enter or perhaps allow for egg deposition.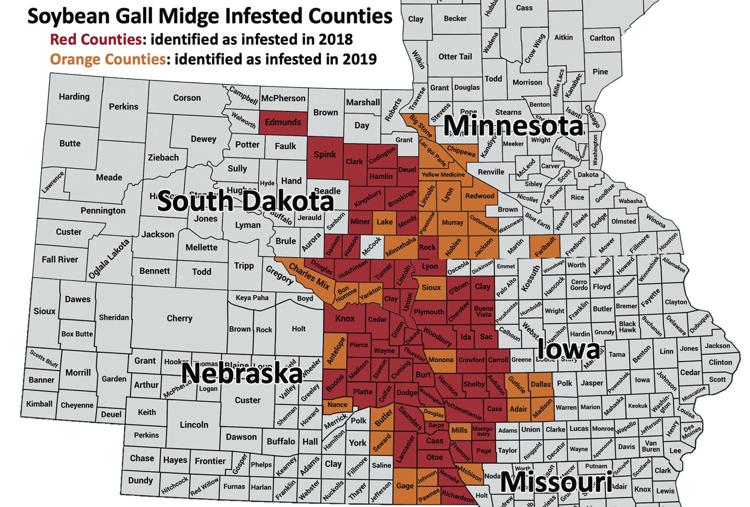 "We think those soybean gall midge adults are using wounds or the natural cracks that occur in stems as stems grow as sites to lay their eggs," Potter said.
Gall midge infestations can be seen in soybeans as small as V3. Heavily infested plants wilt and die or break off at the base.
Potter asks growers to not assume wilting or dead plants on field edges are the result of disease.
Inside the stem, feeding damages tissues. On the outside of the plant, look for a blackened area at the edge of healthy tissue near the base of the stem or stems that are deformed at the base, and are necrotic and brittle.
"When you girdle the plant, you have 100% death on that particular plant," said David Kee, Minnesota Soybean director of research. He spoke at a wheat and crops grower meeting held in Fergus Falls in January of 2020.
Some of the funding to study the soybean gall midge has been provided by the Minnesota soybean checkoff, and work is occurring through the North Central Soybean Research program, said Kee and Potter.
Yield reductions can occur – especially in soybean rows adjacent to last year's soybean crop where the larvae overwintered. That's where growers will want to look for damage first, he said.
Potter is concerned for 2020 as there seems to be a relationship between an early-planting date, early-soybean emergence and infestation by soybean gall midge.
He asks that if growers see soybean plants that are not thriving or appear to be wilting, take a closer look.
Take the lower stem and carefully peel back the outer layer. Look for white or orange larvae.
"If you do find them, let us know," Potter said. "We're trying to track the distribution and severity of this insect. This is a new insect and we need to learn its biology as well as experiment on possible control tactics."
In August, the University of Minnesota and other cooperators will conduct a survey to try to better understand soybean gall midge distribution and damage.
Currently, there are no "silver bullets" to control the new insect. Growers have suggested using seed treatments to control soybean gall midge, but current seed treatments haven't provided consistent control.
Growers have asked about using fungicides to create a healthier plant, but Potter pointed out that soybean gall midge can still get into the plant without a disease present. There is ongoing research on interactions between the insect and disease, he said.
Control of the larvae inside the soybean stem may prove difficult. The long emergence period and multiple generations will make insecticide control of adults difficult.
"We have tried some insecticides directed at first generation adult control and we get some suppression in the number of larvae in the stem. Unfortunately, they don't seem to be changing – at least in Minnesota research – the number of stems that are infested," he said.
Research looks promising for identifying natural predators and parasites of the soybean gall midge, and they play a role in other crop pest members of the gall midge family – wheat midge for example.
Host plant resistance to the insect, if it can be identified and incorporated into soybean lines, would be a great help in managing this insect.
The soybean checkoff has been very helpful in funding research, Potter added. "All we knew, one year ago, was there was a new insect that attacked soybeans and caused damage. Now we know more about its multiple generations, where it overwinters and the potential of some control practices.