Some of Greg Racicky's friends tried to warn Joyce Zimmerman at the time, but she wouldn't listen.
"I had already fallen in love with Holsteins a few years before I met Greg, while visiting family on the West Coast," Joyce began. "Then Greg and I met in Kearney. We both loved to dance country and I fell in love with him before he added the word 'dairy' before 'farmer'. Greg's friends told me that whatever I do, don't set foot in the milk barn."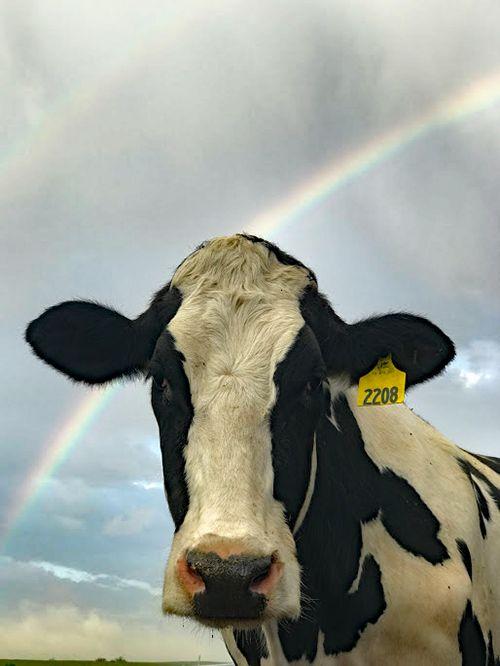 It was meant to be dairy destiny though, and later Greg and Joyce were married. Joyce was no stranger to farm life, growing up one of Frank and Darleen Zimmerman's eight children. Joyce's parents worked for a cattle and crop farmer and the family raised a few sheep for 4-H. Her background melded well with Greg, who was the oldest of Robert and Debra Racicky's seven children. Today, Joyce and Greg have four children — Seth (19), Blake (17), Chase (15) and Halie (13).
"Our family dairy began in 1962 when Greg's parents moved to the home place southwest of Mason City when he was a baby," Joyce explained. "They started the dairy by milking just a handful of cows. Greg and I purchased the farm from them in 2002."
Today, Elk-Creek Dairy is made up of around 120 registered Holsteins, along with all the replacement heifers. The Racicky family also raise dairy bull calves to a certain age and have neighbors who buy them as calves when needed for replacements for their beef herds. Their children also have a few beef steers, breeding heifers and sheep they show for 4-H and FFA along with the dairy animals. They farm 900 acres and grow all their crops for feed and purchase some alfalfa.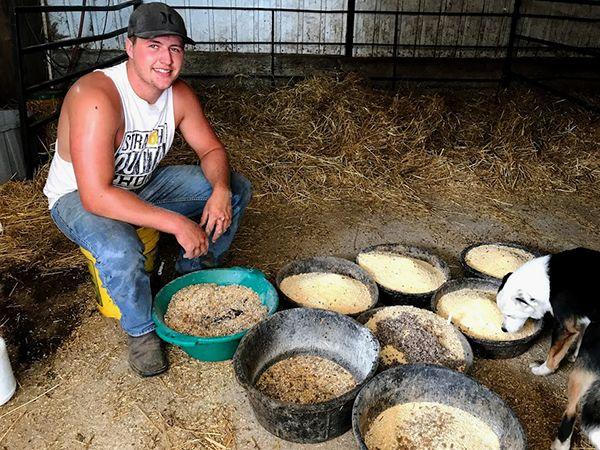 A day in the life of the dairy begins around 4:30 a.m. with milking, Joyce explained, pointing out that many people outside of agriculture do not realize that being a family dairy farmer is a 24/7 job. She usually sets up gates and hangs milkers while Greg brings the cows in and checks on any that might be calving.
"We calve year-round," she said. "We milk the cows and when we are finished, Greg usually feeds milk to the calves and I grain and water everything. Greg does all the other feeding. I usually go to the house and make sure the kids get off to school and go back out to help finish before getting in the house around 11 a.m."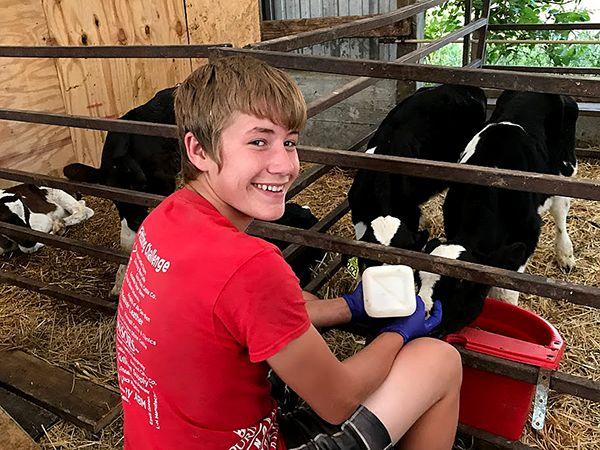 One hired man milks most of the afternoons and feeds calves in the evenings, she said.
"Our kids are involved with sports, but also help do extra chores that need done," Joyce said. "The kids have helped since they were old enough to hold a milk bottle or fill up a water tank. Now, since they are older, they milk on the weekends when our hired man is off. We do depend on them probably more than we should, but sure do appreciate their help. It also instills a good work ethic in them and that goes a long way in life."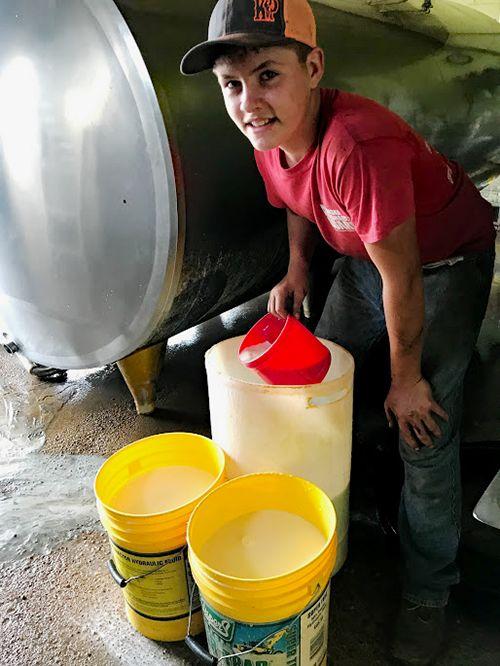 Some of Greg's most enjoyable moments at the dairy are "seeing our beautiful cows come into the milking parlor and deciding what sires would be the best match. It makes me proud to have champion animals at livestock shows, especially when they are bred and owned by us."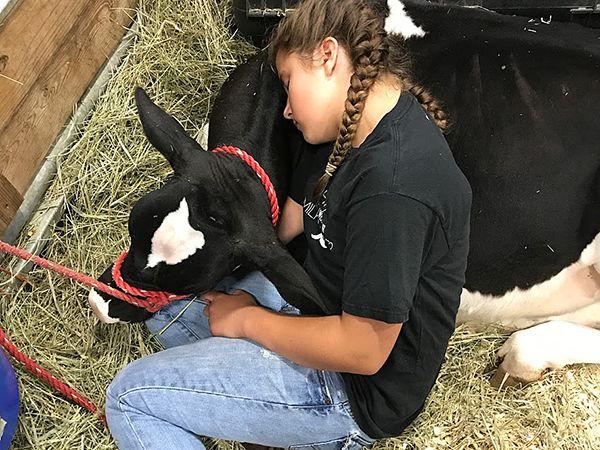 Greg also said that while the rewards of producing milk give the family a sense of pride, there are also serious pressures.
"The biggest challenge we face as dairy farmers are mainly the pay price for our milk," Greg explained. "Everything goes up except the price the farmer gets paid. Other challenges we face are not having any local processors to market our milk to. Our milk is sold to Dairy Farmers of America Coop based in Kansas City and is our only option because of our location.
"Our milk used to be processed 30 miles away, so we didn't have a huge hauling cost. The cheese plant in Ravenna has been closed for several years. Now our milk is taken to the Hiland/Roberts Dairy in Omaha and also goes to Kansas City."
Dairy farmers have some of the highest stress levels of any occupation, Joyce added.
"We have had many friends sell out because of the low pay price to the farmer," she said. "It is sad because dairy farms with so much history are selling out by the hundreds. We do everything possible to cut our costs, from electricity to sharing harvest equipment and labor."
Both Greg and Joyce are heavily involved in the dairy industry. Joyce is vice chairman of Nebraska's Midwest Dairy Association, a board member of Nebraska Dairy Industry Development Board, a delegate for Dairy Farmers of America, and is part of Nebraska Dairy Promoters and the Nebraska Holstein Association. She is also secretary of the Custer County 4-H Council.
Greg has been the recipient of the Distinguished Young Dairyman's award and was a board member for the Nebraska State Dairy Association and the Nebraska Holstein Association. He was also a past delegate for the Dairy Farmers of America.
Seth, who is a freshman at the Nebraska College of Technical Agriculture in Curtis, and his brother Blake qualified for nationals at the World Dairy Expo on Nebraska's 4-H Dairy judging team and were on Nebraska's FFA Dairy judging team at nationals. They have also been Nebraska's delegates at National 4-H Dairy Conference at World Dairy Conference.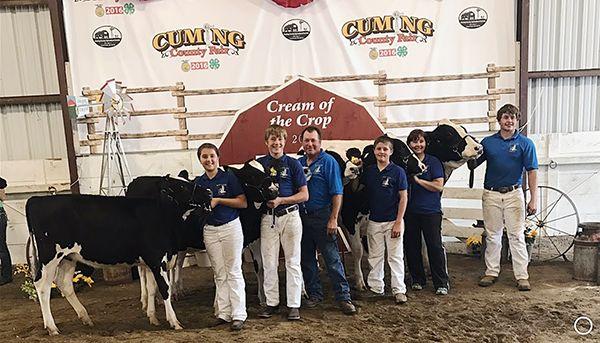 Joyce, who was in a farm accident where she got sandwiched under the back of a manure spreader while on a four-wheeler, also runs a nutrition supplement business from home. She can be found making the family's favorite dairy recipes — everything from homemade macaroni and cheese to cinnamon rolls with gooey caramel topping made with heavy whipping cream.
"I wish consumers would understand that farmers take pride in what they produce, and if we feel safe consuming our products, then they should, too," Joyce said. "We need to do a better job of sharing our story and I know that dairy farmers are leading the pack with this. It used to be that everyone knew someone who had a farm. Now many people have never been on a farm. People are getting so far-removed from the farm and it's really scary when these are the people dictating what farmers should or shouldn't do."
In the end, Greg said, they are proud of the choice they are making to continue in the industry they love every day.
"Dairy farming is a way of life," he said. "You either love it or you don't."
Kerry Hoffschneider can be reached at kerry.hoffschneider@midwestmessenger.com.