The most common cattle breed in the U.S. in the nineteenth century was the Shorthorn.
Arriving in North America in 1783, they were valued for their dual purpose: meat and milk. Oftentimes, they were also used as draft animals, pulling Americans' belongings as they headed west.
As agriculture technology advanced and the cattle industry developed, the dual purpose of the Shorthorns wasn't a necessity. Some Shorthorn breeders began to breed for meat and muscle, while others pursued bigger udders and more milk from their Shorthorns.
The two sides disagreed on what made a good Shorthorn, and in 1949 the American Shorthorn Breeders' Association split. The American Shorthorn Association focused on the meat side and the American Milking Shorthorn Society promoted the milk side.
Fast forward 70 years, and James and Zoann Roth of Milford, Nebraska have had a herd of milking Shorthorns for 15 years.
Typically red, red and white, white or roan, the breed is known for being hardy, good foragers, efficient feeders, with good feet and legs, Roth said. They are easy to breed back as well.
"One thing about the milking Shorthorns is they are typically very easy breeders and can convert feed," he said. "If you have them out on pasture, they will maintain themselves, more than a typical dairy cow."
He's even had heifers on grass that have gained weight.
"We found that, in fact, for our show animals, we can get them too fat," Roth said.
The Roth family, including adult sons Jonathan and Jordan and daughter Meredith Erdkamp, and grandsons Mason, 12, and Corbin, 10, show the breed. They have exhibited everywhere from Madison, Wisconsin to Louisville, Kentucky, from Stillwater, Oklahoma to the Nebraska and Iowa state fairs.
Some of Roth's cattle are milked at a larger dairy, but he milks four of them at home and feeds the milk to Holstein calves. He sells the bull calves to neighbors to be fed out. Even though they're a dairy breed, they'll be a lot more "beefy" than a Holstein or another dairy breed, he said.
When he has too many cows, he sells those to be used as nurse cows. The hardiness of the breed comes in handy in Nebraska. People like them for nurse cows, he said, because they can take the winter really well.
"They're tougher," he said.
Even though milking Shorthorns have improved regarding milk production, they don't eclipse the Holstein breed in terms of volume or the Jerseys and Guernseys in terms of high butterfat content.
Genetics are improving, however, and Roth and his family love the breed. Genetics have made them productive, as far as milk, Roth said, and they have better udders under them.
Eight years ago his daughter won reserve junior world champion at a show in Madison, Wisconsin with her milking Shorthorn heifer and won third in the overall show.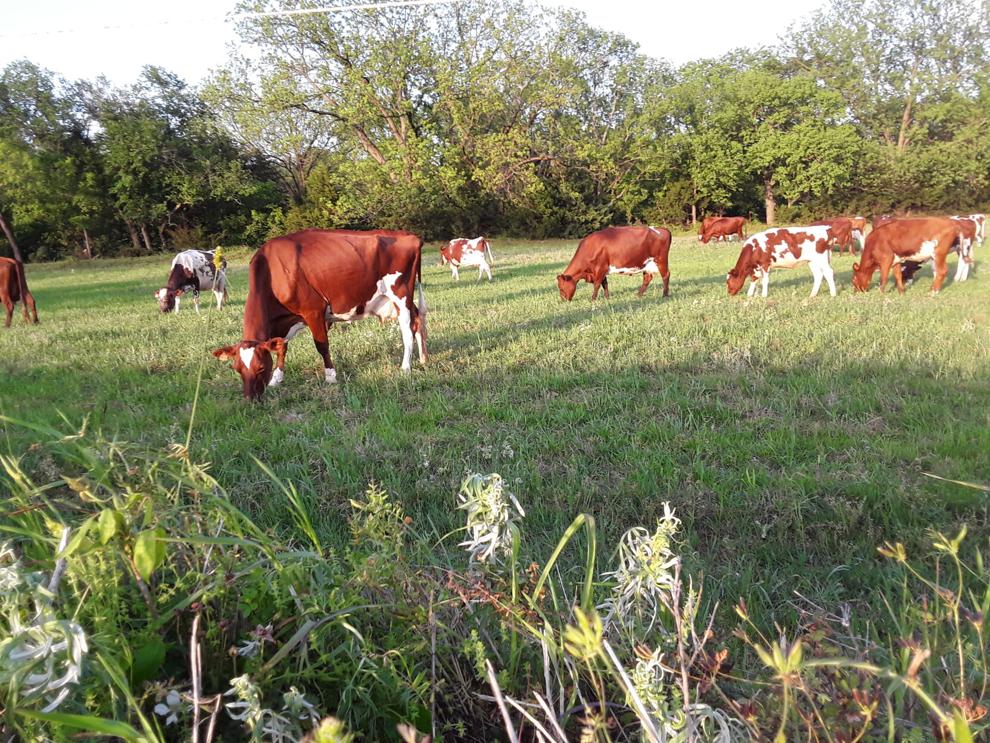 "It's fun," he said, "at a supreme show, when the judges take a good long look at the milking Shorthorns."
A unique herd of Shorthorns makes its home in Custer County, Nebraska.
Owned by third generation ranchers Kevin and Shannon Cooksley, Haumont Shorthorns got its start over a century ago, in 1919.
Called "native," the herd is 100% pure. Shorthorns and milking Shorthorns can be registered at 15/16 pure, with genetics introduced to increase muscle for one variety and more milking ability for the other.
When the Shorthorn breed association split in 1949, the Haumonts weren't in favor of it.
"My grandpa (Frank Haumont), fought to prevent the breakup" Kevin Cooksley said. "He believed in what the original Shorthorns did, and thought people could continually breed to have cattle that were dual purpose."
The native breed may not have the highest milk production or the heaviest meat production, he said, but they feed well, marble well and milk well.
"There's no need to change the animal from what they were intended for," Cooksley said.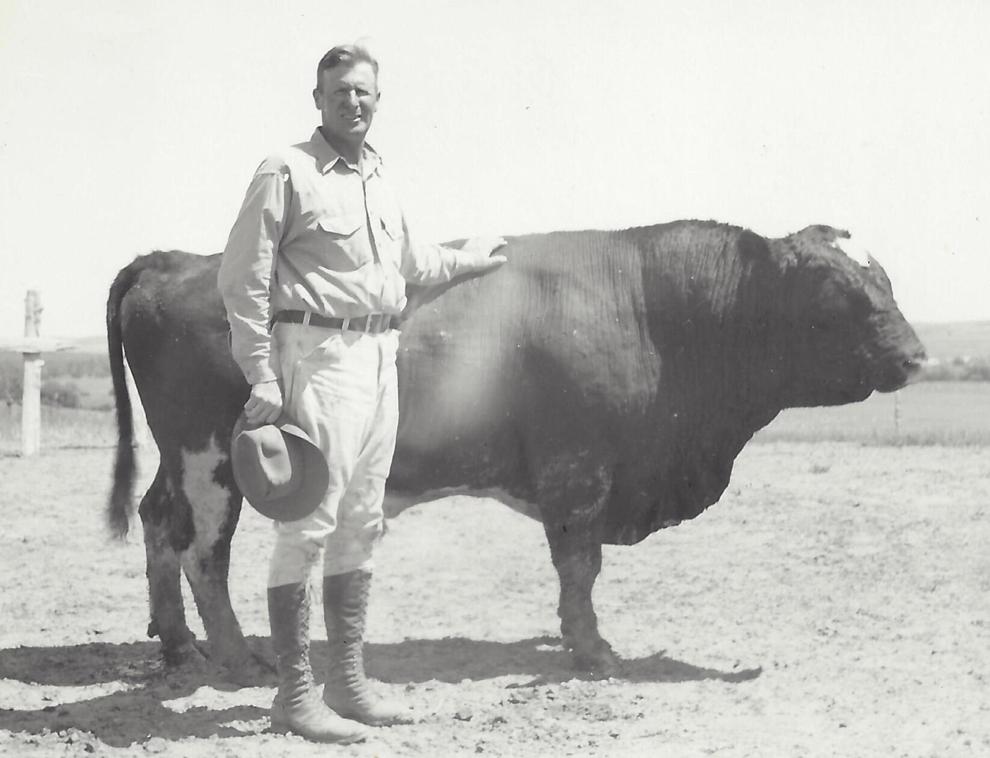 Frank Haumont registered his cattle in both associations so customers who purchased from him could register either way. When Frank died, his daughter and son-in-law, Leo and MaryBell Cooksley, bought the cowherd and MaryBell became involved.
"She went from not having anything to do with the cattle, to being the name and face of Haumont Shorthorns," her son said. "She was dedicated to carrying on her father's philosophies and learning as she went about the selection process."
In 1976, Kevin and Shannon left the U.S. Army and came home, where he began helping his mom with the Shorthorns and the ranch. In 2011 MaryBell passed away, and Kevin and Shannon became owners of Haumont Shorthorns.
Kevin and Shannon have two daughters and a son. Daughter Leah, who is married to Matt Peterson, lives on the ranch with them, as does son Casey and his wife Jamie. Daughter Katrina is married to Scott Gottschall and lives in Atkinson Nebraska. They have four grandchildren.
Haumont Shorthorns is reputed to have the largest native Shorthorn herd in North America. In fact, in 2006, semen from the herd was collected for the National Animal Germplasm Program in Colorado Springs. Cooksley ultrasounds and DNA tests the bulls and pelvic measures and ultrasounds replacement heifers.
He has sold native Shorthorns across the country. For a while, he sold calves at the sale barn but he got tired of discounted sale prices and hearing that "Shorthorns don't feed well, don't dress well and don't marble well," he said.
Then 20 years ago, he decided to retain ownership of his calves, feeding them out at a local feedlot.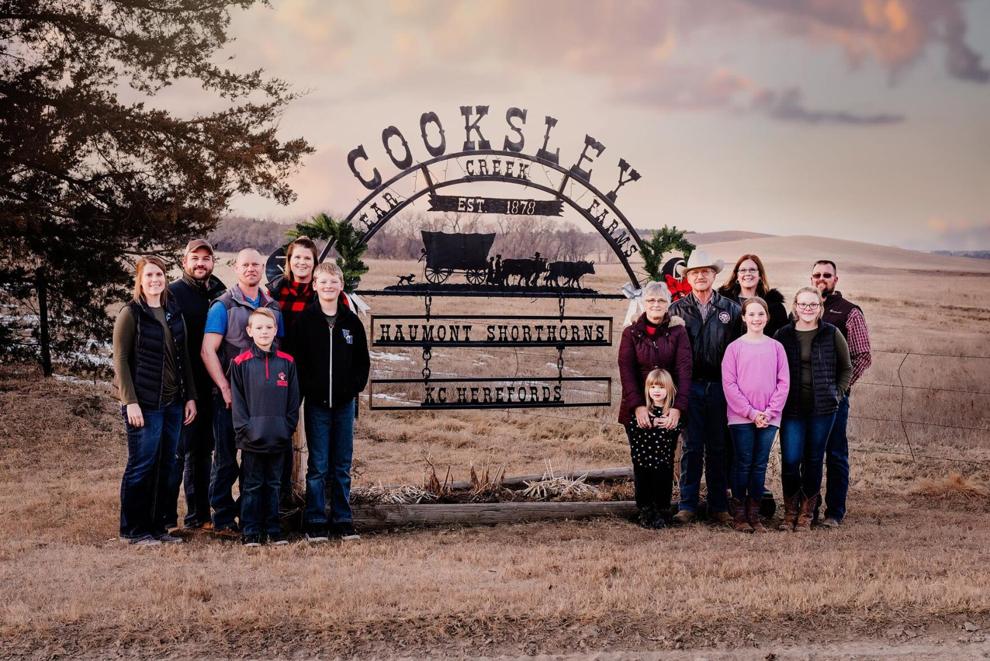 "We kept records, and our cattle fed well, dressed well and marbled well," he said.
His daughter has started a direct marketing for Shorthorn meat.
"People have raved about it and are waiting in line to get more," Cooksley said.
There's not a huge demand for native Shorthorns, Cooksley said, but there's a place for them.
"We can't go out and brag that we won Denver (stock show)," he said. "We don't flush our heifers and sell embryos. We don't collect our bulls and sell semen commercially. Honestly, there's not a huge demand for the native cattle. They don't win in the show ring or have the highest milk production.
"They just go quietly about being good, functional cattle and excellent mother cows."