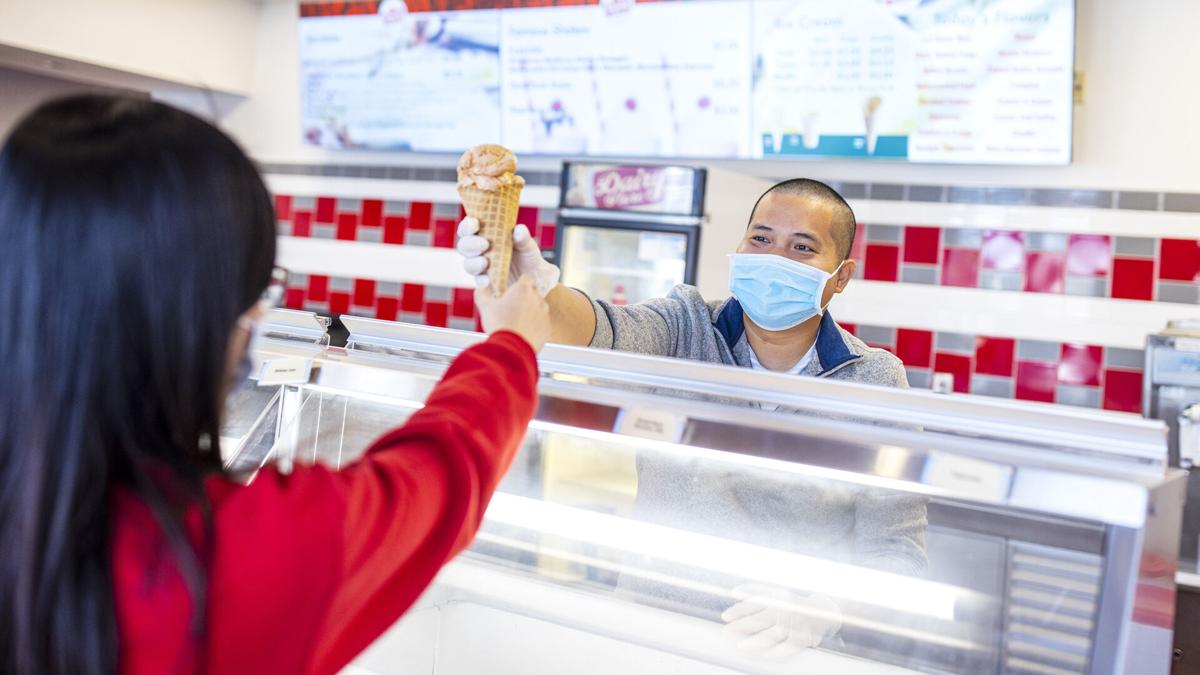 A special ice cream created at the University of Nebraska-Lincoln's Dairy Store honors UNL's Nebraska Tractor Test Laboratory, and it's a popular flavor this June Dairy Month.
The Dairy Store at UNL's east campus, which was recently relocated within the same building for easier access, made the flavor called Tractor Test Toffee in honor of the tractor lab's 100th anniversary. A special celebration for the lab was supposed to be held in July 2020, but was canceled due to the pandemic. It's being re-scheduled for two years out.
One hundred years ago, April 9, the University of Nebraska-Lincoln's Tractor Test Lab comple…
The commemorative ice cream, however, continues to be a hot scoop on campus and also for the many visitors at the Dairy Store, which produces 50 ice cream flavors throughout the year.
"We always have 16 flavors in our cabinet. The best sellers are Scarlet and Cream (our Nebraska flagship flavor), Cookies and Cream is a big seller, also 4-H Clover Mint (a mint chocolate chip), and the Tractor Test Toffee," said Terry Howell, executive director of the UNL Food Processing Center who oversees the Dairy Store.
To create the special ice cream commemorating the university's Tractor Test Lab, Howell met with his friend Roger Hoy, director of the lab and faculty adviser to UNL's Quarter Scale Tractor Team.
The Dairy Store created three versions to choose between.
"The Tractor Test Toffee was my favorite," Hoy said, adding, "I think I was invited as a courtesy but whoever turns down Dairy Store ice cream?"
A few student workers got to partake in the taste test, too.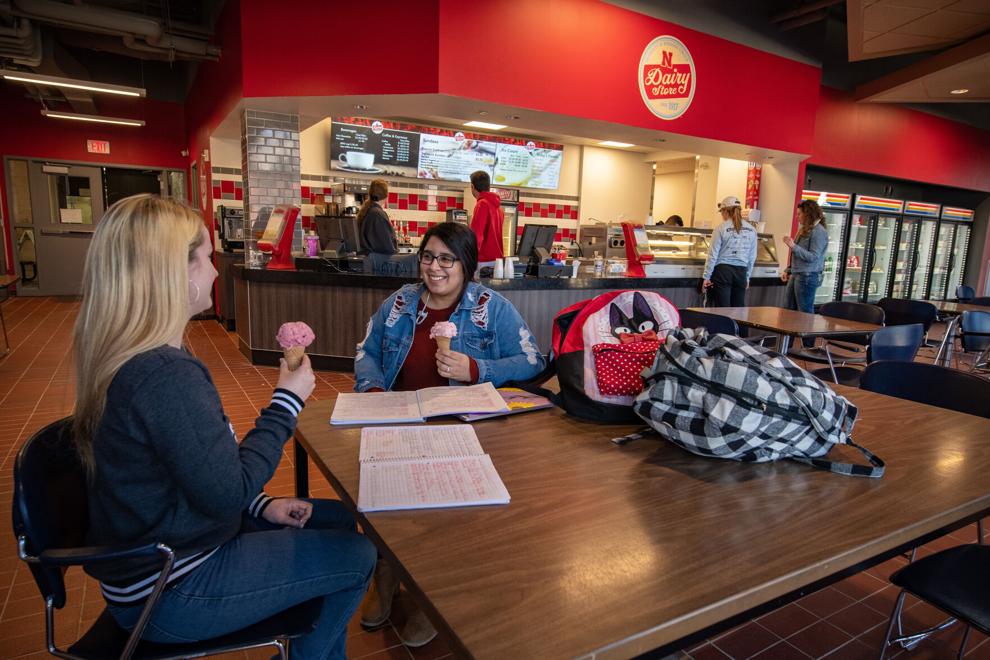 The Tractor Test Lab was planning to serve that ice cream during the anniversary event. It was recently re-scheduled for summer 2023 to coincide with the International Meeting of the American Society for Agricultural and Biological Engineers (ASABE) in Omaha.
"The ASABE group are all ag engineers and they're all big fans of the Tractor Test Lab," Hoy said. "It might be a 'once in a lifetime opportunity' for them to come to Lincoln and see the lab in 2023."
Hoy raved about the ice cream at the Dairy Store.
"You go to the Dairy Store for the great wonderful taste, not to lose weight," he said. "It cannot taste proper without sugar and lots of it."
In winter months, the shop serves soups, coffee and other drinks.
Brent Sampson, who was directly involved with the testing of 978 tractors as a tractor lab test engineer, retired briefly but missed the job too much. He's happily back at the tractor lab.
"I get a bit more excited about units that do very well on our tests, but creating the Tractor Test Toffee ice cream was a way of honoring us," Sampson said.
Tractor Test Toffee is a light brown color. The main ingredients are chocolate, cocoa, micro chocolate chips, English toffee and almonds.
The Dairy store has relocated, slightly. After 25 years in one spot, it moved in March 2020 to a new location in the same building.
"In the past, it faced south; looking toward Holdrege Street. Now it faces north. Parking is still the same," Howell said.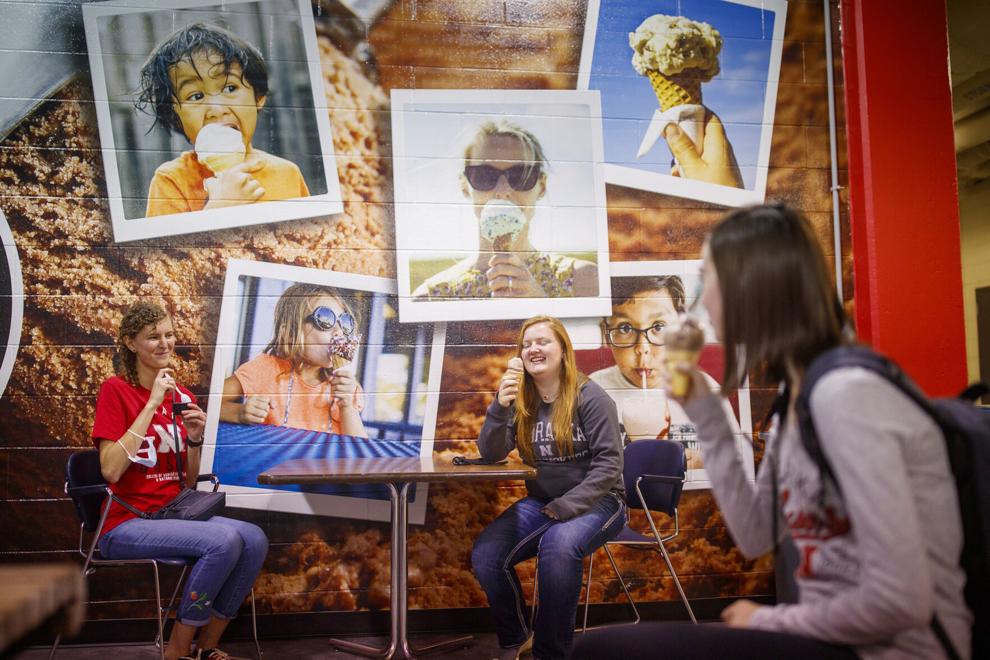 The university has some new purposes for its original location. The new store location offers a view of a big green space with trees, adding ambiance to enjoying ice cream outside, near what's called the Legacy Plaza. Howell said eventually, there will be outdoor seating.
"The Dairy Store clientele is quite diverse and brings a lot of families from the local community, families, and alumni, and creates a unique spot on that part of campus," he said.
The Dairy Store is considered a landmark, and used as a direction point.
In addition to the Dairy Store being an icon on UNL's east campus, the school also hopes to have a dairy outlet on the main campus.
The shop is largely student-run.
"We recruit students in the hospitality, restaurant and tourism management programs who make great employees in the Dairy Store, because they want to make a career out of that industry," Howell said.
The Dairy Store makes eight flavors of cheese. The top sellers include a 'Husker' flavor, which is a mellow cheese, and cheddars are always popular," Howell said.
"My favorite is definitely the jalapeno, which is a Husker cheese similar to a Monterrey Jack with jalapeno," he said.
They work with another local dairy to help produce their cheese. Previously, the ice cream was made in the same building as the Dairy Store. Now it is made on the Nebraska Innovation Campus onsite of the old state fairgrounds.
They're looking for ways to support the Nebraska Dairy industry. That includes a trailer that visits special events.
"It will be out all summer long in Lincoln, and in nearby small towns, as well as central Nebraska, and will definitely have ice cream on board," Howell said.
They want to help out folks who haven't been able to have as much access to ice cream by bringing the dairy store to them. Location information will be on their social media outlets.
Meanwhile, at the Nebraska Tractor Test Lab, which developed a highly-sought reputation among college-bound students interested in the unique program, Hoy and Sampson hope the university's Dairy Store keeps creating the Tractor Test Toffee ice cream. After all, right after the tractor lab's international reputation, that specialty ice cream is the hot scoop.
Reporter Amy Hadachek is a two-time Emmy Award winning meteorologist and a storm chaser who earned her NWA and AMS Broadcast Meteorology Seals of Approval. She and her husband live on a diversified farm in Kansas. Reach her at amy.hadachek@midwestmessenger.com.