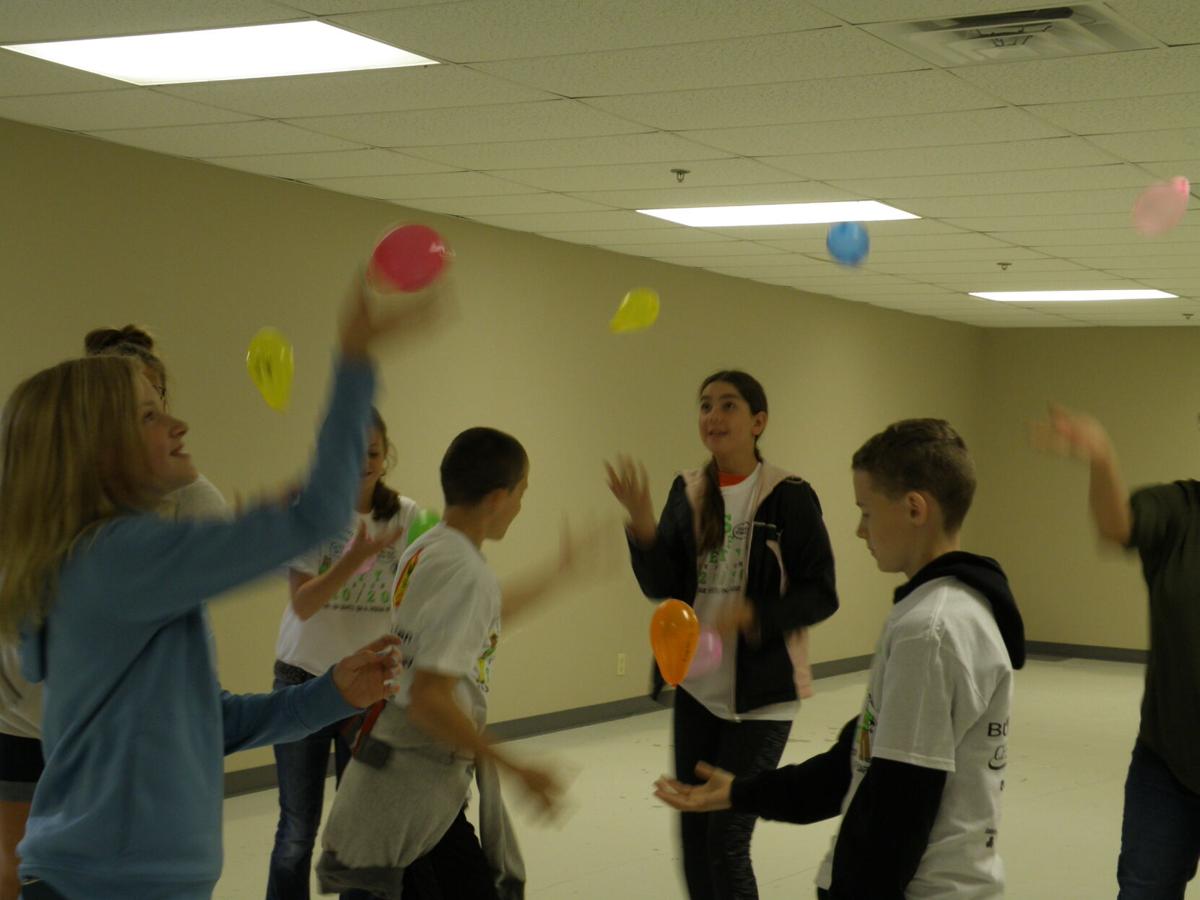 When someone is burdened with one stressor, they may feel they can handle it, but if a person experiences multiple stressful events, it can cause emotions to divide.
Mental wellness was a key topic at the Progressive Agriculture Safety Day for children in first through sixth grades, who packed the Fillmore County Fairgrounds in Geneva, Nebraska in May.
This was the second year the ag safety day included a session on mental health and wellbeing. It's a subject that's becoming increasing important, especially with the challenges youth face today, organizers said.
"They put a lot of pressure on themselves, and trying to help them navigate how to handle stress in a healthy manner is important," said Brandy VanDeWalle, Nebraska Extension Educator in Fillmore County, who organized the event.
While engaging in an activity, students were asked to balance several balloons at a time; as if they were handling several life stressors. When figuring out what to say to someone experiencing stress, just asking "How can I help – I'll balance one of your balloons for you" is a start, the experts say.
Here's a way to start feeling better:
"Deep breathe, so you get oxygen to your brain," advised Stephanie Knight, director of behavioral health at Fillmore County Hospital.
She recommended taking a deep breath in through your nose for three seconds, holding it for another three seconds, and pushing air out of your mouth for another three seconds like you're blowing out a candle. Continue that exercise a few times.
Another way to prevent worrying is a method called "grounding."
"If you're worrying about a pop quiz and you didn't study and feel anxious, look around and see things you can touch, then things you can smell, things you can hear, and something you can taste," Knight recommended.
Engaging your senses can prevent worrying. She suggests doing each in a particular order: find five things you can see, four things you can touch, three you can hear, two things you can smell, and one you can taste.
"With anxiety, we think way ahead. This helps your brain take a break," Knight said.
Another presentation at Ag Safety Day asked kids, "How much do you know about sleep?"
"The No. 1 thing I've learned about sleep is routine. Keeping your wake-up time the same time every day sets your circadian rhythms," said Susan Harris, rural health and wellness and safety educator for Nebraska Extension.
Circadian rhythms affect physical and mental changes through the light and the dark over a 24-hour cycle.
If you don't need an alarm clock to wake up, that's the healthiest way, Harris said. Also, sleep in a room as dark as a cave, she said. Any light coming in, even when your eyelids are closed, will tell your brain it's time to wake up.
For the healthiest sleep, she recommended setting the thermostat between 60 degrees and 68 degrees, not drinking too much water before bed, not watching anything online an hour before bed, and not sleeping with a pet in the bed since they move around and jolt you out of a deep sleep. Not eating sugar too close to bedtime, is another recommendation.
While eight hours of sleep is fine for adults, children should get between nine and 11 hours of sleep.
There's a process that happens when you sleep, when all is relaxed that helps fix your muscles, your nerves and keeps sickness away.
"I learned, to have good sleep, wake up at the same time, no light in the room and a temperature of 68," shared student; Porter Logsdon, of Hebron after the sleep session.
As the Progressive Ag Safety Day concluded, Jessalyn Schrock, FFA Advisor and Ag teacher at Shickley High School reflected.
"I think it's important for our younger students to be involved in multiple aspects of ag safety – ATV safety, mental health awareness," she said. "They are an integral part of agriculture, and so keeping them healthy will keep us healthy."
Reporter Amy Hadachek is a two-time Emmy Award winning meteorologist and a storm chaser who earned her NWA and AMS Broadcast Meteorology Seals of Approval. She and her husband live on a diversified farm in Kansas. Reach her at amy.hadachek@midwestmessenger.com.