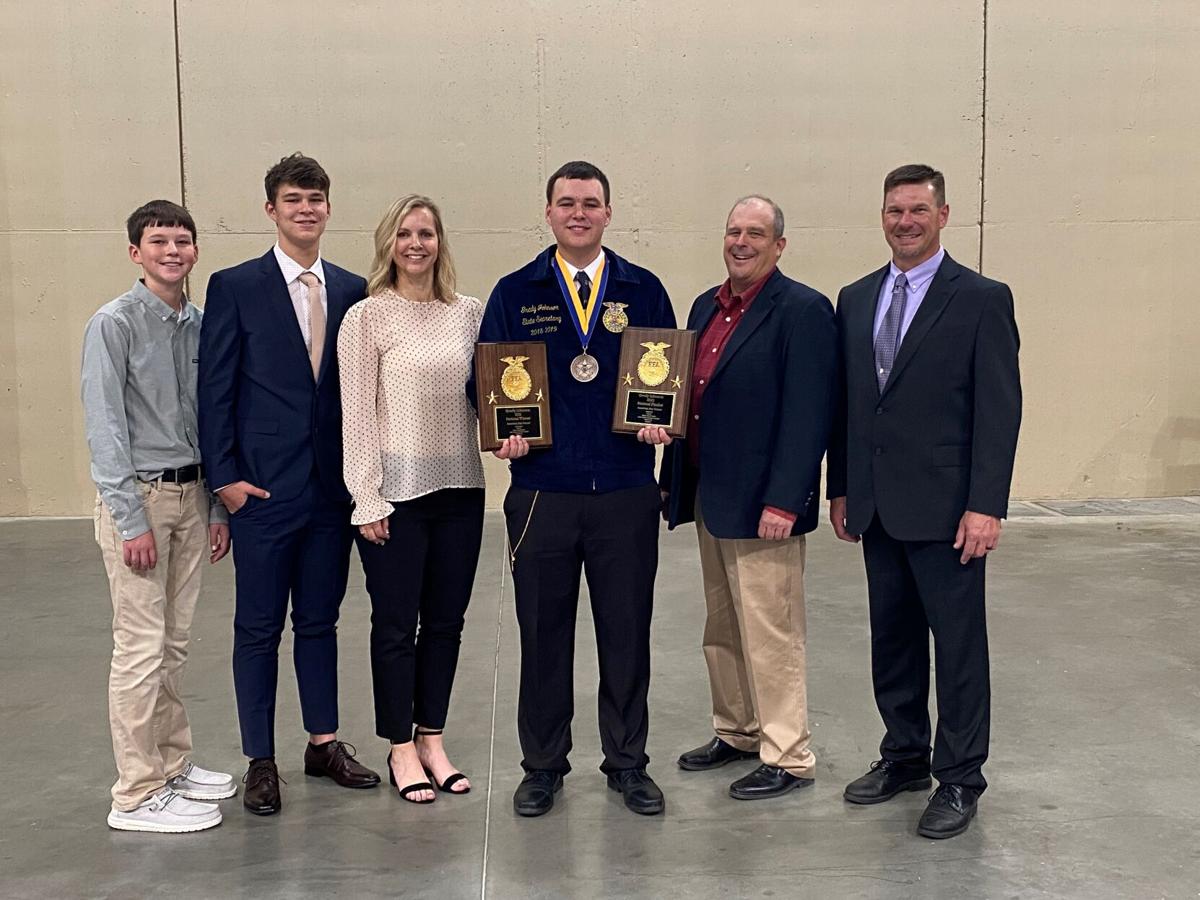 Nebraska can claim the National FFA American Star Farmer this year.
Grady Johnson of Holdrege won the 2021 title. It is awarded to the FFA member that demonstrates the top production agriculture Supervised Agricultural Experience (SAE) in the nation. He accepted the honor during the National FFA Convention, held in Indianapolis Oct. 27-30.
Johnson, a senior at the University of Nebraska-Lincoln, began his FFA SAE project buying feeder lambs, finishing them and selling direct to packers. He leased farm ground as well.
But the biggest part of his SAE experience was his cornstalk baling operation which he started in 2017, when he was 16.
The first year, he put up 600 bales.
"I remember sitting on them, thinking I'll never get rid of these," Johnson said.
This year, he'll put up close to 8,000 to meet demand.
The baled cornstalk business exploded for him, he said, because in south central Nebraska, farmers are planting corn on corn to control palmer amaranth. Strip tilling cornfields was more difficult, due to excess residue.
Johnson drops the chaff spreader on the combine so the residue is left in windrows and can be baled easier.
"It makes a different bale," he said. "It's a lot cleaner and it contains the cobs, husks and leaves. It has more nutrition than bales of stalks."
An agriculture economics major with a minor in agronomy, Johnson plans on moving back home after college graduation to continue his baling business and to farm. He liquidated his breeding flock of lambs when he moved to college, but he's back in the business with his youngest brother, Jett, an eighth grader.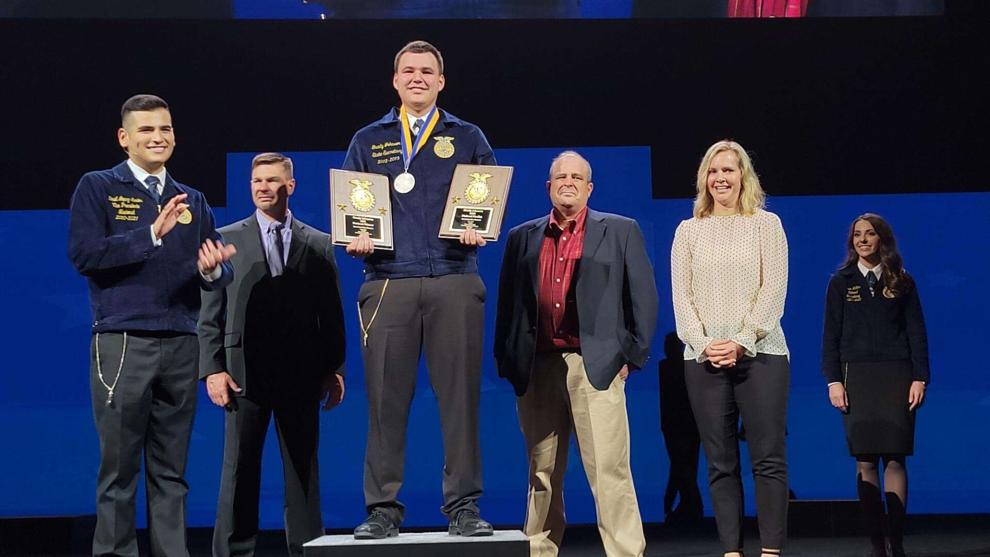 "I told my brother I'd go 50-50 so we built a pen and got back into the feeder lamb business. It's been cool to watch him take a hold of it," he said.
Johnson is the second generation of his family to win the American Star Farmer award. His dad, Blake Johnson, won it 30 years ago.
He had strict instructions for his dad as Johnson accepted the award.
"I told my dad to keep it together on stage," he said. His mom, Holly, and brothers Jett and Quinn, a high school senior, joined him as he accepted the award.
"It's cool for me, because this is all I did in high school. This is my passion."
American Star Awards are considered one of the highest achievements in FFA. Johnson was one of four nominees for Star Farmer. Awards also went to American Star in Agribusiness Tyler Ertzberger of Cranesville, Georgia; American Star in Agricultural Placement Caleb Peckham of Woodstock, Connecticut; and American Star in Agriscience Chase Krug of Marion, Iowa.
Along with Star Farmer, several Nebraska FFA chapters and individuals came home from nationals with prestigious awards.
Imperial's Chase County High School FFA chapter's Parliamentary Procedure team finished as national runners-up. The team consisted of Kade Anderson, Colin O'Neil, Madelynn Hanes, Elizabeth Reeves, Morel Torres and Carter Leibbrandt, with coach Jeremy Vlasin.
The Parliamentary Procedure Leadership Development Event (LDE) tested students' ability to effectively communicate ideas during a meeting. The contest included a 45-question written exam on general parliamentary law, a 10-minute demonstration of parliamentary procedure, oral questions, written minutes of the demonstration, a team problem solving activity, and more.
The second place finish was bittersweet for the Chase County team, as two years ago, their FFA chapter won first. There was no National Convention last year, due to the pandemic, so this team was hoping for a back-to-back win.
"When this team set out, they knew it could be done," Vlasin said. "We had a poster hanging in the classroom all year that said 'win nationals.' To hear your name called before the national champs (are called), that's a hard place to be, but that doesn't change how proud I am of this group."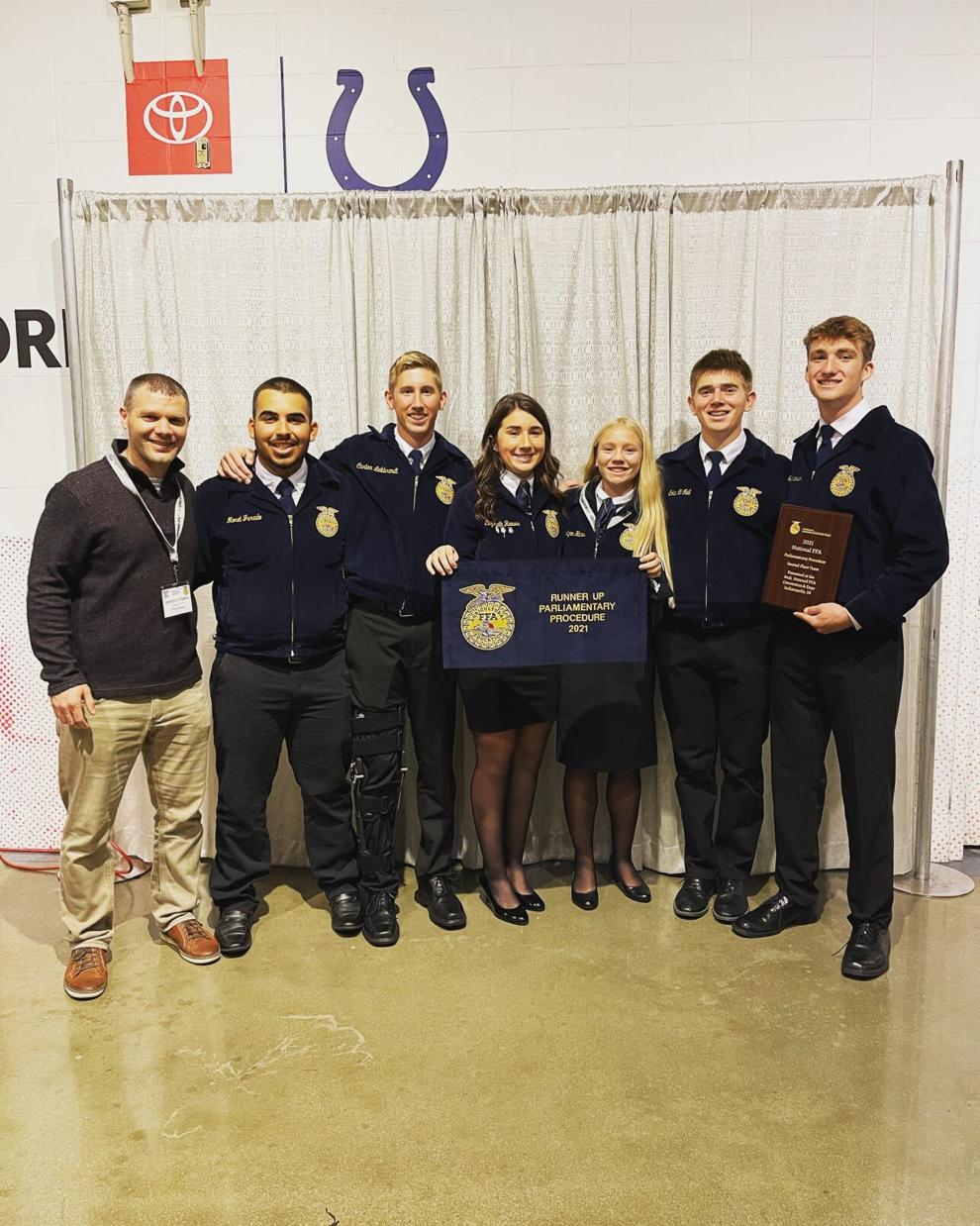 Team member Carter Leibbrandt said the team has been practicing for the past year, even in the summer.
"Two or three times a week, we'd come in and do a test," he said. "When we had our whole team, we'd practice an hour and a half or two hours."
Members of the 2019 national champion team frequently came to meetings to mentor, critiquing and offering suggestions.
Vlasin said it takes grit and determination for FFA members to be part of a team that works so hard.
He said there's something teams that do well need to understand.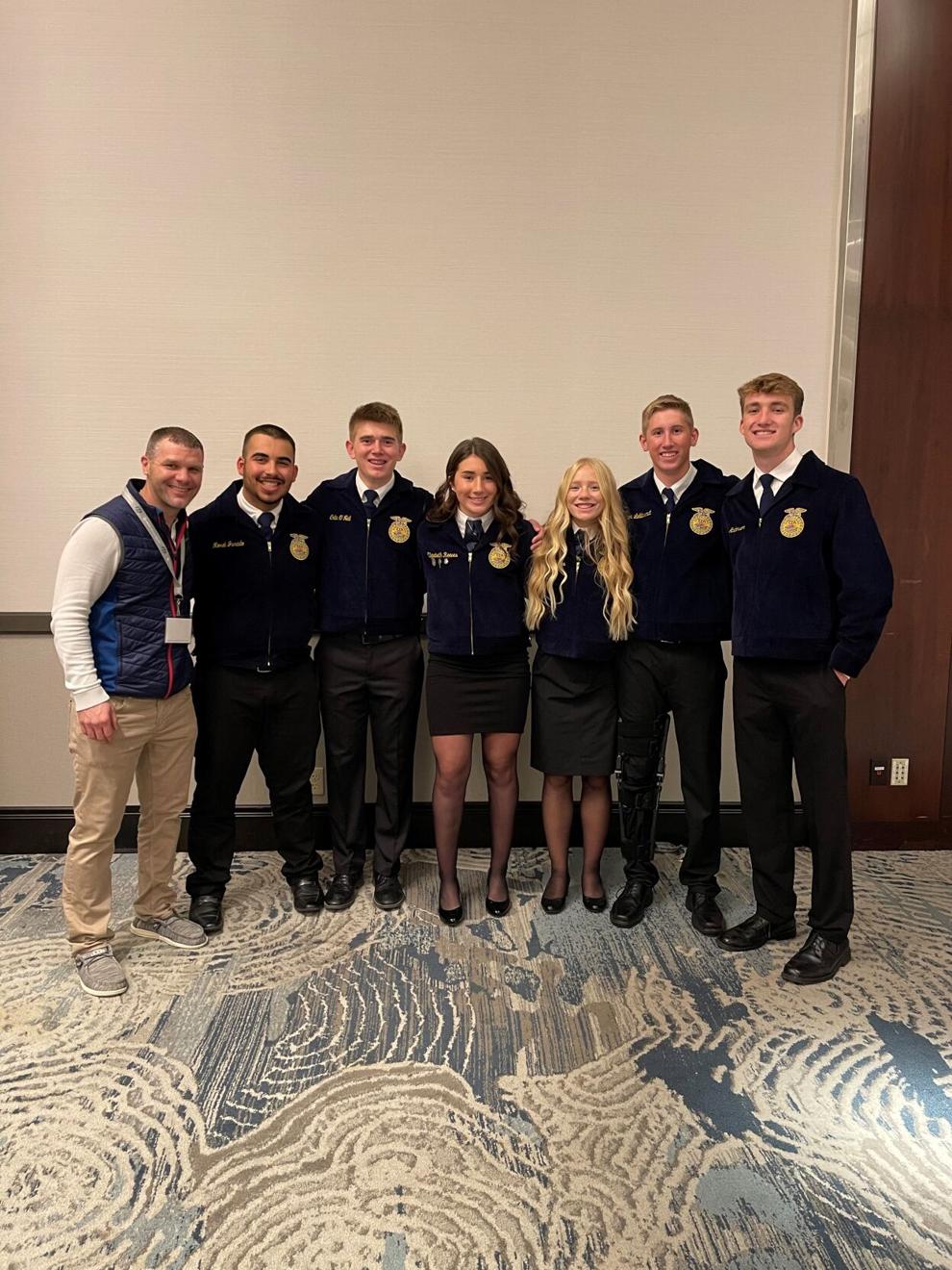 "The process to achieve at that level isn't going to be convenient and comfortable," Vlasin said. "You've got to have a group of kids who understand that and embrace that."
Being humble is also a good trait among high-achieving FFA members, in his book.
FFA contests are unlike sports, he said. They don't play weekly games where fans constantly give feedback on how they did.
"You need a group of kids who can hunker down for a long time, study and practice, without anybody giving them any type of affirmation," he said.
Leibbrandt and teammate Elizabeth Reeves said one of the more important things they learned from working on the contest was how to absorb information.
"I think parliamentary procedure taught me how to study," Reeves said. "Through my freshman and sophomore years, I got really good at cram learning. You can't cram learn in parliamentary procedure, because you have to be able to retain stuff you learned in the first week."
Leibbrandt said he benefitted from the confidence gained by speaking in front of others.
"The public speaking aspect of it has helped a ton," he said. "Knowing what you're going to say before you stand up and say it and being in front of people has helped me a lot."
Vlasin was the FFA advisor at Chase County High School for 10 years but stepped away two years ago. He still teaches at the school and serves as a volunteer coach for the parliamentary procedure and marketing plan teams.
With 40 FFA members at Chase County, the team was up against other schools who have several hundred kids in FFA and multiple advisors.
But the small size can be an advantage, Vlasin said: "(Students) know we don't have anybody else to rely on who can do this for us. It's just us and we have to get it done."
While in Indianapolis, the team had some time between practicing and competing to walk through the exhibits and eat good food, Reeves said, which, for her included sushi.
"A lot of our members enjoy sushi, some more than others, so we got to eat sushi and different things we don't get to eat in southwest Nebraska," she said.
Leibbrandt was the one member who is not a sushi fan.
"They made me try it so at least I can't say I didn't try," he said.
But he doesn't plan on frequenting any sushi restaurants.
"I wouldn't go back," he said. "The next night we went to a steak place."
Freelance writer Ruth Nicolaus loves (nearly) everything about the Great Plains, but mostly its people. She lives in eastern Nebraska. Reach her at editorial@midwestmessenger.com.