Muley is shorter than the average tie-down roping horse at about fourteen hands or less, but he's on top of the picks for tie-down roping horse of the year in pro-rodeo's Badlands Circuit.
"I always like smaller horses. I think they try harder. They have small man syndrome," tie-down roper Clint Kindred of Oral, South Dakota said.
Muley is an 8-year-old sorrel gelding. Kindred's parents, Mike and Renee Kindred, bought him from the cutting horse sale in Billings, Montana. Kindred trained him and considers himself fortunate to have him.
"He does everything that's right for me," he said. "He's a tough little guy."
Not only is Muley small, but he has a definite personality.
"He's always got to test your patience, whether it's catching him or how he treats other horses. He definitely has lots of attitude," Kindred said. "He's probably a horse only an owner can love."
Kindred has qualified for the Badlands Circuit Finals Rodeo nine times. He won the 2018 circuit finals year-end and average title on Muley.
Seven timed event horses were selected in pro rodeo's Badlands Circuit for their exceptional ability in and out of the arena.
Steer wrestling horse of the year was won by Cameron Morman of Glen Ullin, North Dakota. Hazing horse of the year was tied between horses owned by Morman and Kody Woodward of Dupree, South Dakota. Team roping head horse of the year was awarded to Turner Harris of Killdeer, North Dakota, and team roping heel horse of the year went to Levi Tyan of Wallace, Nebraska.
For the women's events, Jessica Routier's horse Missy won barrel horse of the year, and Samantha Jorgenson's horse won breakaway horse of the year.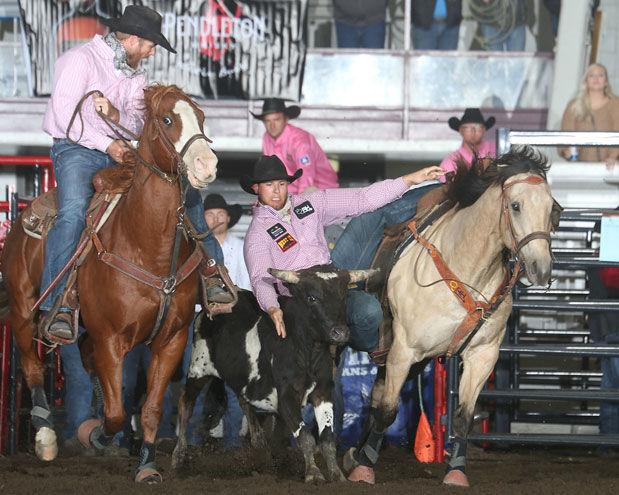 On the heading end in the team roping, Turner Harris rides a thirteen-year-old bay roan named Dewey.
Purchased four years ago, Dewey had competed in college rodeo. Harris tweaked a few things to make the horse fit him better, but he was already good at his job.
The horse, from the Streak of Flame line, is good not only in rodeo arenas but around the house. Turner and his wife have a two year old son, Coy, who rides Dewey.
"When Coy gets on him, he'll swing his rope and hit (the horse) in the head, and Dewey will just stand there," he said. "If I get on him and even pick my rope up, he'll grab another gear."
The horse is special to the family.
"Once Coy started riding him, my wife said, (Dewey) will not leave the place," Harris said.
Harris rode Dewey and roped with Jade Nelson of Midland, South Dakota to win this year's Badlands Circuit Finals average title.
On the heel end in the team roping, a Nebraska cowboy owns an award winning horse.
Levi Tyan of Wallace, Nebraska owns and rides Pepper, a 7-year-old gray gelding. Purchased in the spring of 2018, Tyan seasoned the horse last year, hauling him to rodeos. The horse "has a lot of tools," he said, and is able to handle not only longer "set-ups" (arenas), but shorter ones, too.
"He's really good at longer setups, because he can run," Tyan said. "This year, he's gotten better at shorter setups."  The horse "makes my job easier. It's nice to have one that can run a lot, and that I can use for every setup."
Pepper is not only competent, but he's easy going, too.
"He's super to be around, very easy to be around," Tyan said. "He's the kind of horse that you want. He doesn't have any flaws. He's a special horse, for sure."
On the hazing side in the steer wrestling, Kody Woodward's mount Baby won Badlands Circuit hazing horse of the year.
The 11-year-old red roan gelding was purchased five years ago, and "has been by far the best horse I've ever had," Woodward said.
"He's a real athletic horse, and quick footed. I've never had a horse that stands so still in the corner (of the box). He has a ton of run, and he knows what he's doing. Anybody who gets on him says, by far, he's the easiest horse they've ever rode," he said.
Woodward hauled him until early July, when fellow steer wrestlers and friends Stockton Graves and JD Struxness, who were rodeoing nationwide, needed him.
"They were in a bind and needed a haze horse," Woodward said. "I had another one, and I felt the horse needed to go more than where I was going. He's too nice to stay at home with."
Graves will haze on Baby for Struxness at the Wrangler National Finals Rodeo this December.
Baby is good at his job, but he cops an attitude.
"He's pretty standoffish," Woodward said. "He doesn't buddy up to anything. But he's very good at what he does."
For the third consecutive year, the Women's Pro Rodeo Association Badlands Circuit barrel racing horse of the year went to Jessica Routier's horse Missy.
Fiery Miss West "Missy," carried Routier to a year-end title at this year's Badlands Circuit Finals.
Routier started the 8-year-old palomino in futurities three years ago. She did well, and then, as a 6-year-old, Routier began running pro rodeos on her. She won the Badlands Circuit on the horse in 2018 and qualified for the Wrangler National Finals Rodeo (WNFR) on Missy, finishing as reserve world champion.
This year, Routier will compete at the WNFR again, going into this year's world championship in eighth place.
Missy, who is owned by Gary Westergren of Lincoln, Nebraska, has matured, Routier said: "Not that she needed to, but she got more confident in herself. She used to run and wait for me to tell her when to turn (around a barrel.) She's taking the initiative to figure things out on her own now, which has made me have to change how I ride. She's the most consistent horse you'll find."
Breakaway roping was a new event at the circuit finals this year, and a horse of the year was chosen in that event as well.
The horse belonging to the first ever Badlands Circuit year-end champion Samantha Jorgenson was chosen.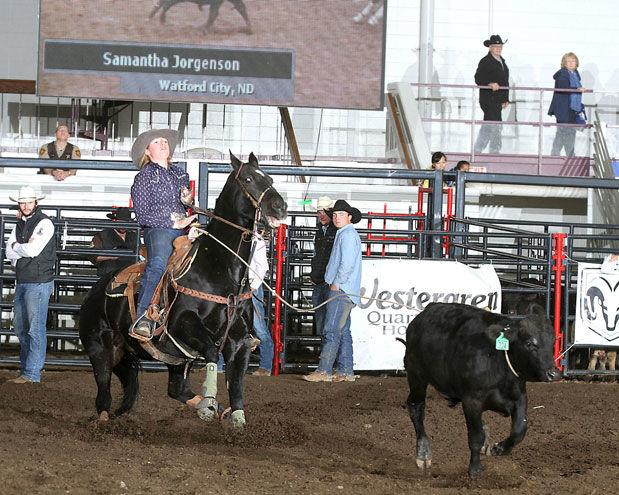 Her horse, a black 13-year-old gelding, won the honors. Purchased four years ago, the gelding does a great job for Jorgenson.
"He's really quick," she said. "He stops really hard and tries really hard every time."
Jorgenson rode him during her college days at Black Hills State University in Spearfish, South Dakota, and at circuit rodeos this summer. The horse is friendly, too.
"He loves people and attention," said Jorgenson, who lives in Watford City, North Dakota.
The 65th annual Minot Y's Men's Rodeo hosted the Badlands Circuit Finals Rodeo Oct. 4-6. Year end and finals champions were determined in each event, and will go on to compete at the RAM National Circuit Finals Rodeo in Kissimmee, Florida April 2-5.
For more information, visit www.MinotYsMensRodeo.com or www.ProRodeo.com.