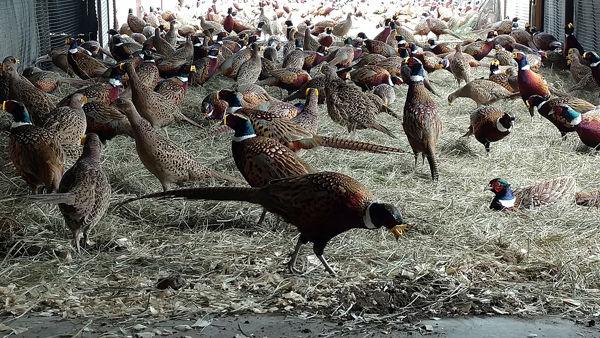 Feathers rustling, muscles tense and sharp eyes alert, they settle into the high grass — waiting.
On a farm in southern Nebraska, thousands of pheasants watch nervously as Dustin Chrisman approaches the field. He may be ferrying food their way, but it doesn't mean they trust him. On this 35-acre habitat, the call of the wild reigns to the tune of hundreds of thousands of pheasants, quail and partridges. "That's one of the really important things about raising birds," began Chrisman, owner of Double Barrel Game Farm & Hatchery in McCool Junction, Neb., "(they are) as wild as possible." 
Chrisman's passion for raising game birds developed at a young age — he was just seven years old when he began learning the trade from a neighbor, Les Brovosky, who dabbled in exotic birds as a hobby.
Most days after school, Chrisman would ride the bus to Brovosky's house, where he would help with chores for the ducks, geese, peacocks and other fowl. As he tended the birds and watched their eggs hatch under the warm lights of the incubator, Chrisman's interest in the feathered kind took on a sharp focus.
Brovosky passed away only a few years after his mentorship began, but he left his unofficial apprentice a gift for his budding entrepreneurship — the incubator, and birds to go with it.
So Chrisman continued solo, splitting his time between helping on the family farm and raising his birds. His father, Terry, even built an incubator room to encourage his son's pursuits.
"In high school, I decided I wanted to keep doing this," Chrisman said, adding that he founded his company at 15 years old. "I enjoyed it, and I learned the business through the dealings, selling geese here and there. It was good experience."
By the time Chrisman was in college, he had built his enterprise up to 20,000 birds. It was a full-time job in addition to full-time secondary education at University of Nebraska — not to mention the growing herd of 100 cattle he'd bought in high school.
After college graduation, the fourth generation farmer knew exactly what his future held — birds and beef.
Today on the Double Barrel Game Farm & Hatchery, there's thousands of birds spread throughout the netted flight pens on the farm. They keep the Chrismans busy — last year, the family hatched more than 400,000 chicks, raising 130,000 of those to maturity.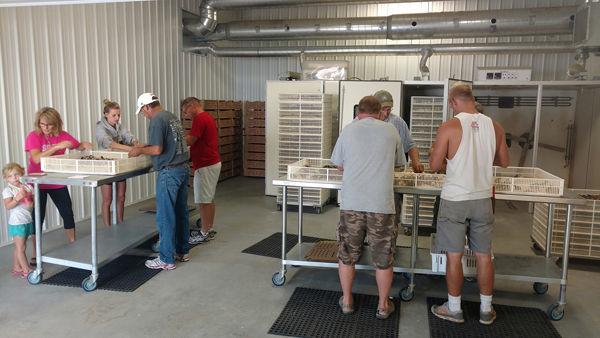 During egg season — April to August — Chrisman said all hands are on deck, gathering 9,000-plus pheasant eggs a day, and numerous quail and partridge eggs in addition. Chrisman said his wife Paige is heavily involved in the egg collection and hatch process, as are their children Arianna, Ryah, and Tripp, who do everything from collection and egg cleaning to catching birds.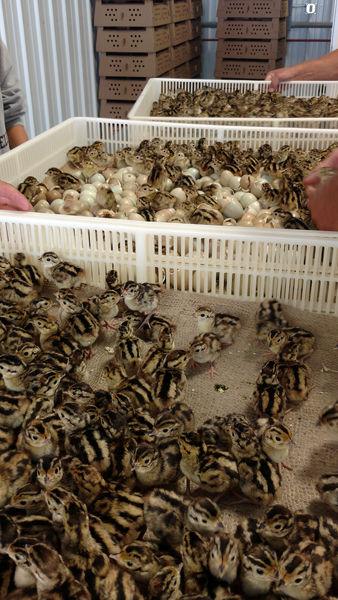 "What little kid wouldn't enjoy picking up (thousands) of eggs a day," Chrisman said, chuckling. "My son (Tripp) helps six to seven hours a day. He loves it — riding in the Bobcat, catching birds, and when he can't do that, he goes with the hired men to help with chores."
The hired hands — 12 part-time and full-time employees — lend critical assistance during the busy season, Chrisman explained, as eggs are continuously hatching into 25,000-35,000 chicks every week, which need sorted, packaged and delivered across the country. And when the hatching season is over, the Chrismans start hauling full grown birds to customers in 17 states, beginning in September.
In addition to those day-old chicks and full grown birds, the Chrismans also sell eggs and six-week-old chicks, all in a variety of species: ringneck pheasants, bobwhite quail, chukar partridges, plus a few specialty birds, like melanistic mutant pheasants.
Chrisman said he has bred the birds for specific genetic traits found in Nebraska, Kansas, and South Dakota, in order to provide an optimum game bird to his customers, who range from private individuals to dog trainers and hunting reserves.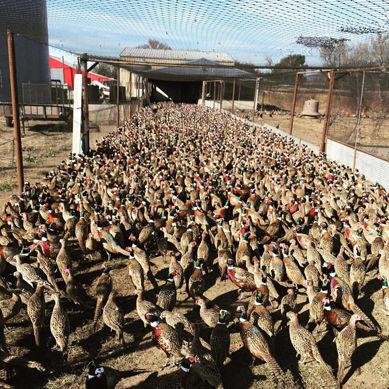 "We're modeling a bird that everyone is really satisfied with as far as size, coloring, and maturation, so that's where I think we really stand out," he added.
His interest in genetics continues to carry over to his cattle as well, as Chrisman breeds about 700 heifers a year, and has about 300 cow/calf pairs. Despite the game bird operation, Chrisman said he'll always find time for his cattle, a throwback to the farm days of his youth.
"It's in my blood, I can't stop it," he said with a spirited laugh. "I just enjoy doing it, even when we're calving. We put the whole family up on the Gator and go out to tag calves. The kids really enjoy that.
"We have so many people that come out and want to see things (on the farm), my kids are the tour guides now. They give the whole spiel about it."
Though initially just an after-school project, Chrisman said he's pleased with the alternative livestock route he stayed on, as he feels the game bird business suits his particular style of farm and ranch life in Nebraska very well.
"It's something different than everyone else is doing," Chrisman explained. "I'm always kind of looking for something outside of the box.
"(It's important to me) that we're delivering a top-end product, every single load. It's a service business. Our word is good."
To learn more about Double Barrel Game Farm & Hatchery, visit http://doublebarrelgamefarm.com/, or follow the Chrismans' operation on Facebook.
Katy Moore can be reached at katy.moore@lee.net.