With a low and gentle call of "Come boss, come boss," the small sea of red and black cows and calves fell in line to follow the familiar pickup to a pasture side hill where they knew a treat was coming.
As Mark Blake caked the herd it was easy to see why he was selected as the 2020 Red Angus Director's Herdsman of the Year. He moved easily around the group of J6 Farms Red Angus and with a quick glance at an ear tag could relate the dam's history, pair her up with her calf and discuss the breeding background without even a glance at a notebook or laptop.
Blake, who lives just north of Gibbon, Nebraska, received his recognition at the National Red Angus Show during the National Western Stock Show Jan. 13. The award is presented to an individual who has most effectively presented his or herself in a professional manner and their cattle while at the show. Blake has spent the past five years proving the worth of the J6 cattle.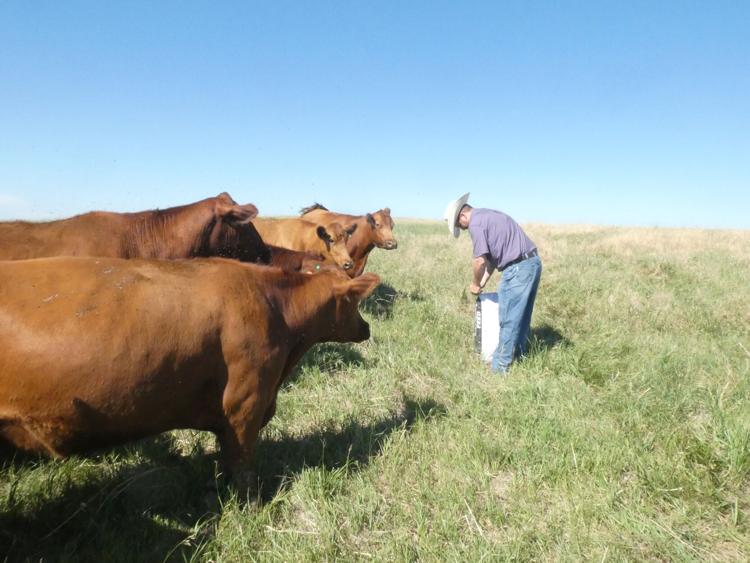 Originally from Earl Park, Indiana, Blake grew up breeding and showing Limousin cattle on his family's operation, Mar-Jon Farms. He was very active in the breed and served on the junior board of directors for the North American Limousin Junior Association.
After high school, he worked four years for Sullivan Supply. It was while on the show circuit that he met J6 Farms owner David Spencer. He hired Blake as the show barn manager whose job it was to take care of all the show cattle.
"Over time we started to restructure the herd, and that's when David moved me up to herdsman. Now I'm the sole herdsman," said Blake.
Since Blake became a part of J6 Farms in 2015, the operation has enjoyed heightened success, exhibiting several winners, including the Champion Pen of Three Red Angus Bulls at the 2020 National Western Stock Show (NWSS), Reserve Champion Pen of Three Red Angus Females at NWSS 2020, Champion Bull at NWSS 2015, Champion Bull and Champion Breeding Heifer at the 2017 Fort Worth Stock Show, Champion Breeding Heifer at the 2019 American Royal, as well as multiple champion Red Angus heifers and bulls at the Nebraska State Fair.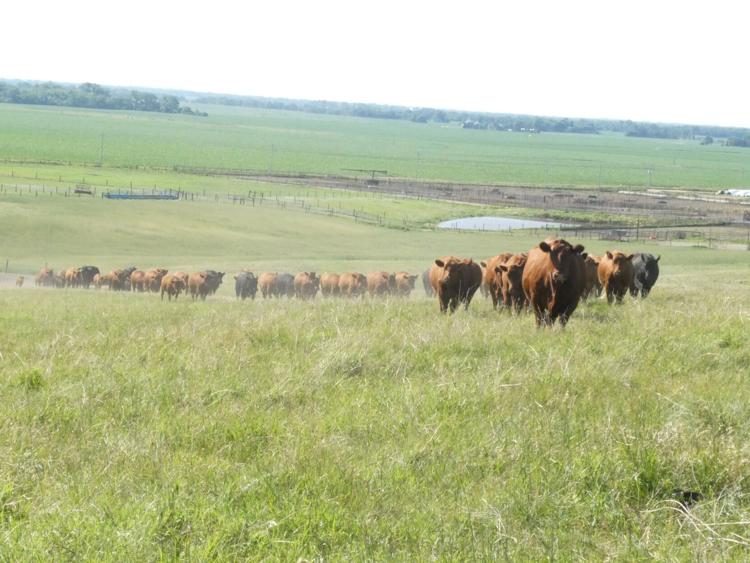 "We made an incredible amount of changes to the herd during the last two years. In October 2018 we had a cow herd dispersal, selling a lot of the cows, including the AI registered cows. From there we focused 100% on embryo transfer on a select group of donor cows," Blake said. "We are starting to see the type of big changes we wanted to get to. This year we calved out the first set of heifers to keep back."
Spencer noted Blake has worked hard to bring excellence to every aspect of the operation, from the breeding program to the show barn.
"We are grateful for the level of quality that he brings to J6 Farms and are excited to see the operation continue to grow," Spencer said. "This award is an excellent recognition of the tireless labor that Mark has put into J6 Farms and I don't think you could give it to a better stockman."
Blake in turn has high praise for his boss: "David is an incredible guy to work for. He's given me free rein to do what we need to. He put a lot of faith in me considering I started as herdsman when I was just 26."
His years in the cattle industry have given Blake an inner sense of what commercial cattlemen need, as well as those geared to the show circuit.
Their cattle's size varies from a 5.5 to 7 frame score – calculated on a combination of the animal's hip height and age. In the Red Angus breed, they're focusing on feet and making sure they are level hipped with a natural slope in the shoulder.
"We are keeping the cows feminine and wide-pinned," he said. "The traits I've chosen mean the cows have to be sound."
Once the structure is right, they focus on the shape they want and having red meat behind the shoulders.
"That's where we fine tune those cattle," he said. "They've got to convert grass and grain to meat."
In addition, Blake wants his cows to be long-lived. Some of their donor cows are 13 and 14 years old.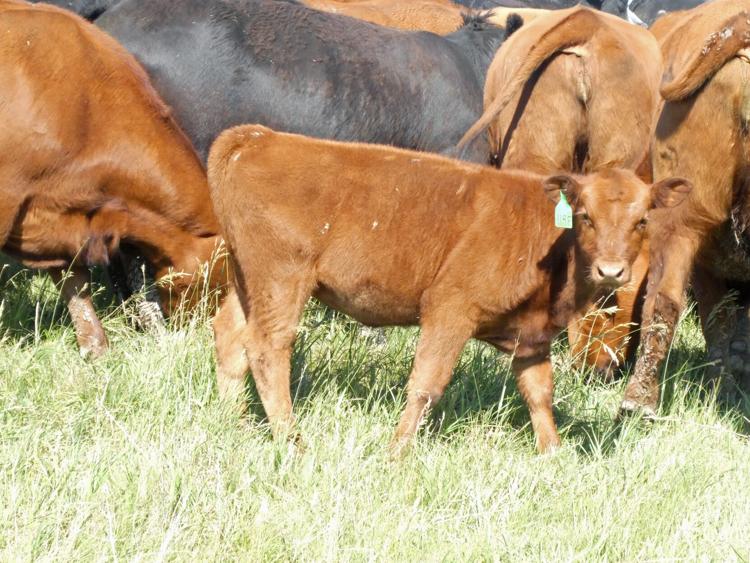 "My goal is to sell bulls to go out to customers and be functional for a long time. If the cattle aren't sound they can't go for long," he said.
While the J6 raises some Limousin cattle, the focus is on Red Angus and according to Blake, the future is bright. J6 has two lines – one is longer and has "framier" cattle that grow into a 6.5 to 7 frame. They have incredible longevity, he said. Then there is the "maxed out" line that are easy feed converters. Now they are looking at putting those two together.
"I'm excited about next year to see good sturdy frames with feed efficiency. That's the goal and would be the best of both worlds," Blake said.
The COVID-19 pandemic has impacted the beef industry, but Blake notes their operation has kept moving forward. They were able to get their 2020 bull sale completed before the shutdown and since then they have worked things out with customers as needed.
It also impacted his personal life. Blake and his new wife, Erin, had to adjust their spring wedding plans. He married Erin Steele April 4 in a small ceremony dictated by health guidelines at the time. The couple was able to proceed with a delayed reception in Adair, Iowa, on June 20 when they could invite more family and friends.
The newlyweds are now at home at the J6 ranch, which is six miles north of the J6 farm headquarters just off Highway 30 west of Gibbon. During the summer Blake is in charge of the haying operation and making sure the cows get bred. But he admitted he will be anxious to get back on the road this fall.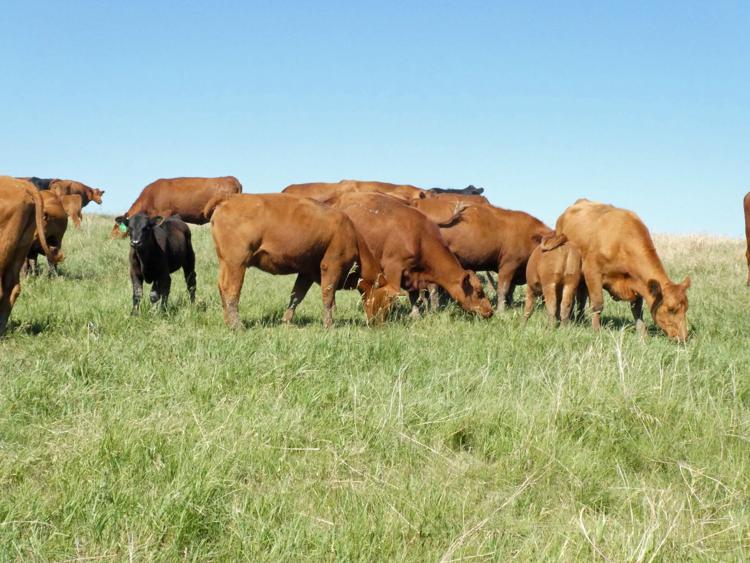 "I'll travel to see the newly weaned calves and how they could impact what we're doing here at J6. Then we'll gear up for the Denver Stock Show, which is our main focus. The best seed stock and commercial cattlemen are there. You want to take them (your livestock) to town and see where you are," he said.
Blake is pleased with the herd's diversity, which will have value when it comes to the 2021 bull sale.
"You have to make what your customers want, what makes them happy," he said. "Make those cattle the best they can be and make them work in their programs."