Timing and location of precipitation can mean everything for a ranching operation.
That's why John Halstead aims to manage the massive Fawn Lake Ranch in Nebraska's Sandhills as a weather-ready ranch.
"Rest periods are very important. I don't graze anything for 14 months after a growing season grazing event," Halstead said, talking in a session of the Nebraska Grazing Conference Aug. 11. Challenges from COVID-19 required re-structuring this year's 20th annual event to a virtual format.
The ranch includes 63,792 acres of continuous prairie near Gordon, Nebraska. Its 62 pastures allow them to support 775 yearling bison and 1,200 breeding cows through controlled grazing with longer rest periods.
"Being weather-ready is building flexibility into a grazing plan, then adapting to whatever nature throws my way," Halstead said. "We're conservative in our stocking rate."
The range is healthier when having animals moving over it, rather than keeping them in one place for a long time, Halstead said. It helps so livestock don't go back for a second bite, potentially injuring the grass's root system.
"Our core herd is cows, calves and breeding bulls. If we're behind on rain and it's not looking good, we'll pull our yearlings in, and save that pasture for our core cowherd," Halstead said.
Clippings are measured to determine forage availability. Halstead clips and weighs samples from a few different places in a pasture to determine the right grazing duration for the pasture. He uses a photo point monitoring system, which he says "tells 1,000 words."
After setting down a 90-inch cable hoop, he takes a photo straight down over the hoop, records the GPS location, then takes three steps back for another photo. Inventorying the plant species inside the hoop confirms if the pasture is trending in a positive direction.
Weather has been challenging for pastures in western Nebraska this summer. Even with 2019 being the third wettest year on record, drought covered the western third of the state in early August 2020.
Wet springs and drier summers seem to be the way Nebrsaka's climate is trending, according to State Climatologist Martha Shulski
Shulski discussed past, current and future climate trends at the Nebraska Grazing Conference.
Nebraska's temperatures are more variable than global averages, she said. This year, temperatures are trending higher than normal in Nebraska. The state has seen warming by 1.5 degrees, with nights warming more than days, Shulski said, and she expects that to climb an unprecedented rates.
It could add up to a longer growing season by several weeks, she said. But plants will need more water. Longer summers, hotter nights and more hot days will mean more water evaporates. She expects rainfall events will become more extreme.
"The magnitude of expected changes will exceed those experienced in the last century," Shulski said.
The wet season of 2019 is helping during this time of drought because there was water in the soil profile.
"When we dried out with high winds and evaporative conditions, it was actually OK since we came off a very wet year," Shulski said.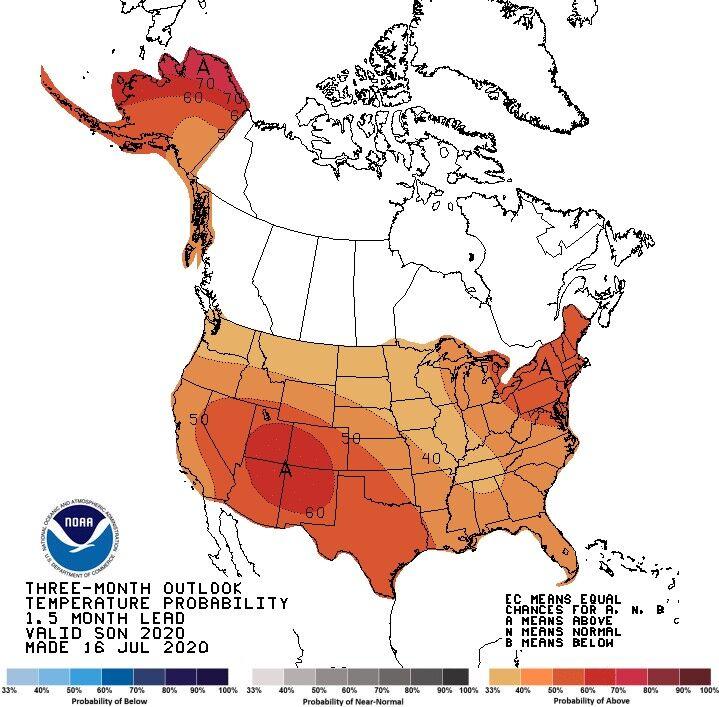 She recommends planning for overall warmer and wetter climate punctuated by droughts and weather extremes, which she expects to see magnified in the future.
This autumn, the Climate Prediction Center's outlook for September, October and November 2020 favors warmer than normal temperatures from western Kansas into the Rocky Mountain states. Precipitation models point to wet conditions in North Dakota, however below-average precipitation is forecast for southwestern Nebraska, the western half of Kansas and Oklahoma into the Rocky Mountain states.