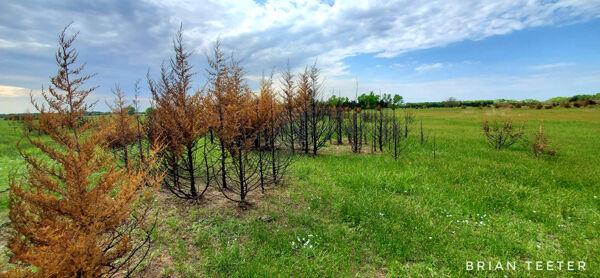 Deliberately setting fire to a pasture might seem crazy to someone outside the farming and ranching community, but it's a long-standing practice that has significant benefits for both the farmers and ranchers as well as wildlife.
The practice of prescribed burning stretches back to the post-Civil War era throughout the Great Plains.
"Aboriginal folks from Kansas and all over the country used prescribed fire in a variety of ways," said Dr. K.C. Olson of the Animal Sciences and Industry Department at Kansas State University. "They used to burn the grass to attract buffalo and other game animals, but that wasn't even the half of it. They also used fire to help their favorite food plants to proliferate, and they were good at it."
Olson said when European settlers entered the plains, they picked up on how useful fire could be for their livestock. They realized that cattle coming up from Texas into Kansas grew better if they grazed on burned rangeland. With the right amount of moisture, the prairie glass would grow back lusher and more nutritious for the animals than it was before setting the fire.
But the use of prescribed burning got stuck in a "paradigm lockdown" of only using it in the spring, he said.
"A lot of burning in the spring leads to a lot of smoke, which means air quality issues," Olson said. "A lot of that smoke was sent up your way into Nebraska."
Spring fires are good for controlling woody stem plants like eastern red cedar, he added. However, it doesn't control a lot of other more dangerous plants, such as sericea lespedeza, or Chinese bushclover. The noxious weed has a large seed bank that makes it very difficult to handle, even after control efforts, he said.
Prescribed burns occur in almost every month of the year in Nebraska. Brian Teeter, the prescribed fire coordinator for Pheasants Forever in Nebraska, said the most common time of the year for burning is either in the spring or fall.
"It really depends on your fuels and objectives," Teeter said. "Even a prescribed burn in the summer months of July and August can also have significant benefits."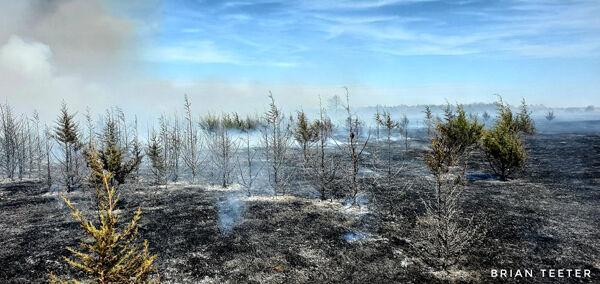 About 10 years ago, Olson and a research team began to target other times of the year besides spring for prescribed burning and saw good responses to their efforts. They began to control the noxious bushclover more effectively, and they started to learn how to control old world bluestems.
Looking through the history of the Great Plains will show just how much influence fire has had in shaping vegetation across the region, Teeter said. Fire, grazing and rain (or the lack thereof) are the major drivers in vegetation across the region.
"Over the last 100 years, we've taken fire all but out of our management strategies for maintaining our prairies, woodlands and wetlands," Teeter said. "Because we took fire away as a method of managing the prairie ecosystem, we now see a dramatic increase in eastern red cedar trees."
The trees are beginning to take over parts of our rangelands, he said. Fire is a great way to control it.
"The tree is very fire intolerant," he said. "It's easy to get rid of, but you do need to be burning before they even show up."
If and when red cedars do start sprouting, they need to be controlled early on.
"If you don't catch the trees early, it gets much more costly and time-consuming to get rid of them," he added.
Prescribed burning can have a lot of benefits, but Olson said it's important to not get "stuck in an ecological rut" and burn at the same time every year.
"I would counsel folks that if they are interested in prescribed burning and the benefits it can bring in a short time, don't get too emotionally invested in a particular time of year," Olson said. "If you move your fire season around to different times of the year, the land will respond favorably."
Coming from a place that did not use prescribed fire, Olson is sold on the benefits he's seen in Kansas since moving there in 1993.
"I've never seen a more powerful range improvement tool than prescribed fire," he said.
If you're interested in fall burning, one thing you'll want to keep an eye on is a hard frost. Olson said when that happens, any subsequent fires will behave more like spring fires. The vegetation will go dormant and the fire can be especially volatile as a result.
"As long as there is a green component to the vegetation, the fires will be much more boring in nature," he said, "and that's a good thing."
You can't talk about prescribed fires without discussing safety. Teeter said it's important to talk to the local fire department about your planned burn before even heading to the field.
Training resources are available to those wanting to learn how to properly conduct a controlled burn.
"There's a lot more to it than just deciding one day to go out and start a fire," he said.
Nebraska has Prescribed Burn Associations across the state. The collection of landowners and land managers come together to help put prescribed fires safely on the ground.
"It's a great example of neighbor helping neighbor," Teeter added. "You're coming together to help each other do something that benefits not only the landowner but the broader community as well."