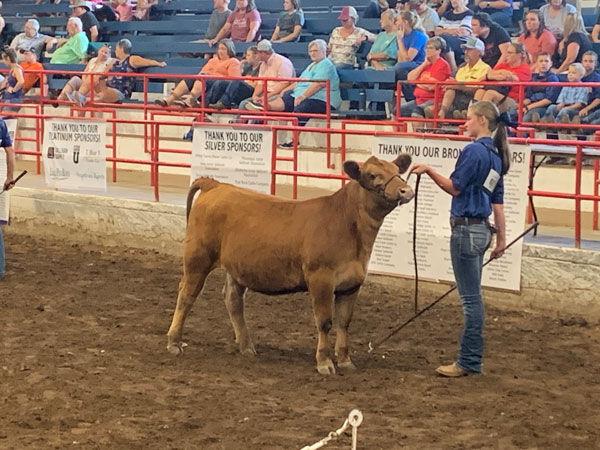 "It's important that livestock producers and others know the many great characteristics that come along with the Gelbvieh breed, and that they can be very beneficial to commercial herds and increase hybrid vigor in a variety of ways."
With this new platform and her title as the American Gelbvieh Junior Association ambassador for 2020-2021, Jaylea Pope is excited about helping promote the breed she's helped raise on the family ranch near Ravenna, Nebraska.
"I am very honored to be able to serve as the junior ambassador for this next year," she said. "I'm excited to represent and advocate for such an amazing breed and an organization that has been very influential in my life."
Pope earned her title at the junior national show, the 2020 Route 66 Classic, held July 5-10 in Springfield, Missouri.
The criteria that resulted in her selection included providing a notebook of accomplishments with the American Gelbvieh Junior Association and outside activities including school, local clubs, church and other community involvement. 
All candidates were interviewed by a panel of judges during the junior national event. This year was the first time only one ambassador was chosen, which was a decision made by the association's board of directors.
"Jaylea also addressed her peers with a speech demonstrating strong communication skills and professionalism outlining her background, involvement in the Gelbvieh breed and why she felt she'd make a great ambassador," said Jake Renner, member and youth activities coordinator with the American Gelbvieh Association (AGA).
Her year as ambassador will include making appearances at Gelbvieh and Balancer events such as the American Royal in Kansas City, Kansas, the AGA National Convention in Oklahoma City and the National Western Stock Show in Denver.
The Gelbvieh breed is well known throughout the industry for their maternal strengths and superior growth, Renner said.
At the Pope family farm in the hills between Ravenna, Cairo, and Shelton — about 20 miles west of Grand Island, Nebraska — Pope's parents, Jeff and Jeanne Pope, and their family have a cow herd mainly comprised of registered Balancers, a cross of Gelbvieh and Angus.
They have a few registered Angus and Red Angus cows, and Pope's sister, Justine, is building a herd of Hereford cattle.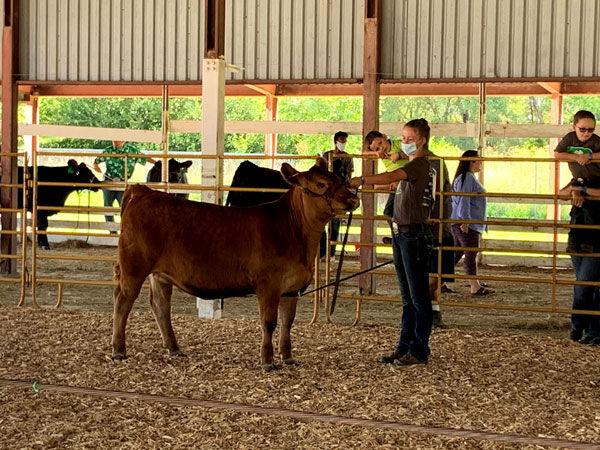 "We were very excited to see Jaylea selected as the Junior Gelbvieh Ambassador," said her dad, Jeff. "We are honored that the selection committee has the confidence in her to ask her to speak on behalf of the Gelbvieh breed.
Jeff Pope is the one who choose the Gelbvieh breed for building a herd while he was attending the University of Nebraska-Lincoln in the mid-1990s.
"I wanted a breed that excelled in maternal traits and growth. After seeing the value of hybrid vigor documented in my animal science classes, I realized that I wanted to market bulls that would complement the British breed cowherds dominating our region at that time," he said. "Recent data from the Meat Animal Research Center pointed toward Gelbvieh, which seemed like a perfect fit."
The American Gelbvieh Association recently released its Carcass Data Collection Project to gather more carcass data on Gelbvieh and Balancer sired calves. They will genomically test every animal to recharge the carcass database as a tool for furthering Gelbvieh and Balancer cattle.
Over the last couple of years, the Pope family has shifted their entire herd to a fall calving system. Every cow is synchronized for either artificial insemination or embryo transfer while grazing cornstalks, Jeff Pope said. They keep their elite bulls to sell by private treaty.
Jaylea Pope's involvement within the Gelbvieh and Balancer breed includes activities with both the American Gelbvieh Junior Association and its Nebraska counterpart. She served as president of the Nebraska Gelbvieh Junior Association in 2018-2019.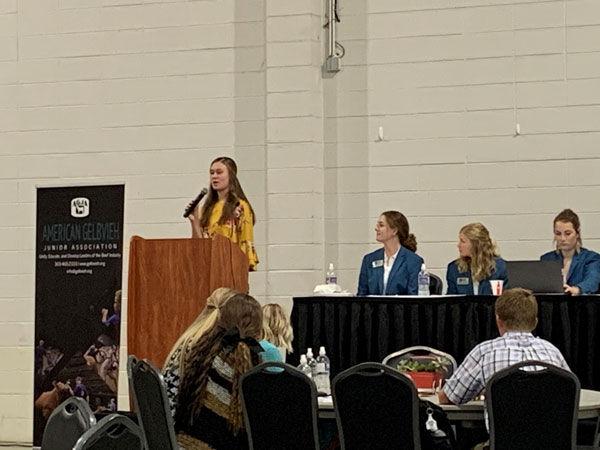 She attends Shelton Public Schools in Shelton, Nebraska, where she is FFA chapter vice president and is involved in student council, 4-H and Quiz Bowl. She also plays basketball and volleyball.
In 4-H, she shows beef cattle — both market and breeding — as well as pig and goats, and participates in livestock judging. Pope enjoys feeding her show calves with her sister, and making sure the calves get baths often.
"I'm also building my own herd and adding to my family's herd," Pope said.
Half of her cows are used as embryo recipients, receiving an embryo from cows in the top 5% of the herd.
Her advice to other teens who raise cattle: "Don't be afraid to branch out, try new things and meet new people. Taking opportunities in the beef industry can take you far, and they come with a lot of fun along the way!"